RGB controller, max. 50 w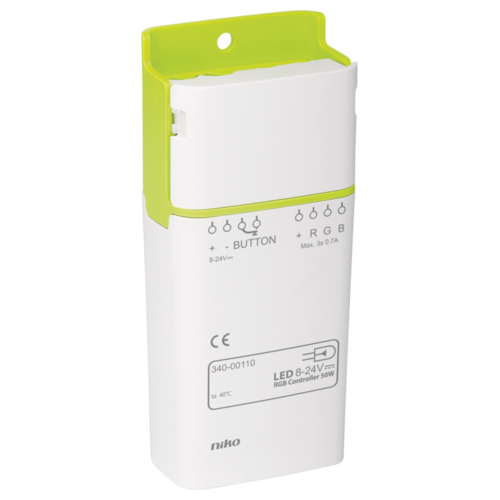 The RGB controller will be used to control Niko LED strips with RGB LEDs, up to a maximum capacity of 50 W. In addition to the on/off function, there are two modes that can be selected with an NO push button. Press the NO push button briefly for running through the different modes (on, fade, fixed colour, off), and hold it down for adjusting the speed of the 'fade' mode or the intensity of the 'fixed colour' mode.
Product details
This product consists of several components. Below you will find an overview of all the component parts.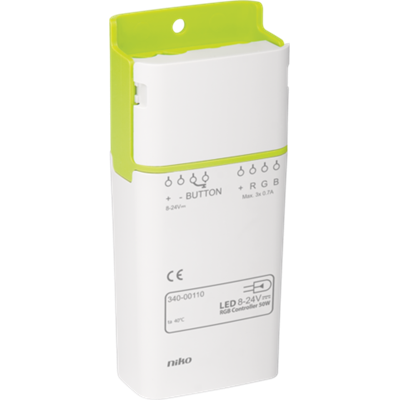 RGB controller, 8 - 24 Vdc, max. 50 W
The RGB controller can be used to control RGB LED strips with a maximum of 50W (corresponds to 10x 340-00101/340-00102). In addition to the ON/OFF function, there are 2 modes available which can be accessed using an N.O. push button.
Specification description
RGB controller, 8 - 24 Vdc, max. 50 W
RGB controller suitable for colour control of RGB LED strips operating on a supply voltage of 8-24 VDC. Maximum load 50 W. Modes; next to switching ON/OFF, you can go through an automatic colour cycle (fade) or select a fixed colour. In "fixed colour" mode, white light is also selectable; in mode "fade" the speed is adjustable between 5 s and 4 h to go through the entire loop.
Operation by means of an NO push button; short press to select mode; ON (on solid colour) – fade – OFF; long press to change the set colour (mode "solid colour") or adjust the speed (mode "fade"). Both settings are stored in memory.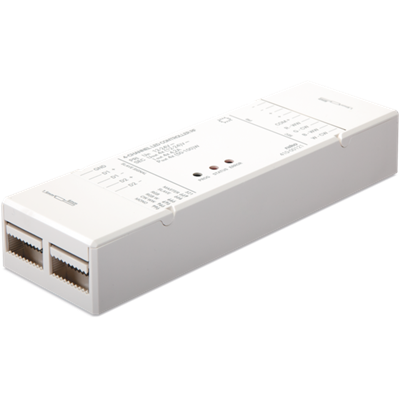 Wireless 4-channel constant voltage controller
The 4-channel controller is suitable for controlling LED strips (constant voltage, common anode) from 12 to 24 Vdc. The controller has a maximum power of 50W per channel for 12Vdc LED strips and of 100W per channel for 24Vdc LED strips. The controller can control the following types of LED strips: RGB, RGBW, tunable white and monochrome. We recommend using the specifically designed RGB(W) wall controller in 4-button mode (article numbers 410-00002 + xxx-90002) for controlling the colour LED strips.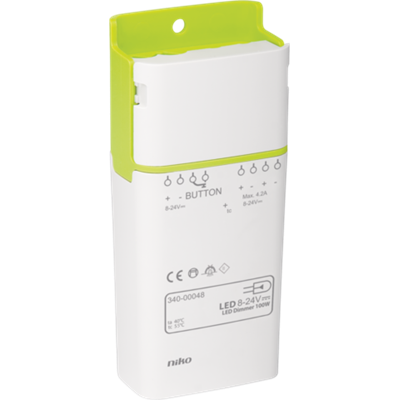 PWM dimmer, 100 W
The PWM dimmer will be used to dim LED strips with monochrome LEDs, up to a maximum capacity of 100 W. The light intensity is dimmed linearly by using an NO push button. Press the NO push button briefly for switching on and off, and hold it down for brightening and dimming the light. Replaces 340-10027 and 340-10028.
Power supply for LED strips, 24 Vdc - 60 W - IP67
The 60W power supply is suitable for supplying power to LED strips. This power supply has an IP67 protection degree, is dust-free and waterjet proof. As a result, it is extremely well-suited for installation in a damp room, such as a bathroom or kitchen. The cables are fixed with resin.