Base for horizontal, double socket outlet with earth pin and shutters, flush-mounting depth 28.5 mm, screw terminals
This item is also available in a version with plug-in terminals. Reference code 170-38715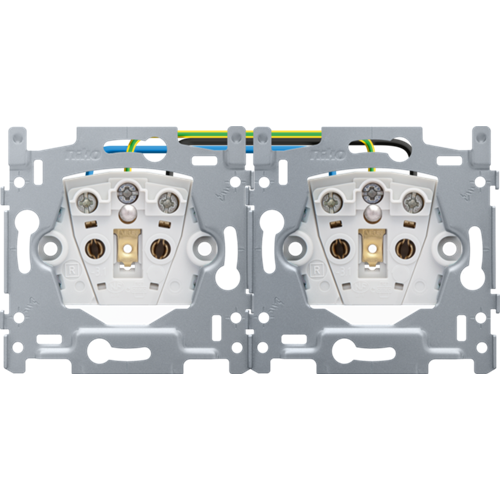 Description
Mechanism for a double horizontal socket outlet with pin earthing, screw fixing and shutters. This socket outlet has a flush-mounting depth of 28.5 mm. A finishing set and faceplate in the colour of your choice must be ordered separately.
Specification description
Base for horizontal, double socket outlet with earth pin and shutters, flush-mounting depth 28.5 mm, screw terminals.
Protection degree: The combination of a mechanism, a central plate and a faceplate has a protection degree of IP21-D
Impact resistance: The combination of a mechanism, a central plate and a faceplate has an impact-resistance of IK06
Material base

ureumformaldehyde (UF) with high heat resistance
white RAL9010 (approximately)

Flush-mounting frame

1 mm-thick metal
galvanized on all sides after cutting, even on the cut edges
with 4 grooves with screw hole of 7 mm
with 4 screw holes (indicated by a screw symbol) with a diameter of 3 mm for mounting on panels

Flush-mounting depth: 28.5 mm
Fixing method

easily mounted in a flush-mounting box or in a trunking system with mounting brackets, thanks to:
grooves, each with two screw holes of 7 mm on the horizontal axis
grooves with one screw hole of 7 mm on the vertical axis
mounting with horizontal screws: Position the flush-mounting frame over the screw head of the flush-mounting boxes or mounting brackets, move to the desired position and screw tight.
mounting with vertical screws: Position the flush-mounting frame over the screw head of the screws of the flush-mounting boxes and move it to the left.

Centre-to-centre distance

Simple and quick assembly of one or more mechanisms by the indication (chalk line, laser, etc.) of the centre of the flush-mounting frame
vertical coupling centre-to-centre distance 60 mm by sliding several bases into each other, they lock themselves automatically
vertical coupling centre-to-centre distance 71 mm using pre-formed lips at the bottom, by folding the lips downwards over a length of 1 mm, the bases support each other and the centre-to-centre distance is guaranteed.
horizontal connection of multiple bases is quick and perfect thanks to the folded-up dovetails on the left and right sides
extra robustness due to the folded-up edges on the outside of the base and the continuation into the inside of the base

End border: 4 rectangular openings (7 x 2.5 mm) which, if the flush-mounting box protrudes from the plasterwork, can compensate for a margin of between 1 and 1.2 mm, so that the faceplate can still butt up perfectly against the wall
Wire connection

the sockets are fitted with cage clamps with permanent screws with combination screwheads (Pz2 or slot 1 x 5,5 mm)
every screw is provided with a screwdriver slot that prevents the screwdriver from sliding off the screwhead.

Wire capacity

all connection terminals at the top side of the base
up to 4 x 2.5 mm² wire per terminal

Earthing wire capacity

2 x 2.5 mm² + 2 x 4 mm² wire in the earthing terminal

Stripping length

14 mm stripping length
indelibly indicated at the rear side: stripping length

Ambient temperature: -5 – +40 °C
Certification marks: CEBEC, NF
Marking: CE
The article above is part of this product: