Power supply for Niko Home Control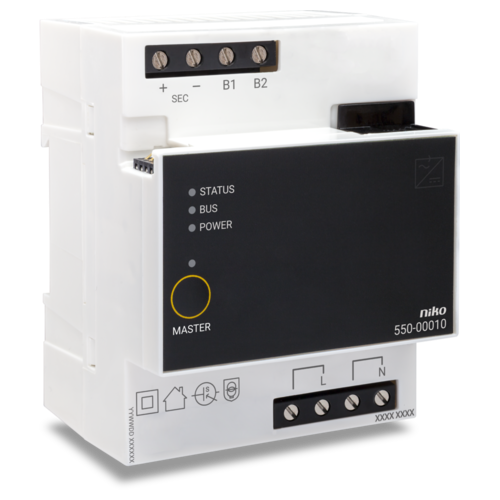 Description
This module is used to supply power to the modules and controls of the Niko Home Control installation. An LED indicates the status and the bus activity. The number of power supply modules needed for a specific installation can be found in the user manual.
This article is protected by at least one patent (application). For more info on patents, see www.niko.eu/innovation.
Specification description
Power supply for Niko Home Control.
Function: The power supply module provides an input voltage of 26 V DC to the bus, the modules and the controls of the installation. Several power supply modules can be connected in parallel in one single installation.
Each power supply has a capacity of 10 W. Determine the exact number of power supplies required prior to commencing the installation process.
A power supply or a rail coupler must be used at the left beginning of every DIN rail.
The following rule of thumb can be applied to calculate the number of power supplies required: a maximum of 24 modules inside the electrical cabinet and a maximum of 70 controls (of which 20 with status LED) per power supply. Depending on the size and layout of your installation, you will need to install one, two or three power supplies.
When several power supply modules are used in a single electrical installation, you can manually select one of these modules to act as the master power supply. The remaining power supply modules will then act as secondary modules. One of the power supply modules will automatically be selected as the master if no manual selection is made. The power supply supplies voltage to the bus, the modules and the controls. The secondary power supplies supply voltage to the modules but not to the bus. The maximum permitted cable length between the master power supply and the control points must be observed. Should the master power supply module become defective, then one of the secondary power supplies will automatically be selected as the new master. This may cause certain functions to become inoperable.
When the module is functioning properly, the STATUS LED will light up in TEST mode only. If one or several errors occur, the LED will blink to indicate the error code of the error with the highest priority. This module has short circuit, over-voltage, faulty connection and overheating protection
Sliding contact to connect the module to the following module on the DIN rail
Input voltage: 230 Vac ± 10 %, 50 Hz
Maximum MCB rating: 6 A (limited by national installation rules)
Output voltage: 26 Vdc, max. 400 mA (SELV, safety extra-low voltage)
Maximum load: 10 W
Connection terminals: 2 x 4 screw terminals
DIN dimensions: 4U
Dimensions (HxWxD): 90 x 70 x 66 mm
Marking: CE
The article above is part of this product: