Twilight switch, 230 V, 2 lux – 200 lux, IP54, white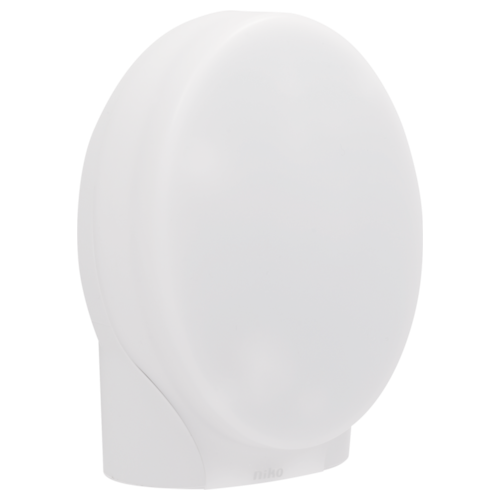 Description
This twilight switch is mounted on an outdoor wall, and at twilight it automatically switches on the outdoor lighting. The light sensitivity can be adjusted to between 2 and 200 lux. The large sensor surface area ensures precise light measurement. The device has an IP54 protection degree and conforms to the European directive for EMC and safety EN 60669-2-1.
Finishing colour: white
Specification description
Twilight switch, 230 V, 2 lux – 200 lux, IP54, white.
Input voltage: 230 Vac ± 10 %, 50 Hz
Detector output: 230 V (ON/OFF)
Maximum MCB rating: 10 A (limited by national installation rules)
Number of channels: 1 channel
Light intensity range: 2 lux – 200 lux
Ambient temperature: -50 – +50 °C
Mounting method: surface mounting
Usage: for outdoor use
Relay contact: N.O. (max. 10 A)
Number of switches with a 16 A load: 6000
Maximum load incandescent and halogen lamps (cosφ = 1): 3000 W
Maximum load low voltage halogen lamps: 500 W
Maximum load economy lamps (CFLi): 350 W
Maximum load LED lamps 230 V: 350 W
Maximum load low-pressure sodium/mercury lamps: 1500 W
Maximum capacitive load: 140 µF
Maximum switching current: 165 A/20 ms – 800 A/200 µs
Dimensions (HxWxD): 103 x 73 x 47 mm
Protection degree: IP54
Protection class: Class II device
Marking: CE
The article above is part of this product: