Are you building a new home or extensively renovating your current one and choosing to replace the electrical wiring? If so, you can install Niko Home Control on bus wiring. Offering endless possibilities and the flexibility to expand the system if ever you need to, bus wiring makes complete home automation easy.
With Niko Home Control you have a smart home that is comfortable, safe and energy efficient. On top of that, the flexibility of the system gives you unlimited possibilities in the future. With intuitive displays, such as mood controls and the eco-display, you can adapt your electrical installation to your precise requirements.
Bus wiring to your electrical cabinet
Bus wiring uses special cables that carry both electricity and electronic signals. The result is that all the elements in your electrical installation can communicate with each other making your whole system smart.
For example, you can use a switch in your living room to control the lights in your bedroom, and reprogram that same switch at a later date to turn the lights on or off in the garden as well.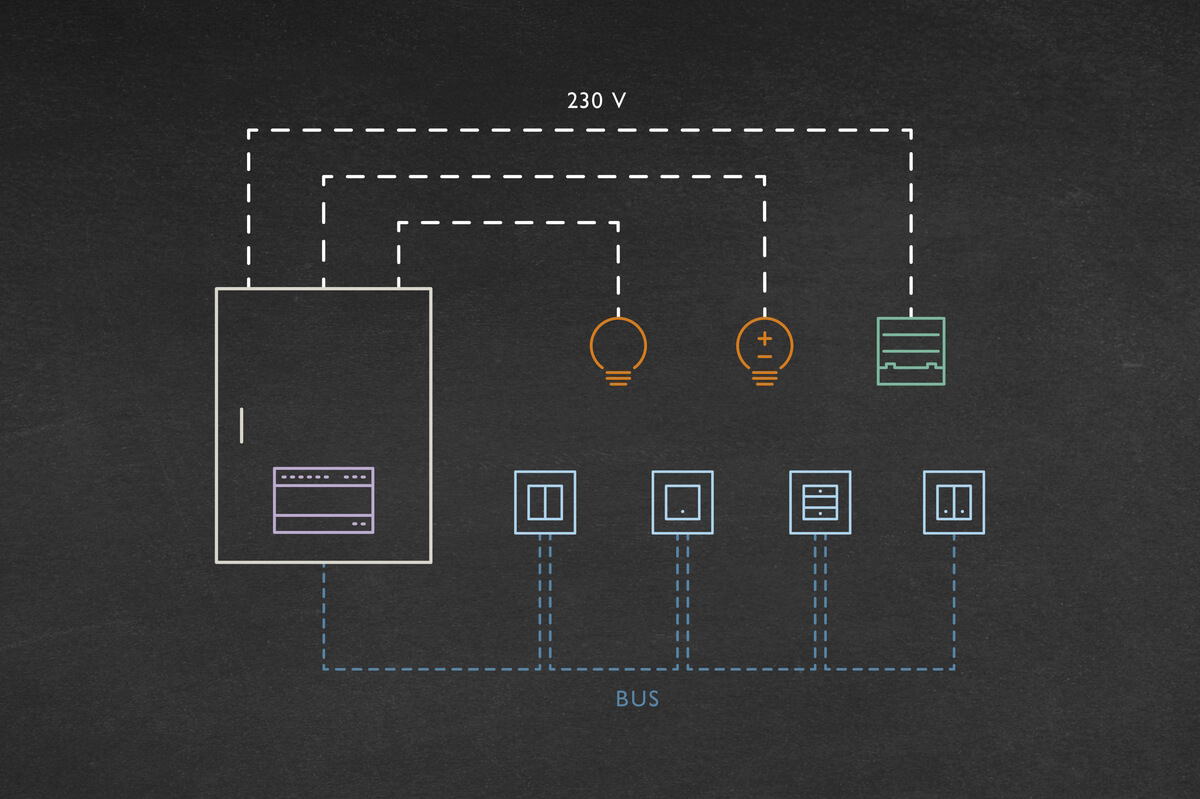 Connected controller
All of the system's components communicate with each other via the connected controller. This makes the system smart and gives you quite literally an unlimited number of possibilities to expand the installation in the future.
Do you want an extra switch or sensor? Do you want to change the function of a specific control? No problem. As each signal goes through the connected controller, you can easily add or modify without having to adapt the wiring.
Modules for functionalities
Each function in the installation has its own module in the electrical cabinet:
switching modules
dimming modules
motor modules
ventilation modules
measuring modules
...
Everything is centrally located in the electrical cabinet, which makes the system very reliable.
2. Operate your system the way you want to
Depending on the resident's preference, Niko Home Control can be operated using push buttons, displays, a touchscreen, a smartphone and/or a tablet (both in and outside the home).
Your daily activities automated
With Niko Home Control you have intelligent control of all the devices in your home. You can control them manually with buttons, displays or even your voice, but you can also control them automatically.
The centralised control of all these devices allows you to combine different functions in time schedules or automated routines.
Automated routines
Routines are basically a series of actions that your system will carry out either when you press a button or when a certain predefined condition is reached.
Some examples are an all-off routine that turns off all the lights and some selected devices, but also sets your heating in eco-mode; or a pre-programmed mood that combines lighting, heating and music to set the right scene for a cosy dinner party; or a presence simulating routine that turns on lights and connected devices at random times.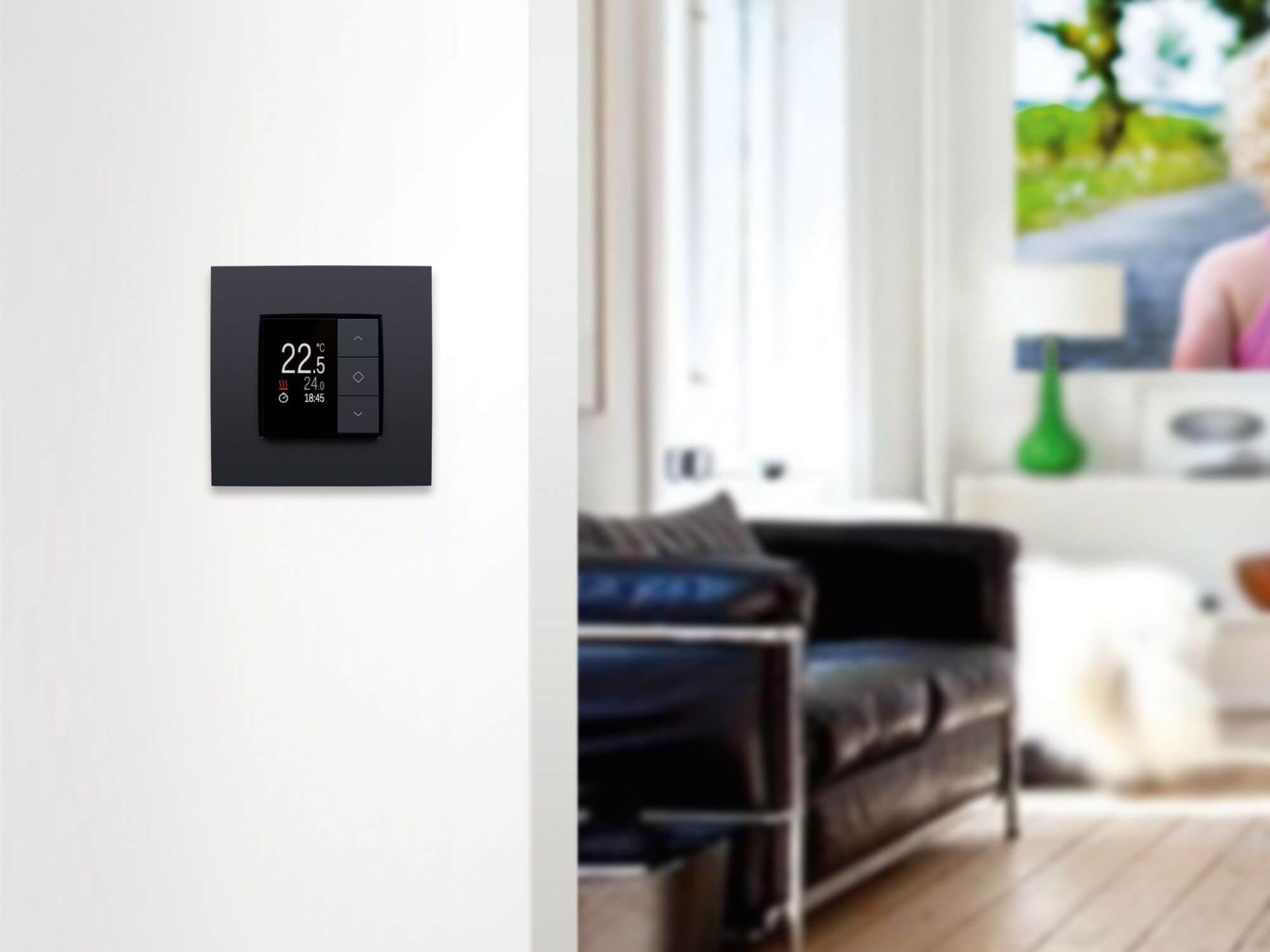 Connect to the digital meter
Niko Home Control can be connected to a digital meter with an RJ12 cable, via the wireless bridge. The connection is made automatically and all data from the digital meter will immediately be visible in the Niko Home app giving you insights into energy consumption and the injection of solar energy back to the grid.

As this wireless bridge allow the integration of connected sockets from the Zigbee® range, this also opens up many new possibilities regarding energy efficiency for Niko Home Control users with a bus wiring installation, like the solar mode and the peak mode.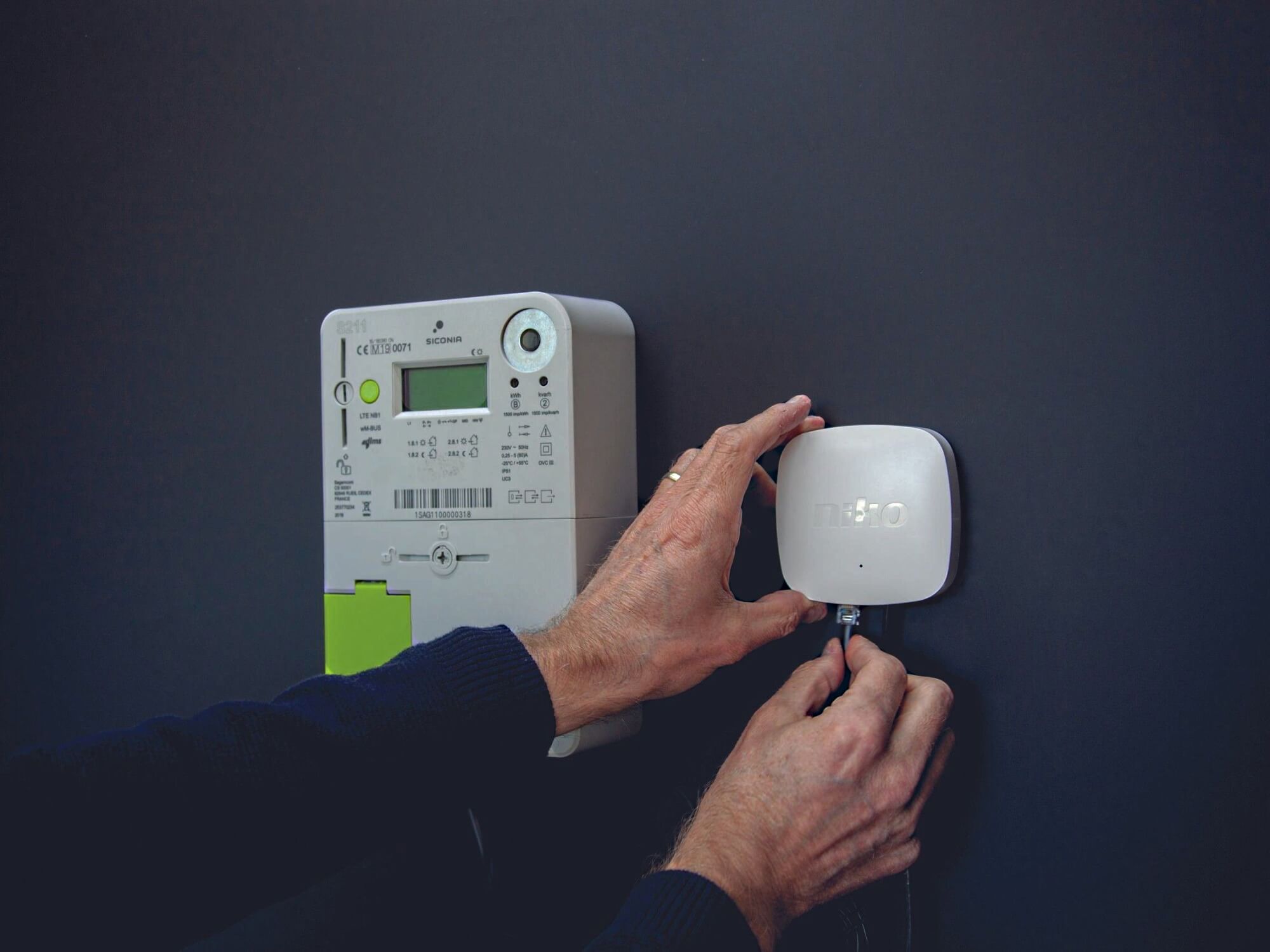 Wireless switches
There are always places in your home where you might want an extra switch. Niko's wireless Zigbee® switches give you that option. Stick, screw or place them anywhere. And control whatever you like, thanks to the easy connection via the wireless bridge.
An extra switch by the bed to turn off the lights in the rest of the home? A new switch next to your chair to dim the living room lights? Niko's wireless battery-powered Zigbee® switches combine with any Niko Pure, Niko Intense and Niko Original finishing, in the colour of your choice.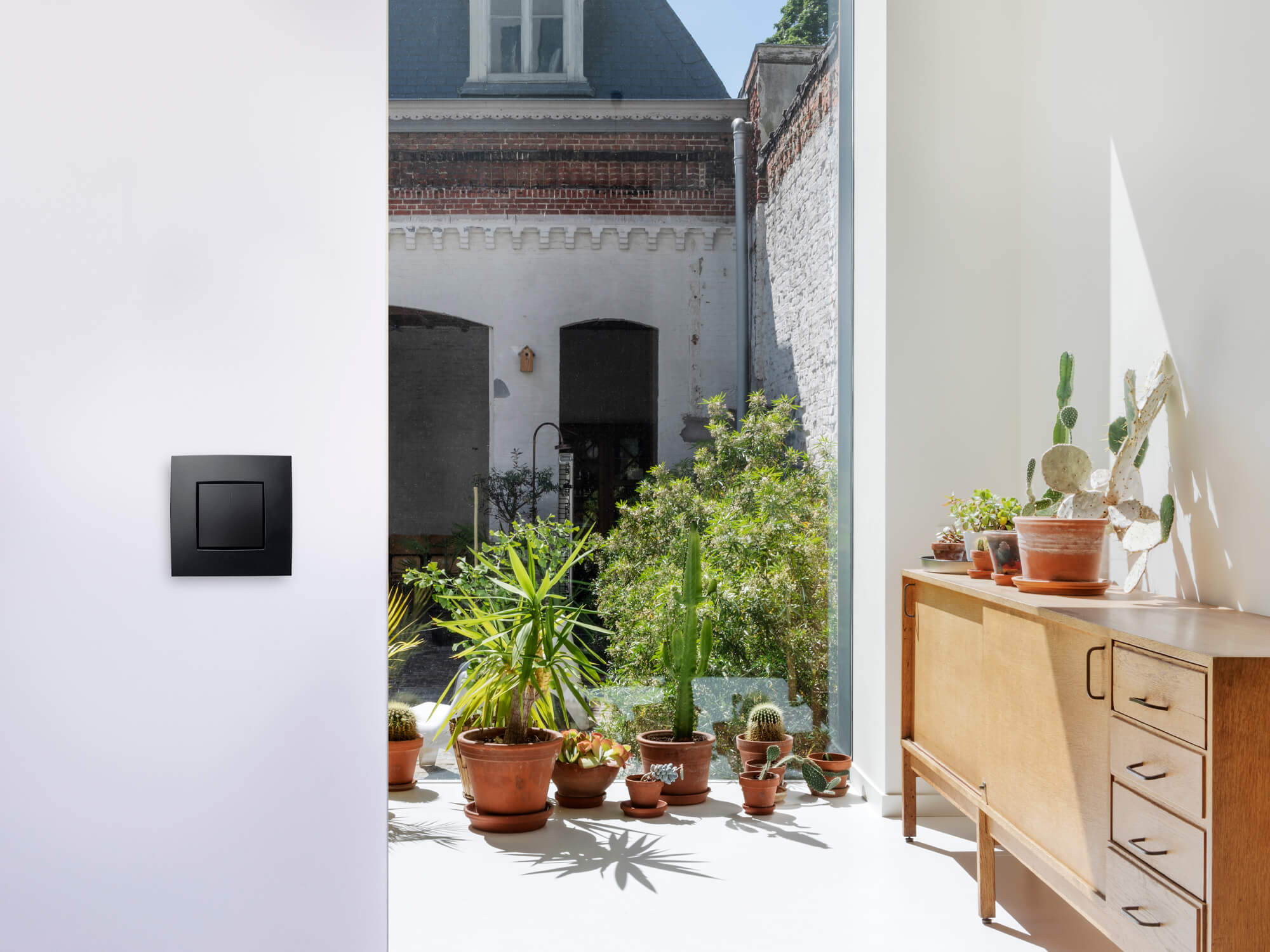 Integrate partner systems
Various systems from Niko's partner brands can be integrated into your Niko Home Control installation. Open and close your roof and sliding windows, control your music installation, operate your heat pump, manage your energy production, check and adjust the air quality in your home: you can do it all thanks to Niko Home Control and partners like:
Sonos
Velux
Renson
SMA
Mitsubishi Electric
Reynaers
Vaillant
...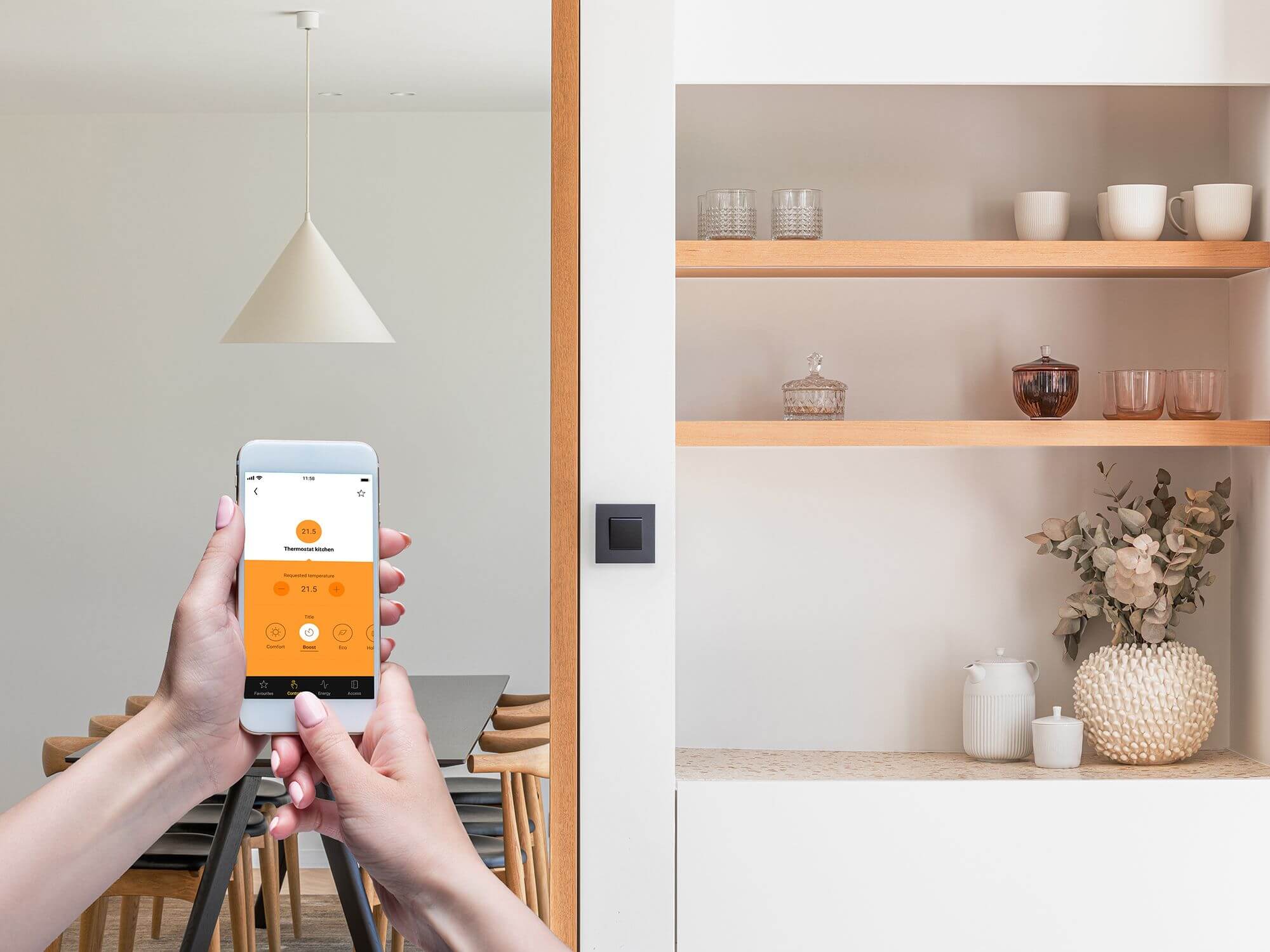 4. How to install Niko Home Control on bus wiring
How to install Niko Home Control?
Niko has developed several tools to help you with the installation of Niko Home Control. For each Niko Home Control product for bus and traditional wiring, there is a technical manual with all the information you need for a smooth installation.
Besides these technical manuals, there is also a user manual for a basic Niko Home Control installation on traditional wiring and an online manual for the programming software.
Intuitive programming
The software to program Niko Home Control installations for bus or traditional wiring is user-friendly, intuitive and visually structured. The software (available for Windows and Mac) can be downloaded free of charge from the Niko website.
In the online Niko guide, you'll find an overview of the most recent updates to the programming software, and an easy-to-follow manual for programming your system.
Technical training webinars for professionals
Niko has a range of physical classroom trainings and online training webinars, covering the installation and programming of Niko Home Control on bus and traditional wiring.
These trainings are reserved for professionals.
Experience what home automation feels like
Read more about Niko Home Control
Want advice from a professional?