At the Brussels Marriott Hotel Grand Place, you will be immersed in an experience of refined luxury, where comfort and sustainability come together. Alongside meeting their guests' wishes, the hotel also aims to offer a unique atmosphere and experience that reverberates for a long time. With a focus on sustainability and quality, they found the ideal partner in Niko to bring this vision to life.
Sustainability as a connecting factor
At the Brussels Marriott Hotel Grand Place, everything revolves around creating a warm feeling of home for their guests. This was why they joined forces with Niko to combine comfort and design in an environmentally friendly way.
"We were looking for an accessible, user-friendly and sustainable system to handle our energy consumption responsibly at the hotel, which was also a seamless fit for the room interiors," says Mark Decrem, Head of Technical Services at Brussels Marriott Hotel Grand Place. "That took us to Niko Home Control pretty quickly."
The Brussels Marriott Hotel Grand Place is aiming for a more sustainable future and, in Niko Home Control, has found a solution for combatting unnecessary energy consumption at the hotel.
"By fitting sensors to the windows and doors, the air conditioning will automatically be switched off when guests open their windows and the lighting will be switched off when they leave the room," explains Mark Decrem. "Besides that, we also installed connected socket outlets and an all-off function in the rooms, so the lights would never stay on when they don't need to."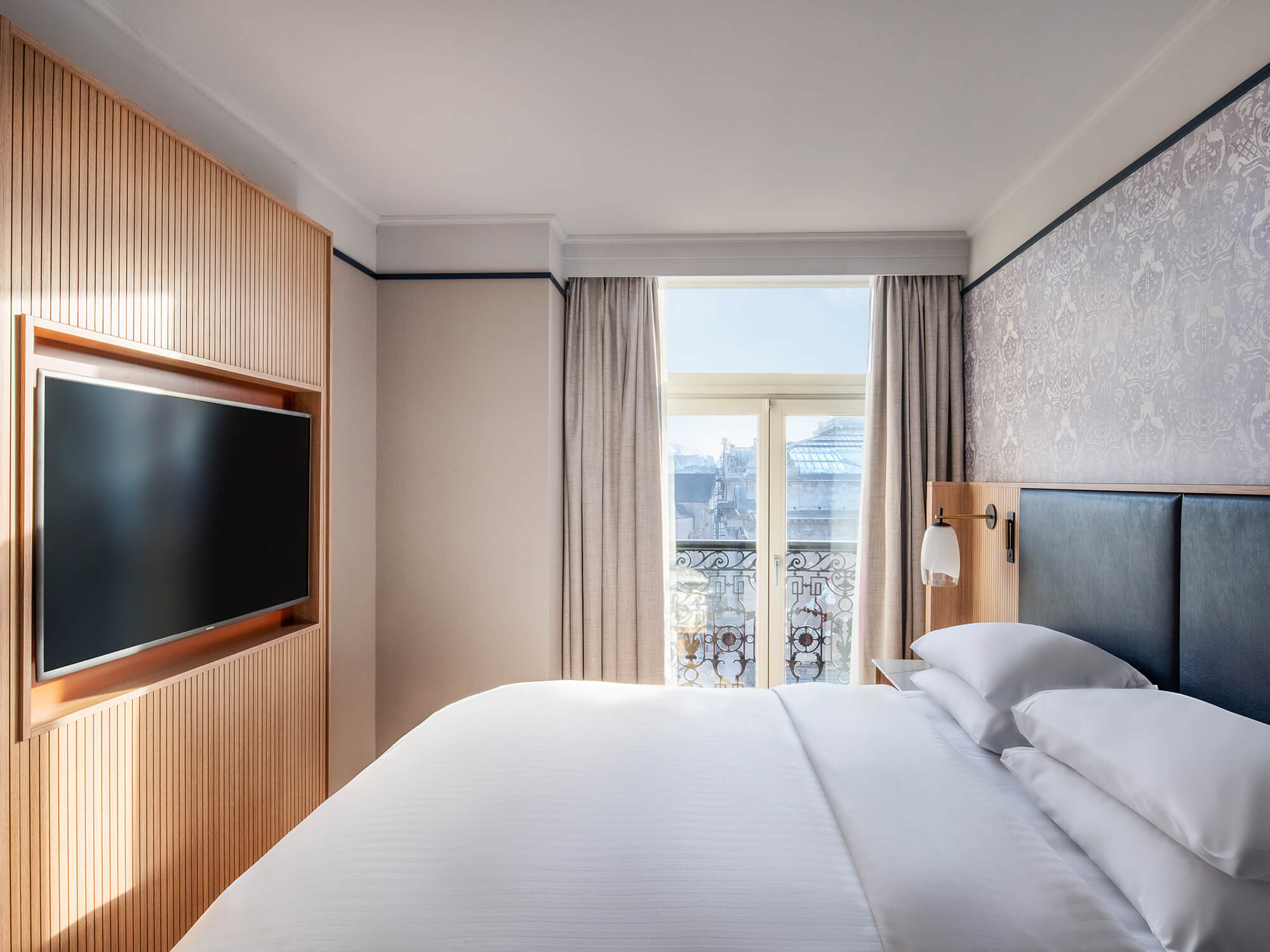 Niko is not only supporting the Brussels Marriott Hotel Grand Place's sustainability goals, but also offering technical support. "Our technical staff received a brief training course from Niko, meaning they can respond quickly and efficiently to guests' questions or problems."
Alongside striving for sustainability, the Brussels Marriott Hotel Grand Place is also aiming for aesthetics in all facets of the hotel. The same applies to the switching material.
"When looking for golden flush surround plates for switches and socket outlets, our choice went to the Niko Pure alu gold series," continues Mark Decrem. "We were wondering, though, whether the white rear frame would be a good match for the black accents in the rooms. That was why, in consultation with Niko, we had a special series made with a black rear frame, which is a perfect fit for our design concept."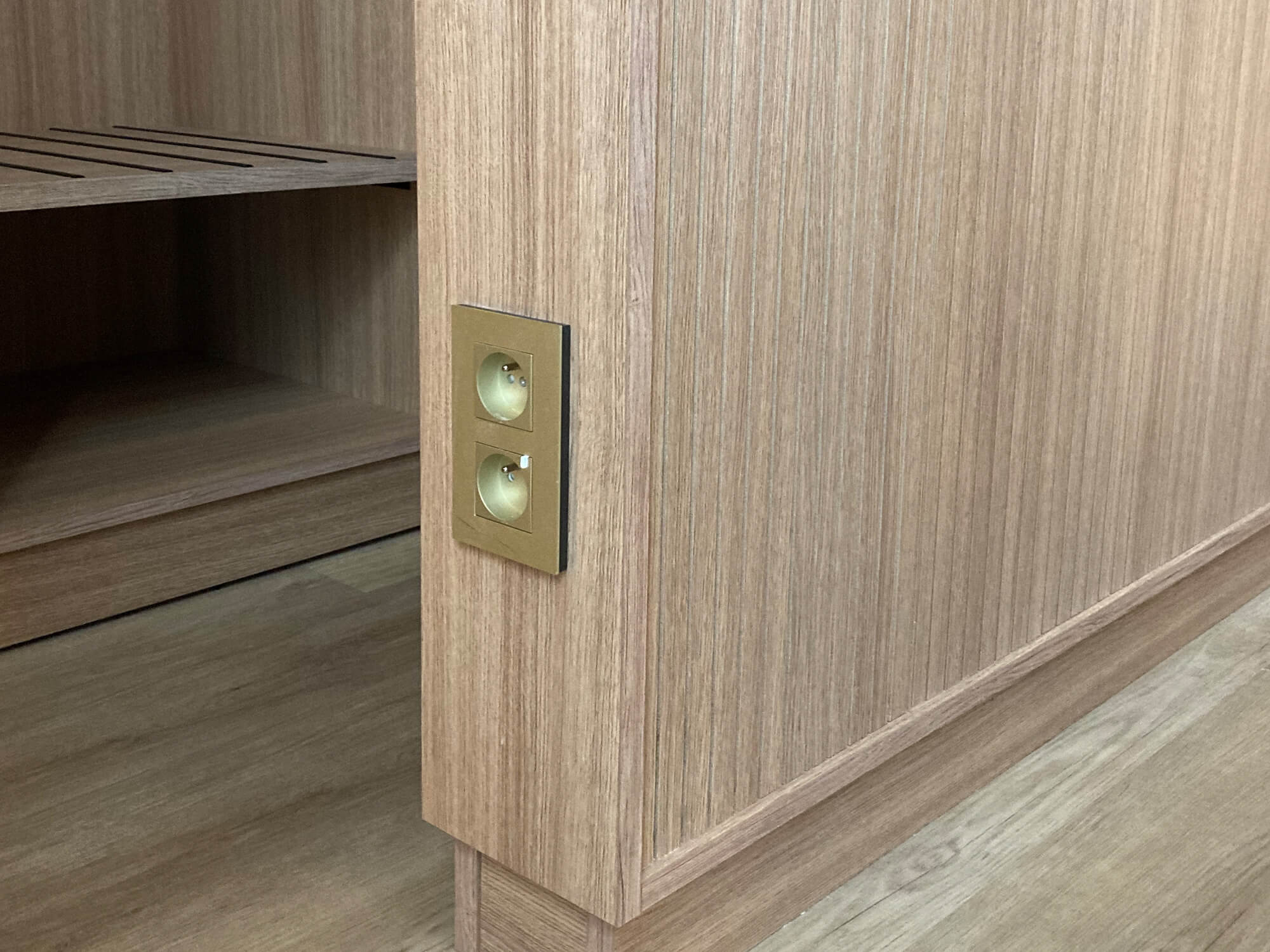 With an eye for detail and smart solutions, the Brussels Marriott Hotel Grand Place is aiming for the ultimate hotel experience.
"Instead of providing every room with the Niko Home Control touchscreen, Niko offered the ideal solution by lasering clear icons onto the push buttons," says Mark Decrem. "The result is an elegant and functional switching system that our guests can easily understand and use."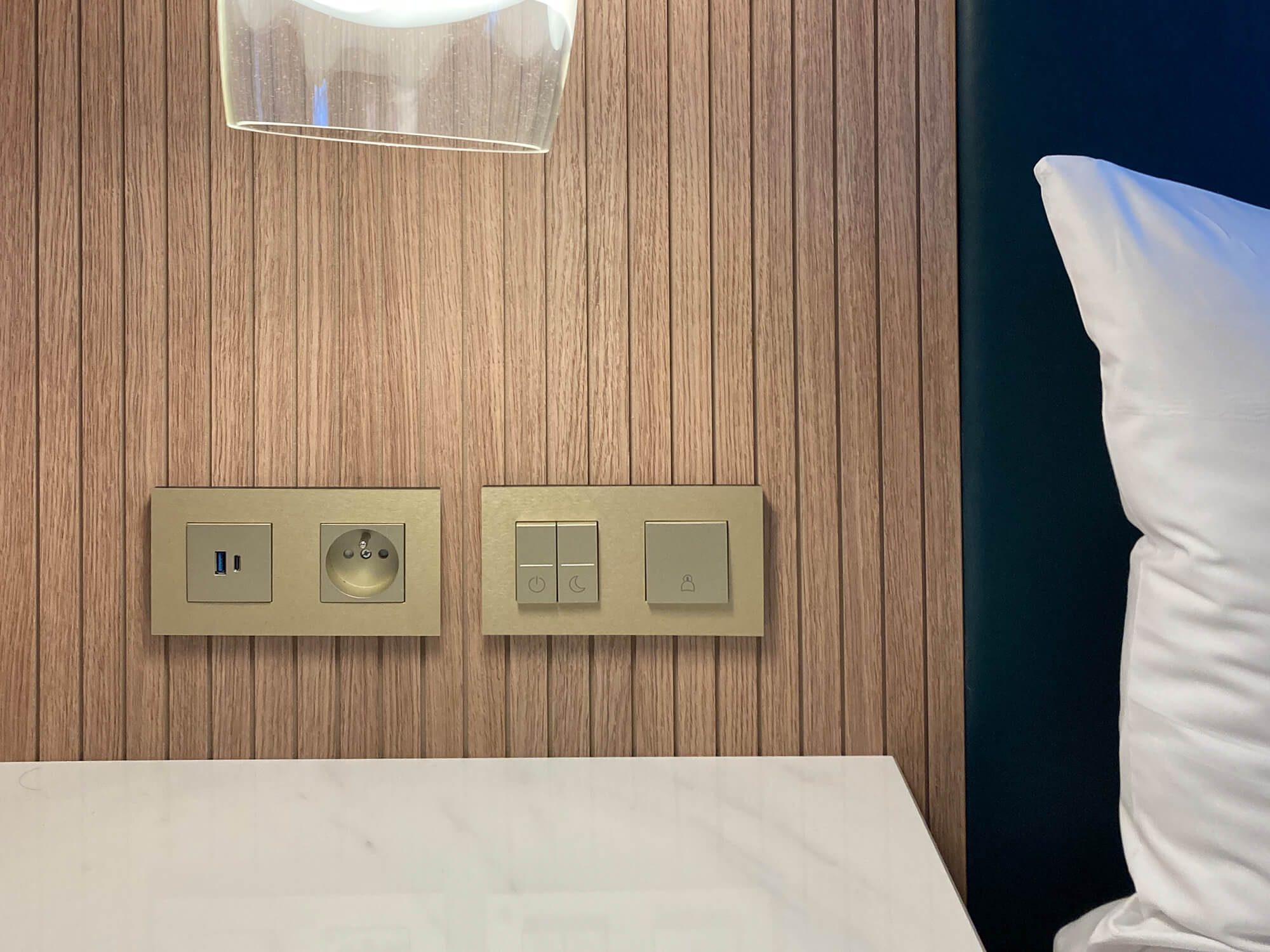 Finally, the Brussels Marriott Hotel Grand Place is always searching for ways to give their guests an even better experience, which is why it continues to innovate constantly. Indeed, the hotel is very enthusiastic about the future. "At present, our guests are greeted by an automatic welcome message on the TV when entering the room, but we'd like to take a step further," says Mark Decrem. "In the future, we also want to turn on the lighting automatically with Niko Home Control, so guests don't have to arrive in a dark room.
Niko Home Control
Read all about our home automation system
Niko finishings
Discover our finishings for switching material and socket outlets.
Showroom
Do you want to experience a smart installation or view our products live at our showroom?