What is the IEC standard?
IEC stands for the International Electrotechnical Commission, a global, not-for-profit organisation headquartered in Geneva. It prepares and publishes the standards for electrical and electronic goods. Used in testing and certification by manufacturers, these act as the basis for risk and quality management.
Why is Niko using this new IEC standard?
As Niko prides itself on the high quality of its products, it has chosen to be one of the first to adopt this internationally trusted standard. In the first instance, as the testing is standard, it allows customers to make a 1-on-1 comparison between detectors on the market and also helps them determine the correct number of detectors to use in a project. As a bonus, Niko (and its customers) are able to benchmark their products in an independent, unbiased way.
Measurement of performance
To maximize measurement accuracy in its detectors' performance according to the IEC63180:2020 standard, manufacturers may choose either a measurement manually via a human being or automatically using a robot to test their PIR detectors. Niko has chosen the automatic way using a robot to ensure accuracy and reproducibility of measurement results over frequent tests. You'll be able to see whether a manufacturer has used one or the other via an icon on the published test results.
The IEC standard has a clear description of how the testing environment should be controlled for temperature, relative humidity, air flow and incoming sunlight. All our testing has been done at normal room temperatures (20°C to 22°C), with realistic body movements (pace, body size, direction), and typical mounting heights. Full details are available in the datasheets.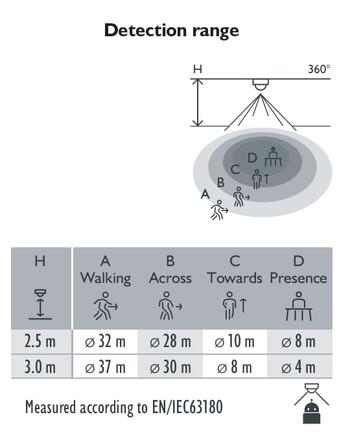 Why is this better?
We have made both manual and automated measurements according to IEC standards and we can confirm that automated measurements are more accurate for us. For this reason, all our specifications are based on automated measurements. In this way, our customers can be absolutely confident in the results.
Online catalogue
Technical product information for professionals
Technical support for professional installers
Call +32 3 778 90 80
(every working day during office hours)