How do you get started with a green statement at home? 
Coming home to a green environment provides instant calm. By using botanical elements and natural materials, the boundaries between garden and house fade away, breathing new life into your interior. And who better than Sofie Vertongen – interior designer and manager of The Plant Corner – to help you on your way? "Adding plants to a room instantly creates a totally different atmosphere. When I'm surrounded by greenery in my plant shop or at home, I feel fully at peace. As it happens, we've known for a while that plants improve the air quality, and have a positive impact on your concentration and productivity."
A stately room requires a large plant
"Just like the barber can choose the right haircut for any face, I know right away which plant belongs in a particular interior. One of the areas I focus on here is the size of the room.
In a stately room, for example, your best choice is a large plant with equally large leaves
. 
You can also work with a plant corner: a large plant, supplemented by a broader, medium-height plant and a small one on a plant stand. The
different levels provide a pleasing balance.
"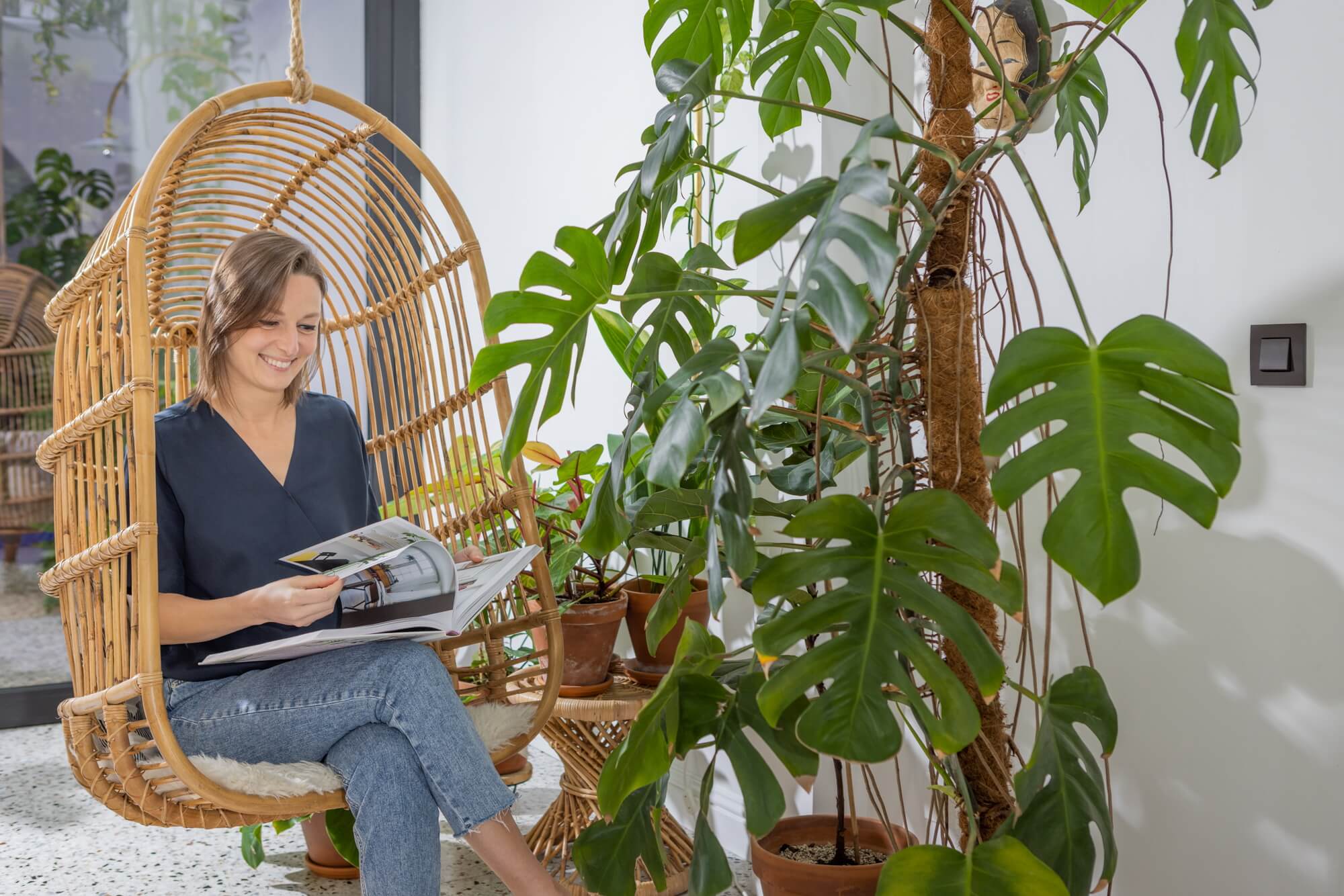 Variation is key
"In addition, it's a good idea to take account of the look of the leaves. For printed wallpaper, I prefer to choose a corresponding leaf. Or if the print on your wall is very 'busy', a smooth leaf might provide some calm instead. Variation is key: for example, alternate a serrated leaf with large, smooth leaves and one with a print."
TIP: Not much space for plants? A lick of green paint on the walls or a decent jungle print also provide a natural, relaxed vibe at home.
What switches fit with a botanical interior?
Create calm through unity
"I always like it when you
use the same tones in adjoining rooms
: from the lighting and the tap fittings to your switches. This provides unity and creates calm between the various rooms.
For a botanical interior, I automatically think of rough materials: a brick wall, a concrete floor, rattan furniture, etc.
That's why I'd also choose a matte finishing when it comes to switches, instead of something polished.
"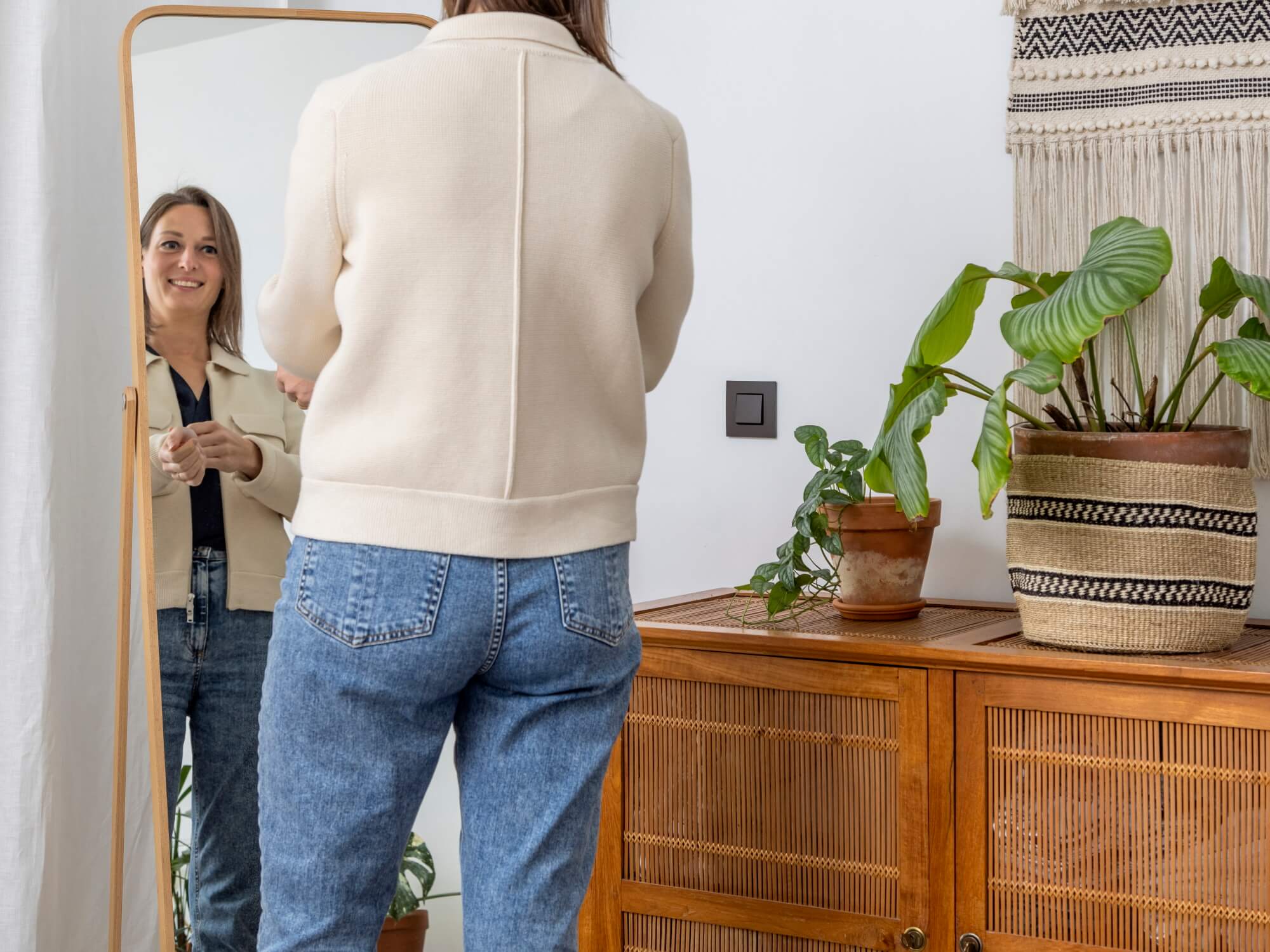 Add style with switches
"The Niko Pure natural soft grey looks brilliant in a Scandinavian interior with lighter, wooden furniture and lots of rattan. For those with bright white walls, it provides a softer touch. Do you already have some light-grey tones in the room? Then you can make them stand out even more with this switch."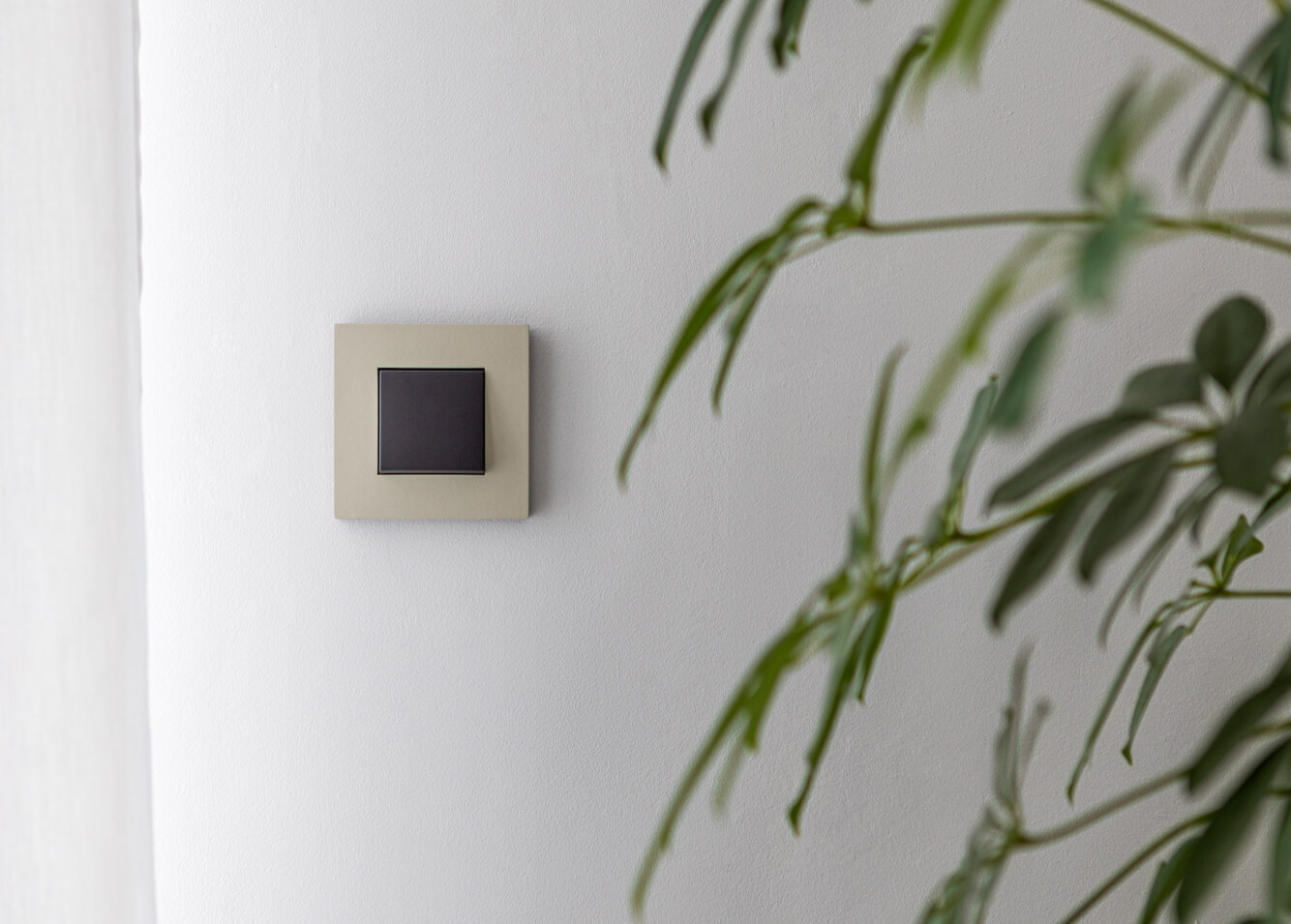 Make a statement
"The Niko Intense dark brown is a striking switch with a distinct colour. Combined with dark wallpaper, vintage wooden furniture and – of course – a large number of plants, this switch really does make a statement."
 
TIP: Using different kinds of wood all over the place will soon start to look messy. That's why you should try to limit your selection to one or two kinds of wood.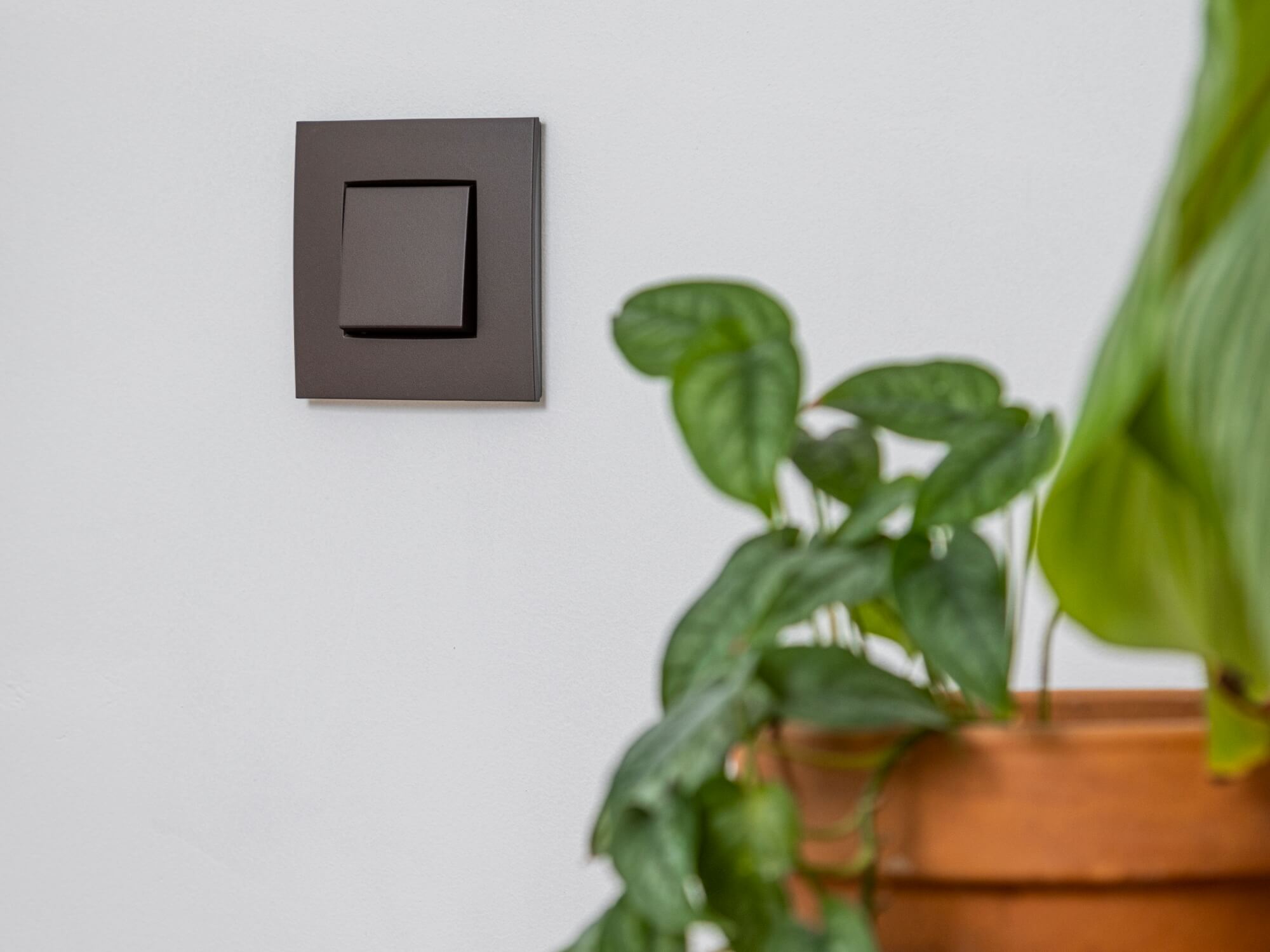 Use contrast
"However, you shouldn't limit yourself to just natural colours. Sometimes, a bit of contrast can actually give some real uplift to the rest of your botanical interior. The Niko Intense matt black is what we've got in the kitchen and bathroom ourselves, because it contrasts with the light-grey limestone wall and is a great fit for our black taps. This switch is a perfect fit for a modern design interior."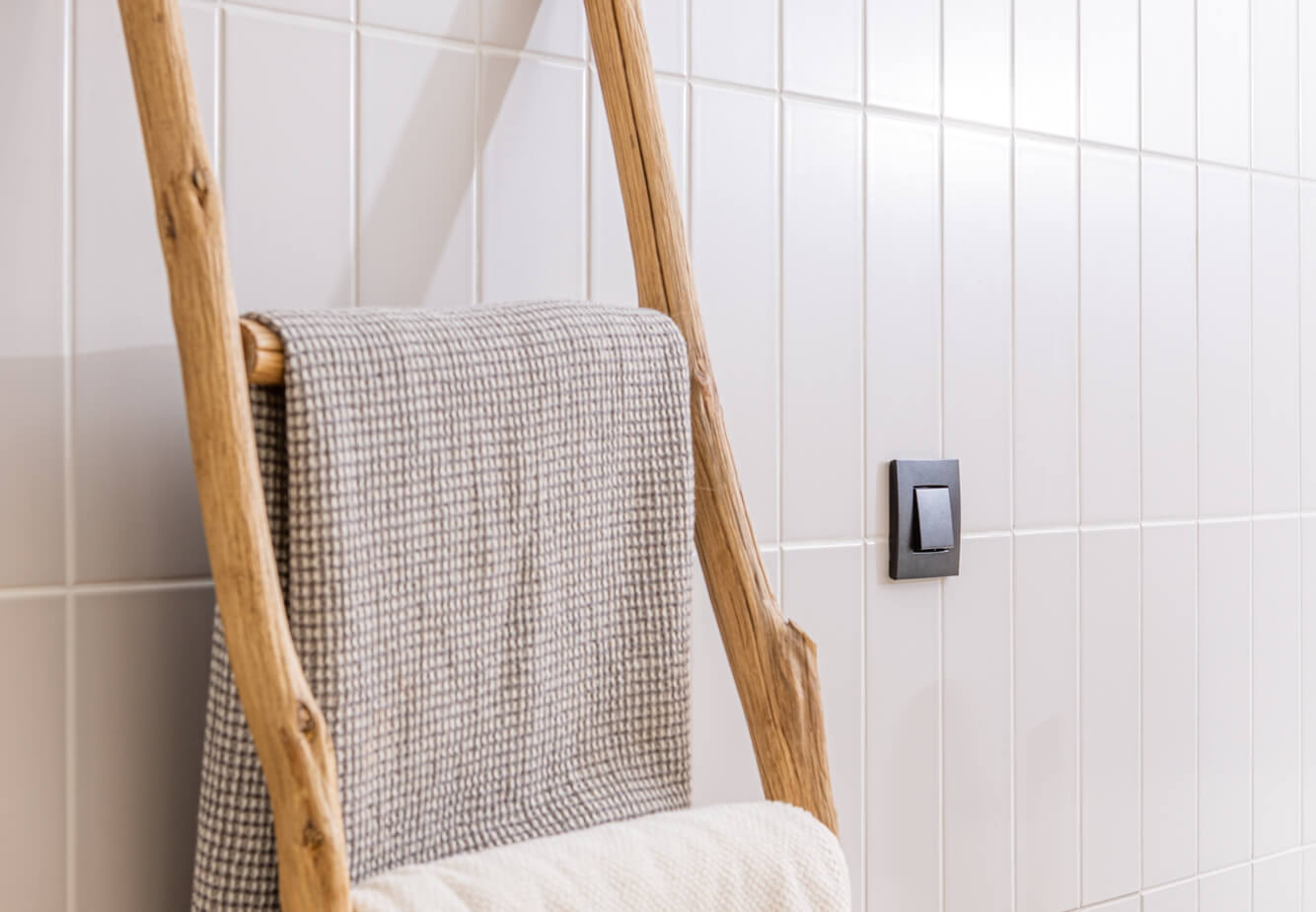 How do you connect indoor with outdoor in a single harmonious whole?
"Personally, I always think it's a bit of a shame when there's a sharp dividing line between indoor and outdoor in terms of design.
By carrying the same materials and trends through from your home to your garden
, you're creating an optical extension of your living area."
Carry your living room through to your terrace
"Try to pass on the same elements from living room to garden. You'll find the colour dark green in various bits of furniture at our home, for example. And the rattan hanging chair indoors matches the rattan lounge set outdoors. I do find that feeling of a kind of mini living room important. We even have almost as many accessories on our terrace as we do in the living room!"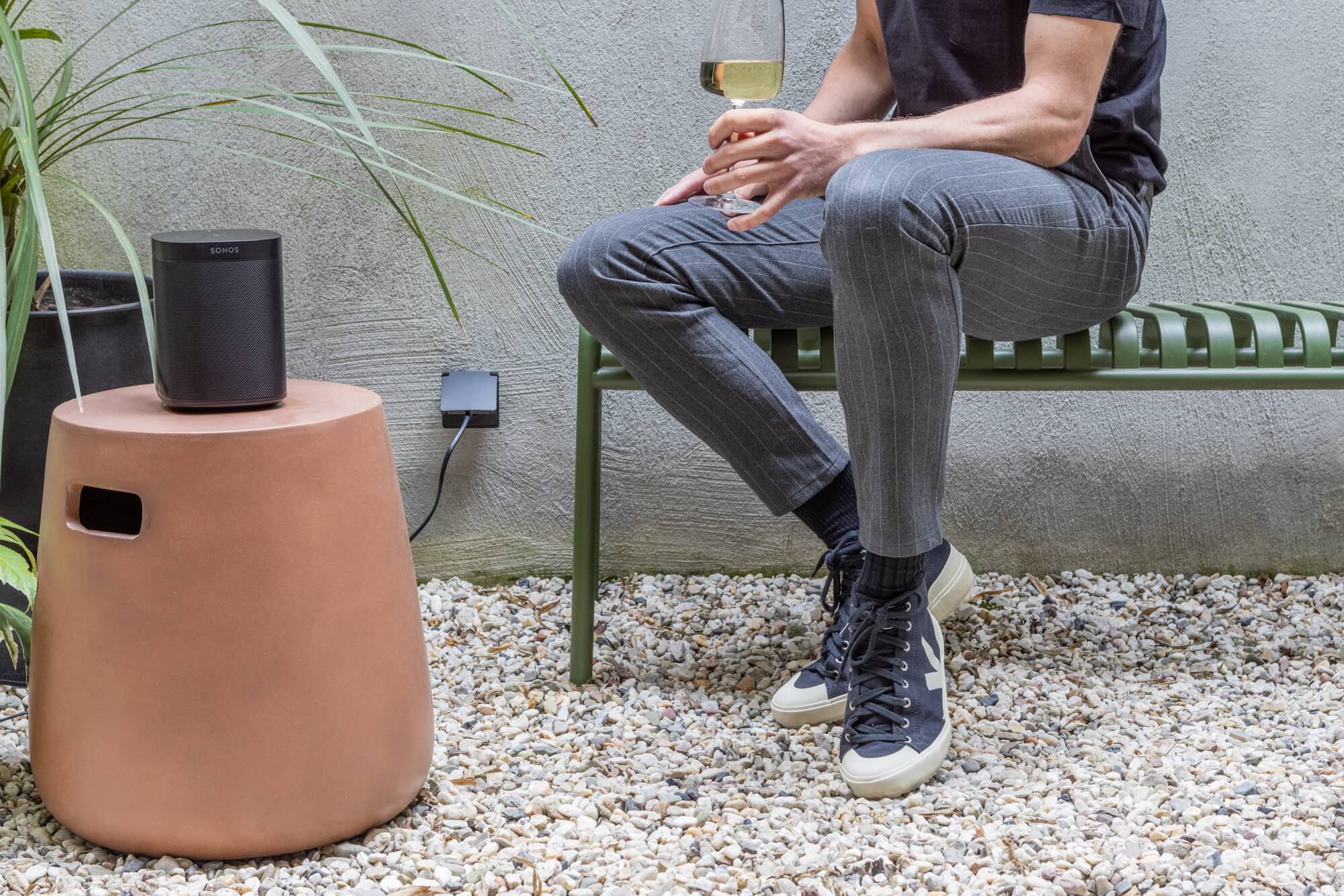 Your floor as visual glue
"A good way of connecting your indoor and outdoor spaces together is by
having your floor run through both
. If you have a wooden floor indoors, for example, you can have decking laid in the garden. We ourselves chose a terrazzo floor in the kitchen with speckles, which are then reflected in the earthy shades of the pebblestones outdoors."
TIP
: If you have a courtyard view, a green wall can add a lot of value. That makes this little piece of nature another part of your interior.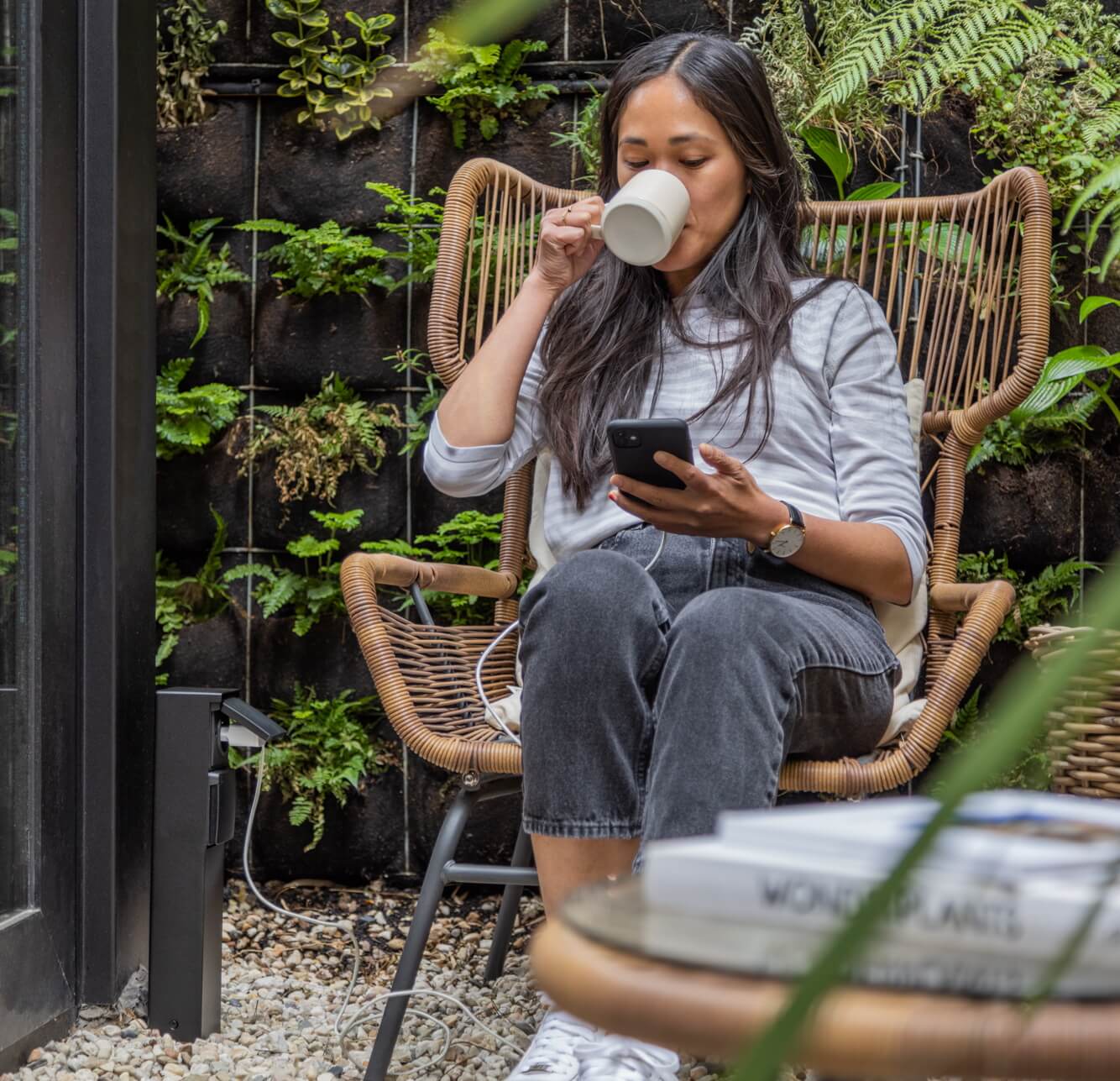 Niko Hydro as an outdoor solution
"If you choose dark tones indoors, then it's ideal if your garden spotlights and outdoor switches match these too. Niko Hydro black comes out magnificently on a grey cement wall or a brick wall painted black."
TIP
: All the
Niko Hydro
switches and socket outlets are available in black, white or grey and are
splashproof
. Time for carefree barbecues and pool parties! Your smartphone or electric bike will be charged up quickly and safely with Niko Hydro too.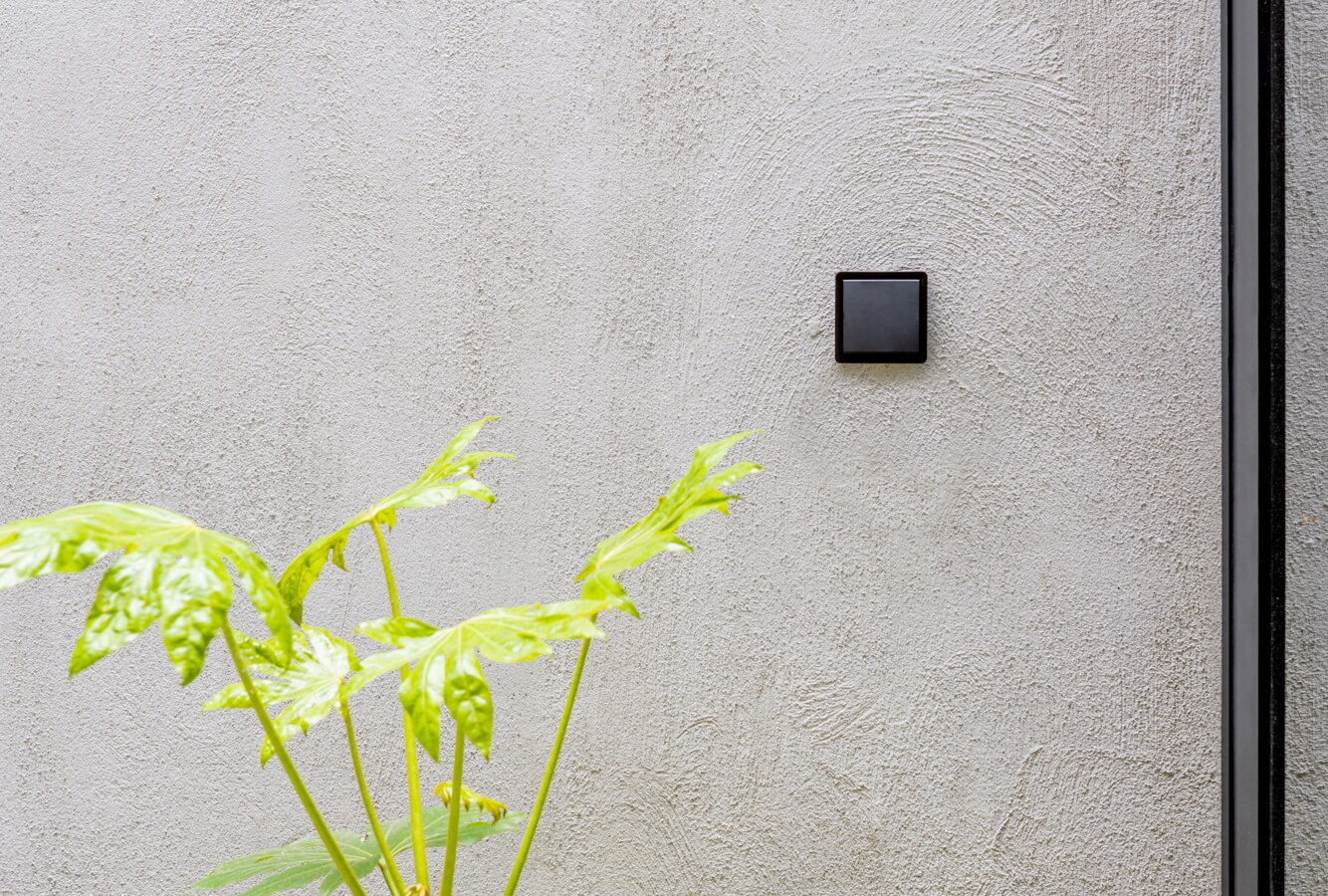 Find an installer
Get advice, the right products and a professional to install them
Niko finishings
Discover our finishings for switching material and socket outlets.
Which switch suits your interior?
Discover all Niko finishes in our brochure