Wireless 2-channel receiver for switching
Available as from October 2020. This product is still in development. The technical specifications could be subject to change. Currently missing technical documents will be added to this page as soon as they are ready.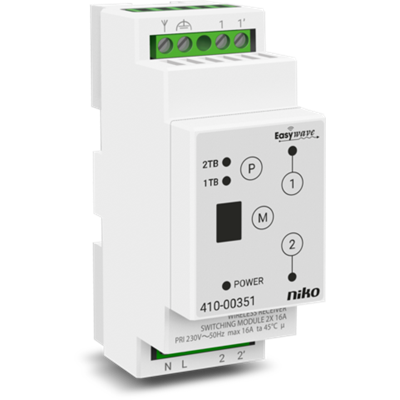 Description
This 2-channel receiver for DIN-rail mounting is controlled wirelessly via radio frequency. It has two potential-free changeover contacts and a connection for an external antenna (410-00359). Each switch output can have 32 transmission codes linked to it. The receiver can be controlled in on/off, pulse and push button modes. The on/off mode also has two timer functions and a logic function.
Specification description
DIN dimensions: 2TE
Dimensions: 34.5 / 89.6 / 62.8 mm
Easywave frequency: 868.30 Mhz
Input voltage: 230 V AC, 50 Hz
Output: 2 potential-free relay contacts 16 A (normally open)
Operating temperature: -20 °C to +60 °C
Power consumption in stand-by: 0.6 W
Weight: 108 g
Protection degree: IP20
The article above is part of this product: