Socket outlet with side earthing and shutters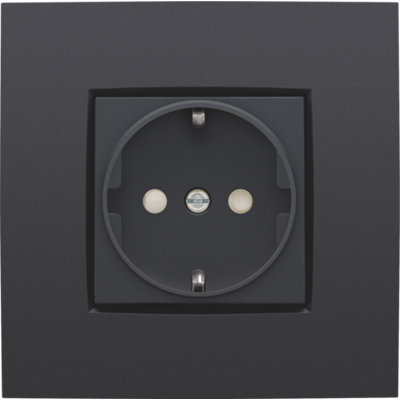 centre distance: 71 mm
flush-mounting depth: 28.5 mm
Product details
This product consists of several components. Below you will find an overview of all the component parts.

Finishing set for socket outlet with side earting and shutters, cream

The central plate is fixed to a flush-mounting socket outlet using a screw with a combination screwhead (Pz1 slot 1 x 5.5 mm). This central plate is surrounded with a flat edge that is equipped at all 4 corners with a rectangular opening, each containing a multi-positional snap hook. The construction of the central plate ensures that the flush-surround plate can always be attached flat to the wall, even in cases of untidy plasterwork. cream.

Niko has already created this product for you. We have combined several articles into one finished product, which is available in different variations.

Socket outlet 71 x 71 mm with side earthing and plug-in terminals, base and finishing set cream

Compound two-pole, flush-mounting socket outlet 16 A~ 250 V (base and finishing set), with side earthing and central plate with shutters (flush-mounting depth 28.5 mm). The socket outlet is equipped with contact buses with a large contact surface area which must not rest on the base in order to be connected and plug-in terminals with releases. These releases can be operated from the front side by hand or with a screwdriver. Finishing colour: cream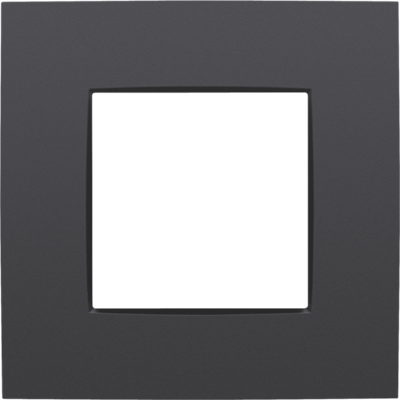 Single flush surround plate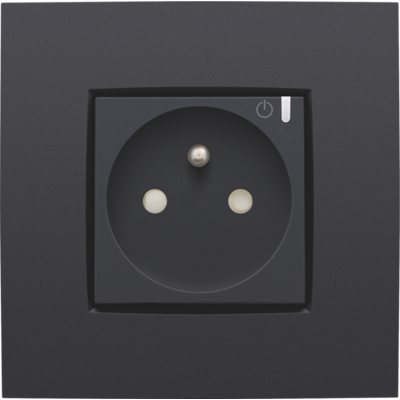 Connected switching socket outlet for Niko Home Control with pin earthing and shutters, Zigbee®
With this connected switching socket outlet with built-in consumption measurement, you choose extra comfort, safety and energy awareness. The socket outlet can be easily installed in all new construction projects and can also easily replace an existing socket outlet in renovation projects without adapting the wiring. You connect the socket outlet without additional cabling with a wireless switch and the wireless smart hub (552-00001) for Niko Home Control. That way you have full control over your socket outlets and can add useful new features such as an all-off or all-on function, automatic calendar functions, remote control, consumption messages and an overview of your energy consumption.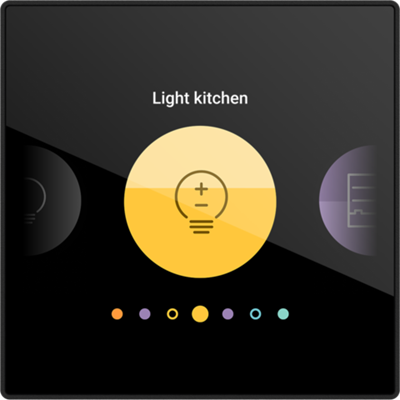 Digital black, connected customisable control screen, 230 V
Digital black is a completely customisable touchscreen which has an extremely user-friendly interface with clear symbols. The screen is automatically activated when your hand comes near, so you can switch or dim your lights, set moods, set ventilation modes, adjust blinds and sun blinds to the desired position, in one operation. In short, all possible types of controls are available in your Niko Home Control system. Do you have a Niko Home Control thermostat (550-1305x)? Then you can easily set the temperature with the Digital black. With the corresponding configuration app not only can you choose which controls are displayed or where they are displayed on the screen, but also the way you navigate through your control screens. You can download this app for free in the respective app store for your mobile device. The Digital black can be easily mounted in a standard flush-mounting box and is powered on 230V AC. This 230V AC variant is equipped with a switching contact 10 A (resistive), meaning that it can easily be replaced with a conventional single-pole switch. In combination with the wireless smart hub for Niko Home Control (552-00001) and additional connected control points from the Niko Home Control range for conventional wiring, you can easily add additional automation to your conventional installation. The screen communicates via your wireless home network with the rest of your Niko Home Control system. You need an active internet connection to activate the Digital black. This internet connection ensures that your Digital black and Niko Home Control installation are always up-to-date and have the most recent functionalities.