Connected double switch, base, 2 x 10 A (max. 16 A in total, 71 x 71 mm, claw fixing, Zigbee®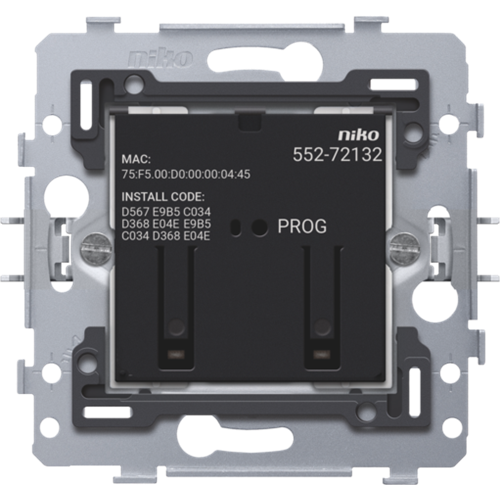 Description
The connected double Zigbee® switch has two switching contacts to switch lighting. It contains a transmitter and receiver that can communicate wirelessly with the wireless smart hub for Niko Home Control (552-00001).
You can use the connected double switch to replace a conventional switch. It is equipped with two extension terminals so that, in combination with a conventional push button, it can easily replace multiway or intermediate switching. The connected double switch can switch its own contacts.
Once the wireless smart hub for Niko Home Control (552-00001) has been added, it is possible to configure additional functionalities with the Niko Home Control programming software. That way, it is possible to connect these in a scene or all-off function and much more. This device can also be used in a bus wiring installation in combination with the wireless bridge for Niko Home Control (550-00640).
It is possible to disconnect the control from its built-in contacts. That way, you have complete flexibility to configure the switching contact and the controls separately via the programming software.
This article is protected by at least one patent (application). For more info on patents, see www.niko.eu/innovation.
Specification description
Connected double switch, base, 2 x 10 A (max. 16 A in total, 71 x 71 mm, claw fixing, Zigbee®.
max. load per channel: 10 A
Modification of settings: Niko Home Control programming software (requires smart hub)
Maximum range (from switch to smart hub): 10 m
Maximum number per installation: 50 connected Zigbee® devices
Compatible with the wireless bridge
LED colour: white
Maximum MCB rating: 16 A (limited by national installation rules)
Communication protocol: Zigbee® 3.0
Maximum radio frequency power: 10 dBm
Operating frequency: 2.4 GHz
System compatibility: talks with Homey (Zigbee®)
Protection degree: IP20
Flush mounting depth: 40 mm
Required type of flush-mounting box

depth: min. 40 mm (cabling space included)
claw/screw fixing: 60 mm
inner diameter box: 60 mm
multiple boxes centre distance horizontal: 71 mm
multiple boxes centre distance vertical: 71 mm
multiple boxes centre distance vertical: 60 mm for Belgium and France

Fixing method

simple mounting in a flush-mounting box with grip surfaces
with claws that rotate open using screws with a combination screwhead (Pz2 or slot 1 x 5.5 mm), for mounting in a flush-mounting box with grip surfaces
engagement depth of claws: 23.5 mm
claws turn back completely when loosened

Centre-to-centre distance

horizontal coupling and vertical coupling with centre-to-centre distance 71 mm
horizontal connection of several bases is quick and perfect thanks to the folded-up dovetails on the left and right side
extra robustness due to the folded-up edges on the outside of the base and the continuation to the inside of the base

Dimensions (HxWxD): 73 x 73 x 38.6 mm
Weight: 70 g
Certification marks: Zigbee Certified Product
Marking: CE
The article above is part of this product: