Connected dimmer, base, 3 – 200 W, 2-wire, 71 x 71 mm, claw fixing, Zigbee®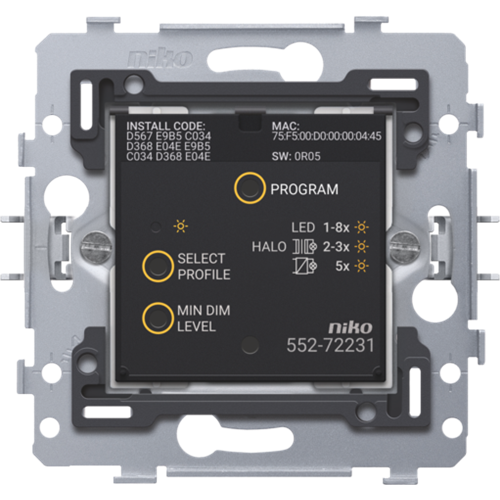 Description
The connected Zigbee® dimmer contains a dimmer contact to control the lighting. It contains a transmitter and receiver that communicate wirelessly with the wireless smart hub for Niko Home Control (552-00001).
You can use the connected dimmer to replace a conventional switch. It is equipped with an extension terminal so that, in combination with a conventional push button, it can easily replace multiway or intermediate switching. The connected dimmer can switch its own contact.
With the addition of the wireless smart hub for Niko Home Control (552-00001), it is possible to configure additional functionalities with the Niko Home Control programming software. For example, it becomes possible to add it to a scene or all-off function. This device can also be used in a bus wiring installation in combination with the wireless bridge for Niko Home Control (550-00640).
It is possible to disconnect the control from its built-in contact. That way, you have complete flexibility to configure the switching contact and the controls separately via the programming software.
This article is protected by at least one patent (application). For more info on patents, see www.niko.eu/innovation.
Specification description
Connected dimmer, base, 3 – 200 W, 2-wire, 71 x 71 mm, claw fixing, Zigbee®.
Modification of settings: Niko Home Control programming software (requires smart hub)
Maximum range (from switch to smart hub): 10 m
Maximum number per Installation: 50 connected Zigbee® devices
Compatible with the wireless bridge
Function: Universal flush-mounting dimmer plus with push button control for capacitive, inductive and resistive loads, including dimmable LED lamps. Trailing edge for resistive and capacitive loads. Leading edge for inductive loads.
Maximum load ferromagnetic transformer: 200 VA
Maximum load dimmable LED lamps in leading edge: 100 W
Maximum load dimmable LED lamps in trailing edge: 200 W
Hum-free: yes
PLC interference suppression: this dimmer is equipped with interference suppression of PLC signals (frequency dips up to 3 Hz). This integrated interference suppression attempts to remove as many interfering signals as possible from the mains in order for most lamps to function optimally, without flashing or humming.
Protection from overload: thermal overload protection. Protection against repetitive overload. Automatic reset function of the protections.
Short circuit proof: electronic short-circuit protection
Communication protocol: Zigbee® 3.0
Maximum radio frequency power: 10 dBm
Operating frequency: 2.4 GHz
System compatibility: talks with Homey (Zigbee®)
Flush-mounting frame

1 mm-thick metal
galvanized on all sides after cutting, even on the cut edges
with 4 grooves with screw hole of 7 mm
with 4 screw holes (indicated by a screw symbol) with a diameter of 3 mm for mounting on panels

Required type of flush-mounting box

depth: min. 40 mm (cabling space included)
claw/screw fixing: 60 mm
inner diameter box: 60 mm
multiple boxes centre distance horizontal: 71 mm
multiple boxes centre distance vertical: 71 mm
multiple boxes centre distance vertical: 60 mm for Belgium and France

Fixing method

simple mounting in a flush-mounting box with grip surfaces
with claws that rotate open using screws with a combination screwhead (Pz2 or slot 1 x 5.5 mm), for mounting in a flush-mounting box with grip surfaces
engagement depth of claws: 23.5 mm
claws turn back completely when loosened

Wire capacity

1 x 2.5 mm² per connection terminal

Centre-to-centre distance

horizontal coupling and vertical coupling with centre-to-centre distance 71 mm
horizontal connection of several bases is quick and perfect thanks to the folded-up dovetails on the left and right side
extra robustness due to the folded-up edges on the outside of the base and the continuation to the inside of the base

Input voltage: 230 Vac ± 10 %, 50 Hz
Maximum MCB rating: 16 A (limited by national installation rules)
Ambient temperature: 0 – 35 °C
Protection degree: IP20
Impact resistance: The combination of a mechanism, a central plate and a faceplate has an impact-resistance of IK06
Dimensions (HxWxD): 73 x 73 x 40.5 mm
Certification marks: Zigbee Certified Product
Marking: CE
The article above is part of this product: