Orientation lighting with warm white LEDs, 360 lux - 2800 K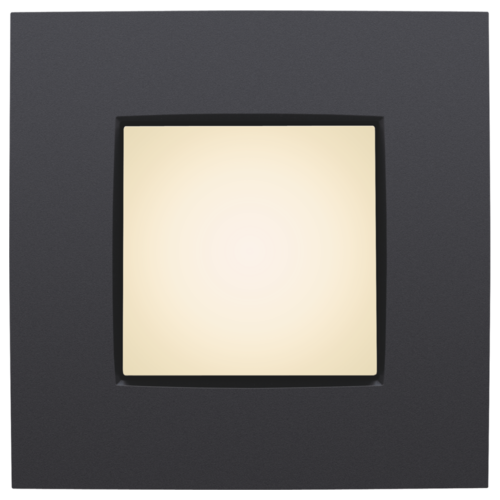 Product details
This product consists of several components. Below you will find an overview of all the component parts.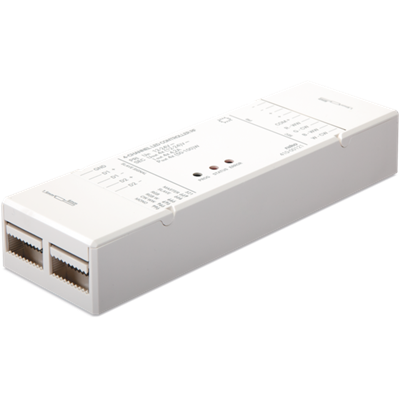 Wireless 4-channel constant voltage controller
The 4-channel controller is suitable for controlling LED strips (constant voltage, common anode) from 12 to 24 Vdc. The controller has a maximum power of 50W per channel for 12Vdc LED strips and of 100W per channel for 24Vdc LED strips. The controller can control the following types of LED strips: RGB, RGBW, tunable white and monochrome. We recommend using the specifically designed RGB(W) wall controller in 4-button mode (article numbers 410-00002 + xxx-90002) for controlling the colour LED strips.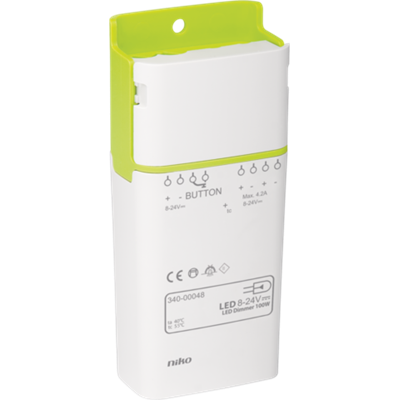 PWM dimmer, 100 W
The PWM dimmer will be used to dim LED strips with monochrome LEDs, up to a maximum capacity of 100 W. The light intensity is dimmed linearly by using an NO push button. Press the NO push button briefly for switching on and off, and hold it down for brightening and dimming the light. Replaces 340-10027 and 340-10028.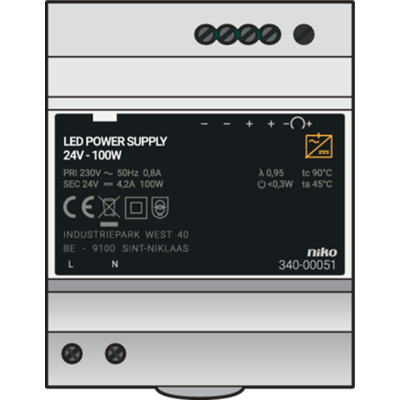 DIN rail power supply for LED strips, 24 Vdc - 100 W
The power supply is suitable for DIN rail mounting. The power supply is equipped with a primary input and four secondary terminals to connect two loads. Usage of screw terminals, both at primary and at secondary side. The output power range is adjustable. In compliance with the European directives for EMC and safety