Orientation lighting with backup battery and white leds, 830 lux - 6500 K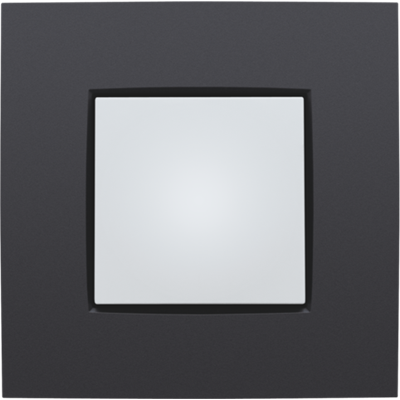 Suitable for indoor use. In case of a power failure, the integrated backup battery takes over for a period of 15 minutes.
Product details
This product consists of several components. Below you will find an overview of all the component parts.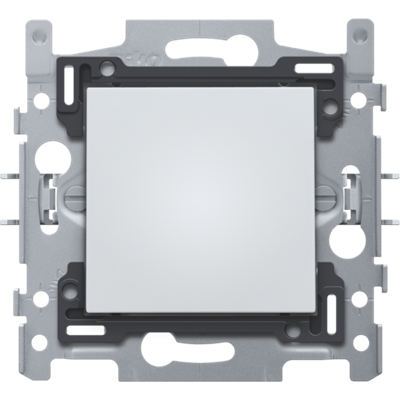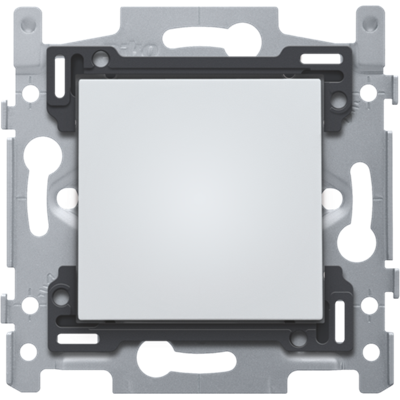 Accessories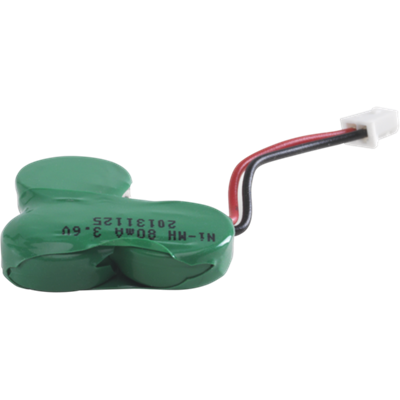 Emergency battery for orientation lighting
Available until December 2022
This emergency battery takes over the supply of power for the orientation lighting for 15 minutes in the event of a power failure.
Specification description
This orientation lighting module of 45 (H) x 45 (W) x 32 (D)mm can be clicked directly into a 45x45 mm flush-mounting frame, a trunking system with a 45 mm cover height or into an empty Mini-patch distribution board with a 45x45 mm opening. The orientation lighting unit is equipped with plug-in terminals with a connection range of min. 2 x 1.5 mm² and max. 2 x 2.5 mm². The lighting module is made of white, translucent polycarbonate. The white light is produced by LEDs (class T or S) with a very low power consumption. They are shockproof and do not radiate any heat. The LEDs have a life span of more than 50,000 burning hours. This orientation lighting unit operates on a mains voltage of 230 V (no transformer needed) and has a capacity of 0.6 Watt. All plastic components are self-extinguishing and halogen-free. All plastic components comply with a filament test of 650°C and are halogen-free. Flush-mounting depth orientation lighting unit: 32 mm. CE marking.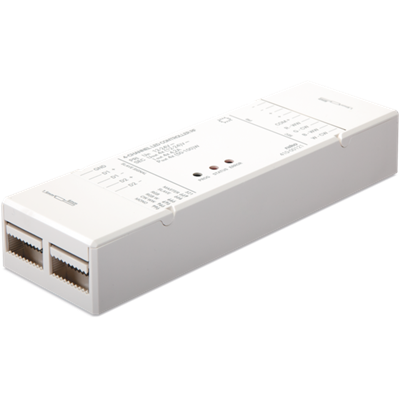 Wireless 4-channel constant voltage controller
The 4-channel controller is suitable for controlling LED strips (constant voltage, common anode) from 12 to 24 Vdc. The controller has a maximum power of 50W per channel for 12Vdc LED strips and of 100W per channel for 24Vdc LED strips. The controller can control the following types of LED strips: RGB, RGBW, tunable white and monochrome. We recommend using the specifically designed RGB(W) wall controller in 4-button mode (article numbers 410-00002 + xxx-90002) for controlling the colour LED strips. Replaces 340-00120 & 340-00121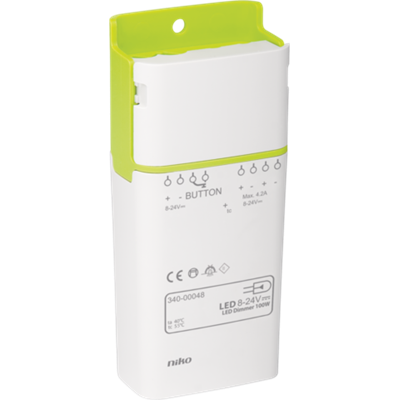 PWM dimmer, 100 W
The PWM dimmer will be used to dim Niko LED strips with monochrome LEDs, up to a maximum capacity of 100 W. The light intensity is dimmed linearly by using an NO push button. Press the NO push button briefly for switching on and off, and hold it down for brightening and dimming the light. Replaces 340-10027 and 340-10028.
Power supply for LED strips, 24 Vdc - 60 W - IP67
The 60W power supply is suitable for supplying power to LED strips. This power supply has an IP67 protection degree, is dust-free and waterjet proof. As a result, it is extremely well-suited for installation in a damp room, such as a bathroom or kitchen. The cables are fixed with resin.