18/06/2021 - Summer is coming and that means spending many an hour enjoying ourselves in the garden. Scrolling through the news in the morning on your tablet while taking in some rays. Relaxing in the shade in the afternoon playing your favourite music in the background via the speaker. Or spending a cosy evening watching a film on your laptop on your garden seat? But what happens if your battery runs out of power and no socket is nearby? With the Niko Hydro garden post, you'll never be out of power. And with its sleek, modern design and no visible cabling, it's definitely an asset in any outdoor environment.
Continue your indoor life outdoors, the smart way
Simply install the weather- and water-resistant Niko Hydro garden post wherever you want it and you'll have an electricity connection, even if no walls are available.
You can install it on soft ground with a spike or use a baseplate to secure it to a hard surface, such as your driveway or patio. Each post can provide up to three functions for switches, socket outlets and connection points.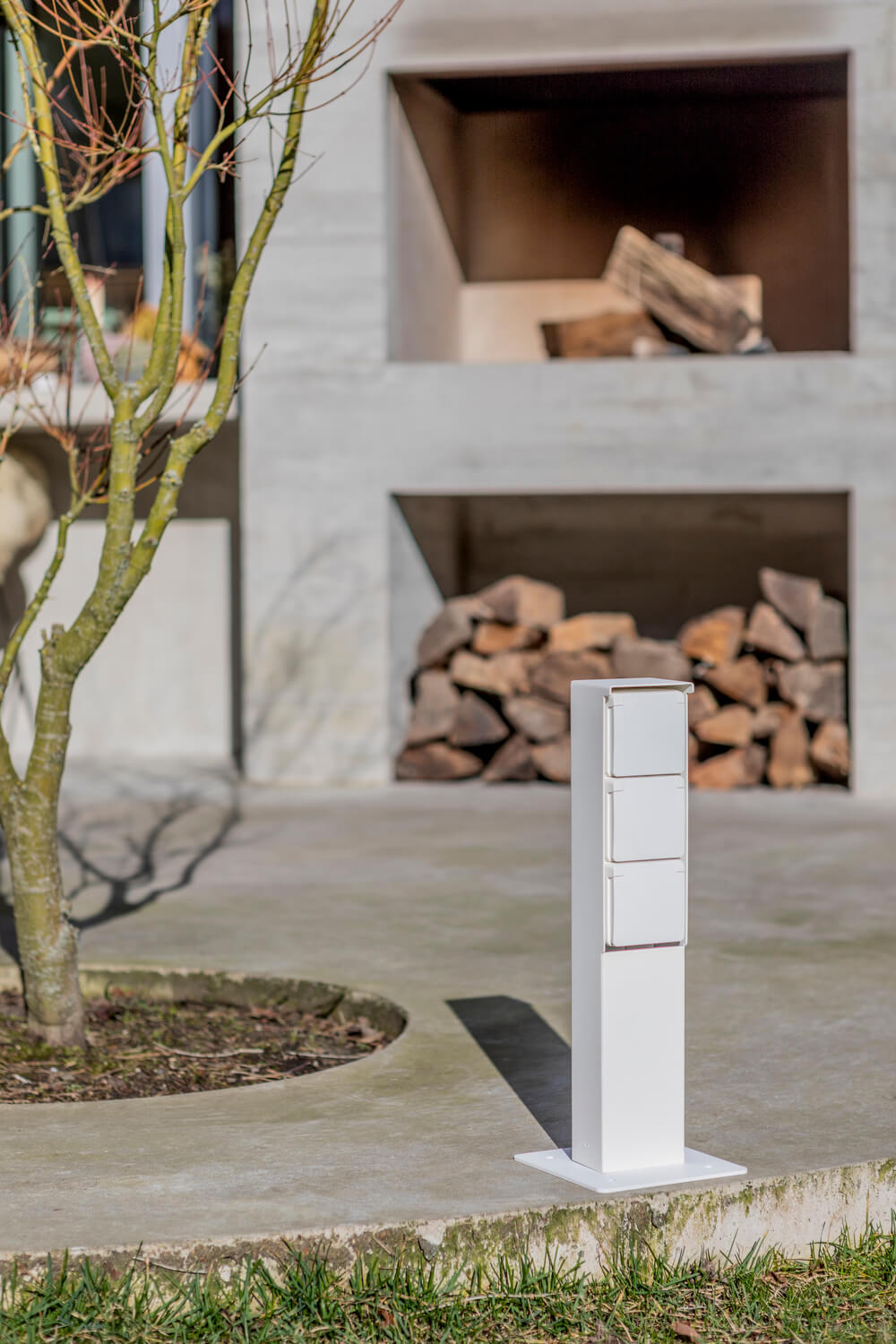 If you like working outdoors, you can choose a Niko Hydro garden post with a socket, a USB charger and an internet connection. Alternatively, you could install a post with a socket and two multimedia connections for your backyard lounge in your leafy paradise. You could also install a post next to your driveway to connect your jet washer or vacuum cleaner. Or maybe you will choose to install a post for your electric bike and an electric lock. But what if you love watching TV outdoors? If so, connect your TV and mini fridge to the socket outlet and TV connection on your garden post!
A sleek, modern Belgian design
Whatever the reason you need electricity outdoors, there's always a solution thanks to the Niko Hydro garden post. Available in three colours – grey, white or black – and made from stainless steel, this sleek modern design forms the ideal complement to any garden, driveway or patio. So that the design can really speak for itself, the cabling is hidden inside the post.
And it's a great thing to know that the Niko Hydro garden post is 100% made in Belgium! So why not live and work outdoors this summer, while enjoying the convenience you have indoors?