Wireless 2-channel receiver for motor control
Available as from October 2020. This product is still in development. The technical specifications could be subject to change. Currently missing technical documents will be added to this page as soon as they are ready.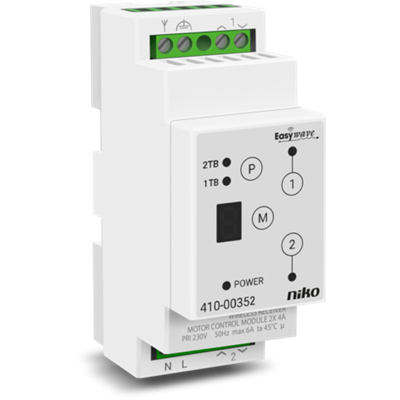 Description
This 2-channel receiver for DIN-rail mounting is controlled wirelessly via radio frequency. It has 2 outputs, each with two 6 A/230 V changeover contacts and a connection for an external antenna (410-00359). You use the module to open, close or stop roll-down shutters and venetian blinds. The terrace function makes it possible to lock the closing direction of one or more outputs, thereby preventing getting locked out unintentionally.
Specification description
DIN dimensions: 2TE
Dimensions: 34.5 / 89.6 / 62.8 mm
Easywave frequency: 868.30 Mhz
Input voltage: 230V AC, 50 Hz
Operating temperature: -20°C to +60°C
Power consumption in stand-by: 0.5 W, 0.8 W switched (without load)
Weight: 108 g
Protection degree: IP20
The article above is part of this product: