Plug-through socket with wireless receiver and side earthing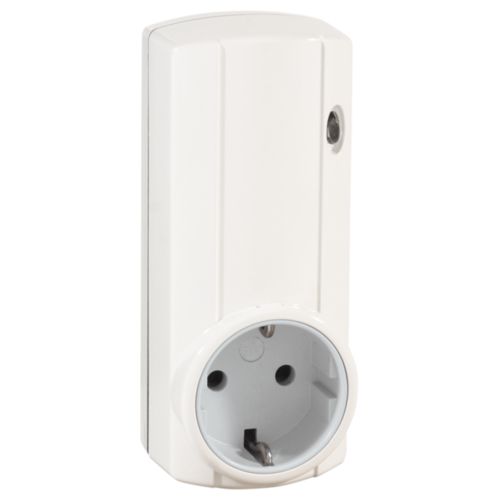 This plug-through socket equipped with a single-pole switching contact (10 A) has three different modes: classic switching function (on/off), teleruptor and delayed off (7 min, time not adjustable). Wireless transmitters can be connected to this socket.
Product details
This product consists of several components. Below you will find an overview of all the component parts.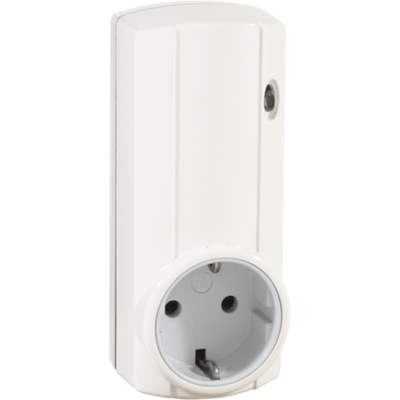 RF Plug-through socket UITG. Side earthing, 1-channel, 868MHz
Plug-through socket-receiver with side earthing, wirelessly controlled via radio frequency (868.3MHz). Equipped with one switch contact, 10A, 230V 50Hz. Choice of 3 different modes. Maximum of 32 transmitters per receiver.
In combination with the "Niko connected switch" gateway only dual-button control is used.
Niko dimmer switch for Hue system
With this wireless and battery-free dimmer, you can operate the Philips Hue lamps effortlessly. Determine in the Philips Hue app what each button must do (switching on and off, dimming, activating mood settings). Mechanism including button and Niko Intense or Original faceplate.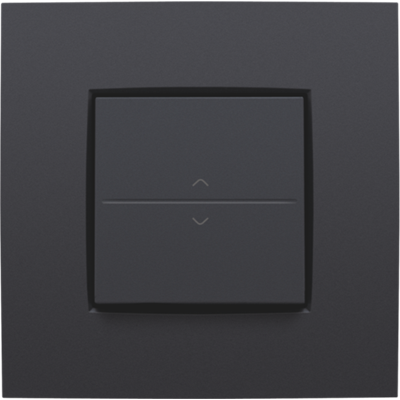 Wireless switch with two buttons
This wireless switch with two buttons can be used by a wireless receiver from the Easywave range. It can be used as one dual-button control (upper=on, lower=off), or as two one-button controls (toggle on/off or pulse). The switch can also be used in the Niko Home Control installation for bus wiring in combination with the USB RF interface Easywave (410-00099) for Niko Home Control or in the Niko Home Control installation for traditional wiring in combination with the wireless smart hub (552-00001).
Smart single switch with push button and RF extensions, 10 A
The smart switch has a switching contact to switch lighting on and off. It has a transmitter and receiver operating according to the Easywave protocol. If desired, extra controls can be added. These could be both classic wired push buttons and wireless controls according to the Easywave protocol. By doing so, it can effortlessly replace any traditional single, multiway, or intermediate switching. This makes the smart switch especially suitable for renovation projects or listed building interiors in which drilling or channelling work should be avoided. Please note, the only condition for the use of the smart switch is the presence of the neutral conductor in the flush-mounting box where the smart switch will be placed. Besides being able to switch its own contact, the smart switch is also able to switch other receivers operating according to the Easywave protocol. This function can also be incorporated in a mood setting/preset. In doing so, you can switch all lighting included in the mood setting/preset with one push of the button. It is fitted with a feedback LED of which the behaviour can be adapted to the needs of the user.