Niko dimmer switch for Hue system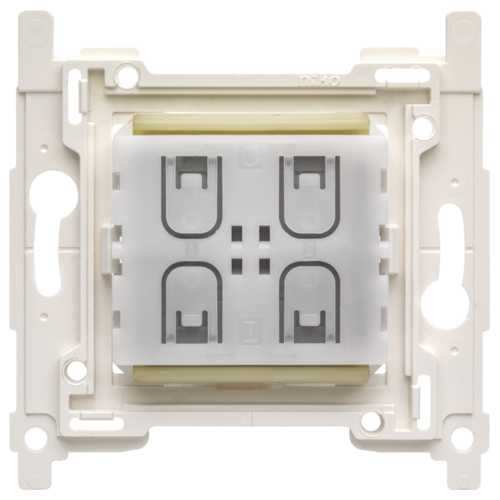 Description
With this wireless and battery-free dimmer switch, you can effortlessly operate Philips Hue lamps. Determine in the Philips Hue app what each button must do (switching on and off, dimming, activating scene settings). No wall breaking or cable installation is needed. The dimmer switch can be mounted in a European flush-mounting box, screwed onto a wall (screws not included) or glued to a flat surface with double-sided adhesive strips (included). The central plate and faceplate must be ordered separately. The dimmer switch combines with any Niko Pure, Niko Intense and Niko Original faceplate in the colour of your choice. Philips Hue Bridge v2 not required and not included.
Specification description
Niko dimmer switch for Hue system.
Power supply: integrated kinetic energy Harvester
Modulation: Shift Keying (OQPSK)
Maximum RF power: 7 dBm / 5 mW
Data rate: 250 kbps
Configuration: Philips Hue app
Mounting height: 110 cm
Maximum range (indoor): up to 20 m
Antenna: integrated antenna
Marked: CE
Communication protocol: Zigbee® Green Power
Operating frequency: 2.4 GHz
Protection degree: IP20
Ambient temperature: -25 – +65 °C
Dimensions (HxWxD): 83 x 83 x 15 mm
Weight: 25 g
Marking: CE
The article above is part of this product: