Wireless battery-powered switch, onefold, Zigbee®, excluding base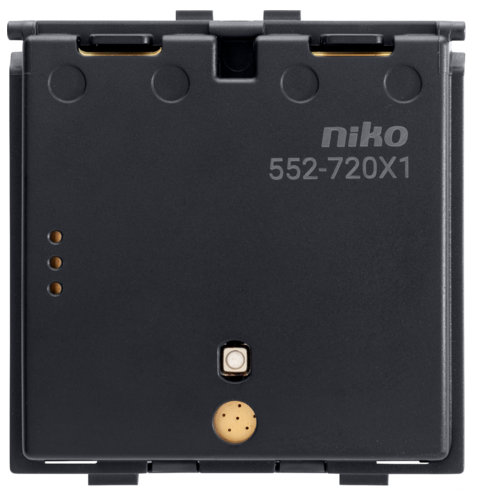 Description
This onefold wireless battery-powered Zigbee® switch allows you to remotely control wireless Zigbee® devices. It can either be used in your Niko Home Control installation or connected to a third-party Zigbee® network as a standard dimmer switch via Find&Bind pairing. Moreover, the switch can be paired with up to eight Zigbee® receivers for stand-alone use via Touchlink. It is battery-powered with a lifetime of at least five years, based on twenty short-press actuations a day. The wireless Zigbee® switch must be mounted on a metal base (552-720X0), making it possible to install the switch on a flush-mounting box. If you want to install the onefold wireless battery-powered Zigbee® on a flat wall, order the variant with a plastic base instead (552-72001). The single key, faceplate and metal base must be ordered separately. This onefold wireless battery-powered Zigbee® switch combines with any Niko Pure, Niko Intense and Niko Original faceplate in the colour of your choice. For best performance, follow the installation and radio planning guidelines. The wireless battery-powered switch can be connected wirelessly to the wireless smart hub for Niko Home Control (552-00001). This device can also be used in a bus wiring installation in combination with the wireless bridge for Niko Home Control (550-00640).
Specification description
Wireless battery-powered switch, onefold, Zigbee®, excluding base.
Mounting method: flush-mounting box
Maximum range (from switch to smart hub): 10 m
Power supply: via battery 3 V DC, CR2450
Battery lifespan: 5 years at 20 actuations/day
Antenna: integrated antenna
Humidity: 0 – 95 % relative humidity, non-condensing
Maximum per installation:

max. 50 connected Zigbee® devices per Niko Home Control installation
stand-alone: max. 8 Zigbee® receivers (ON/OFF/dimming) per switch

Ambient temperature operation: 5 °C – 30 °C
Ambient temperature storage: 0 °C – 40 °C
Compatible with the wireless bridge
Communication protocol: Zigbee® 3.0
Maximum radio frequency power: 8 dBm
Operating frequency: 2.4 GHz
System compatibility: talks with Homey
Protection degree: IP20
Required type of flush-mounting box

depth: min. 40 mm (cabling space included)
claw/screw fixing: 60 mm
inner diameter box: 60 mm
multiple boxes centre distance horizontal: 71 mm
multiple boxes centre distance vertical: 71 mm
multiple boxes centre distance vertical: 60 mm for Belgium and France

Dimensions (HxWxD): 45 x 46 x 9 mm
Weight: 17 g
Certification marks: Zigbee Certified Product
Marking: CE
The article above is part of this product: