With the Niko Home Control smart living starter kit, you can quickly and easily get to know the various advantages of a smart home. Once you've experienced the many advantages, you can easily expand your system to suit your family and needs.
After installing the package, you can add other solutions in the Niko Home Control for traditional wiring range, like smart plugs, single or double connected switches, connected motor control, etc. No need to worry: they all work with the same wireless smart hub included in the starter kit. 
The Niko Home Control smart living starter kit contains:
a wireless smart hub and a P1 cable for connecting to the digital meter
1 connected switching socket outlet
1 connected dimmer
1 wireless motion detector
After installation, you can immediately enjoy the advantages of a smart home.
(phone not included)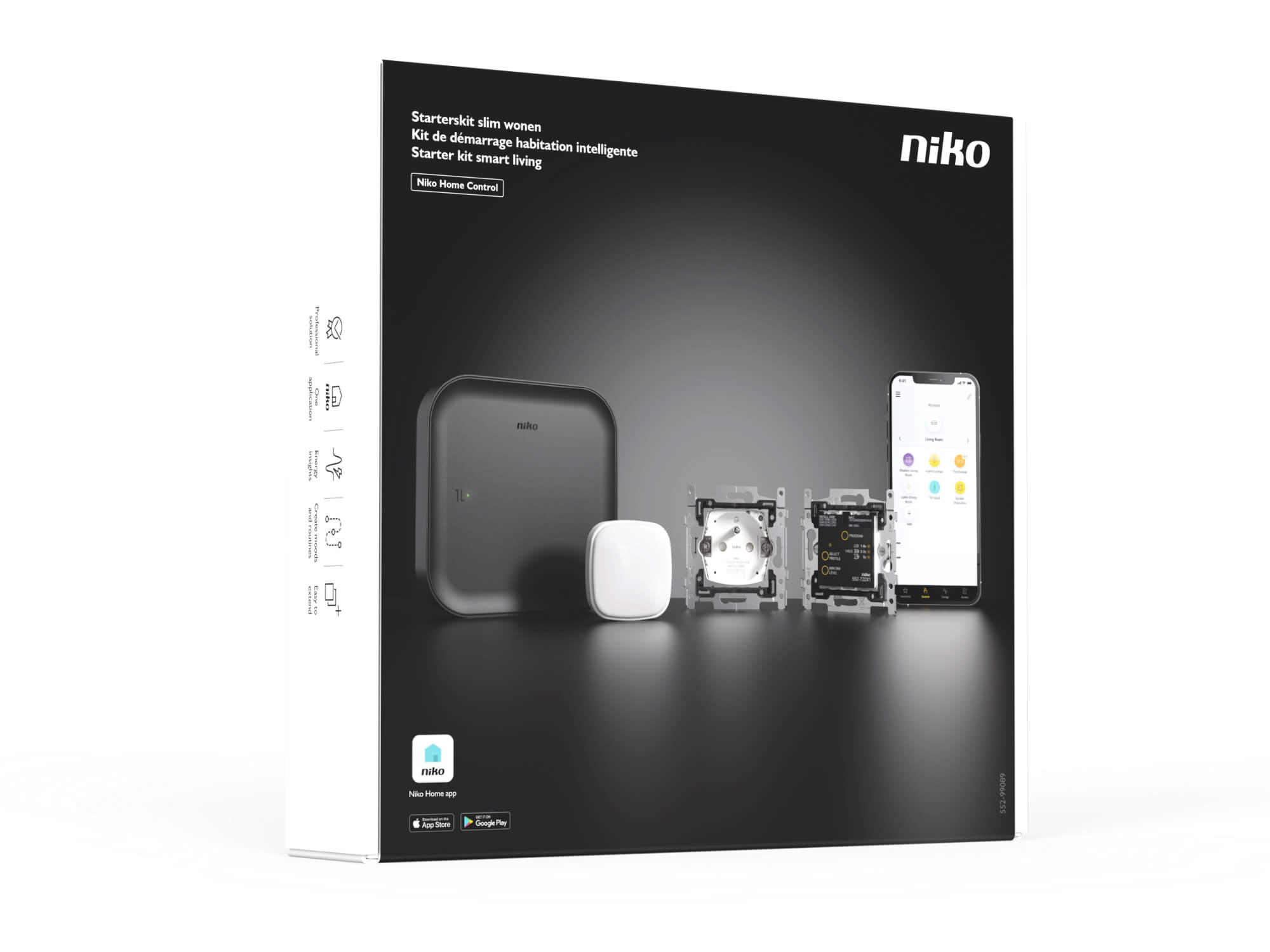 Wireless smart hub for Niko Home Control
With the wireless smart hub, you can synchronise all controls in the home: connected single and double switches, connected dimmers, connected motor control, etc. You can connect the hub to the home network via a network cable or the WiFi network. Using the programming software or the Niko Home app, you can easily configure all controls. 
The wireless smart hub comes with a P1 cable so you can connect the hub to your digital meter. This will give you an immediate insight into your energy consumption and any overproduction of solar energy.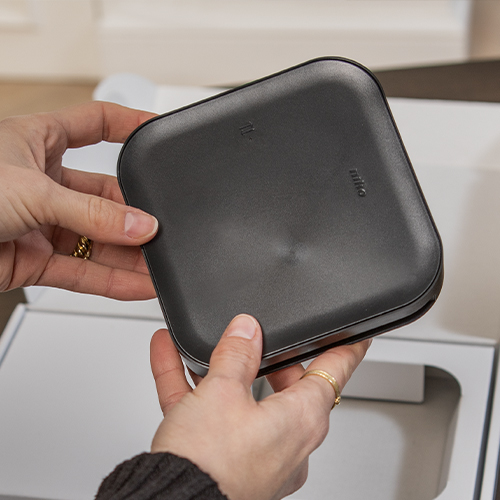 Connected switching socket outlet
The connected socket outlet can be switched on and off remotely using the Niko Home app on your smartphone. On top of that, the app also shows you the current and past consumption of the devices powered by this socket. Would you like more comfort and safety? In that case, you can connect the socket outlet to, for example, the all-off button, routines and calendar schedules or consumption notifications on the smartphone.
With the built-in switch in the connected socket outlet, you can control it manually immediately after installation, without additional configuration.
Connected dimmer, 2-wire
The connected 2-wire dimmer can replace any 2 or 3‑wire switch. Using push button extensions (ref. 170‑0000x), you can control it from several locations. With this dimmer, you can not only dim lamps, but also switch them on and off.
Using the Niko Home app, you can easily set the desired dimming level for different routines. As such, you can instantly activate the right scene at the touch of a button.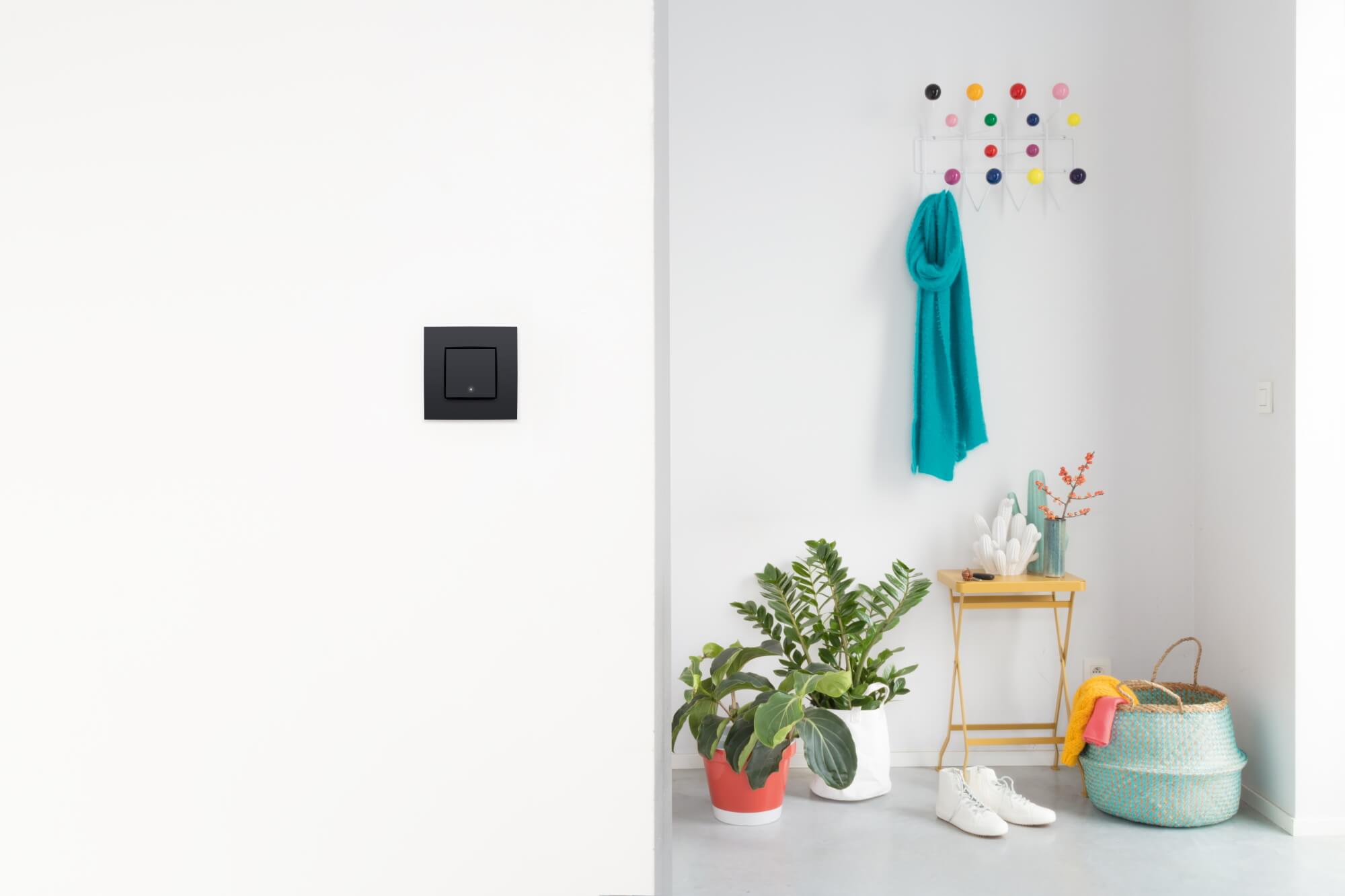 Wireless motion detector
The wireless motion detector controls one or more contacts or connected devices (switches, dimmers, etc.). For example, when motion is detected, you can control the contact of another connected switch, dimmer or motor control or activate a pre-programmed routine.
Thanks to its battery and self-adhesive mounting plate, you can  place it wherever you like.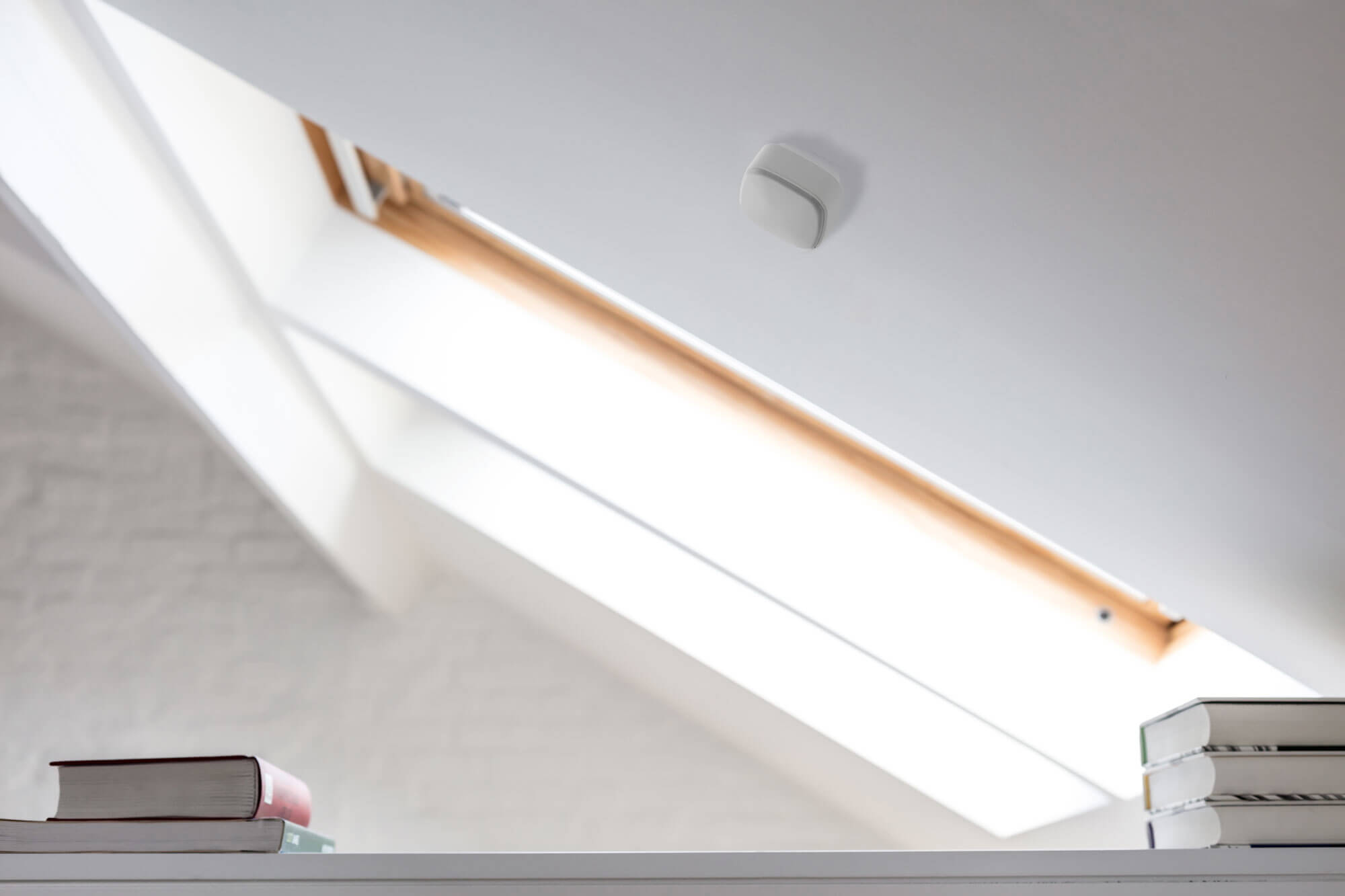 Available today
The Niko Home Control smart living starter kit is now available from most DIY shops and installers
Would you like to expand the starter kit with other applications, such as a smart plug, single or double connected switch or connected motor control? Please contact your installer,  who can offer you a complete solution to make your home even more comfortable, safe and energy efficient.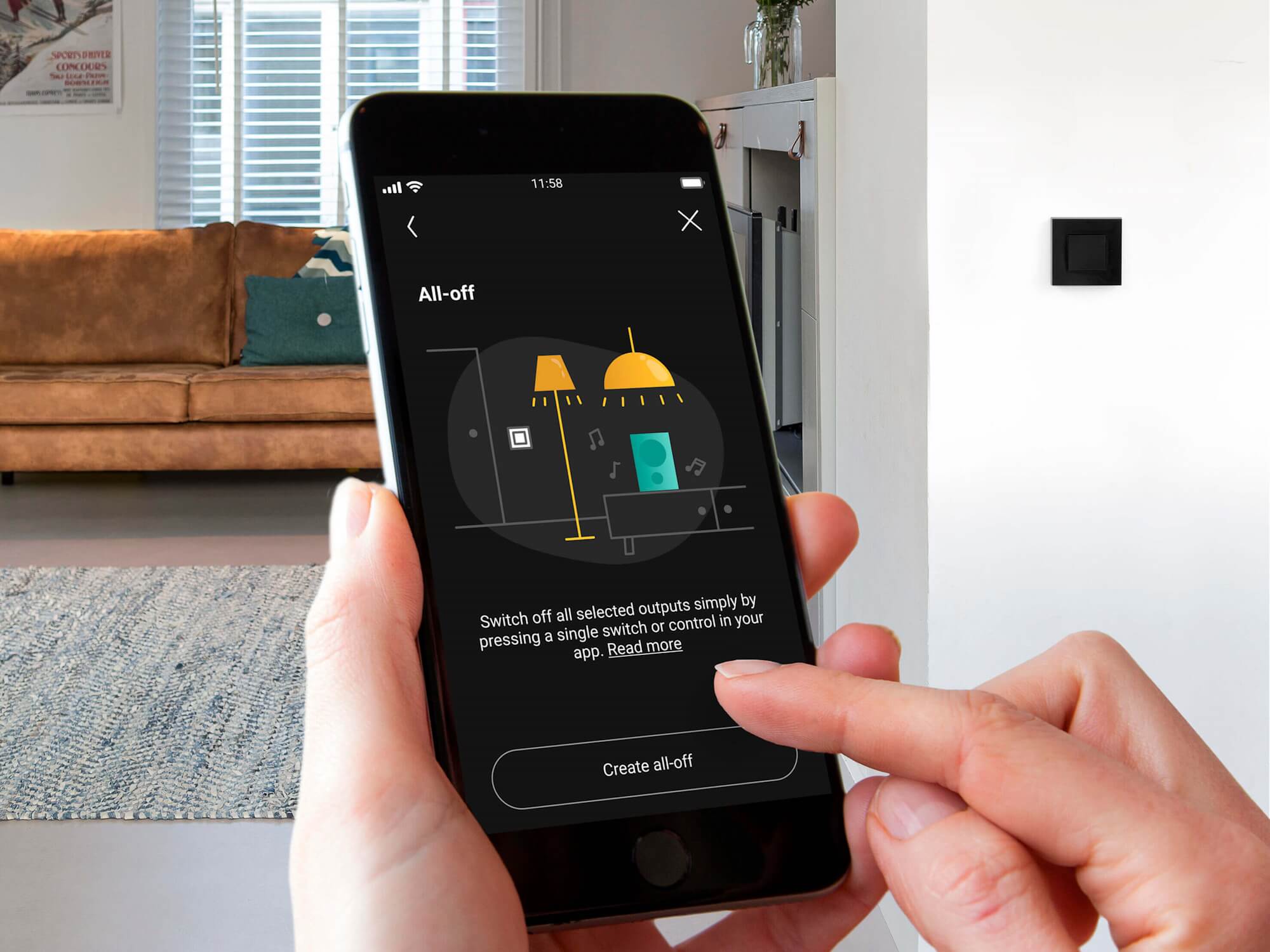 Easy installation
The starter kit is a user-friendly package which quickly and easily introduces you to the various functionalities of Niko Home Control.
In this online user manual, we will explain step by step how to install this kit. For more support or a customised system, we recommend contacting an approved installer.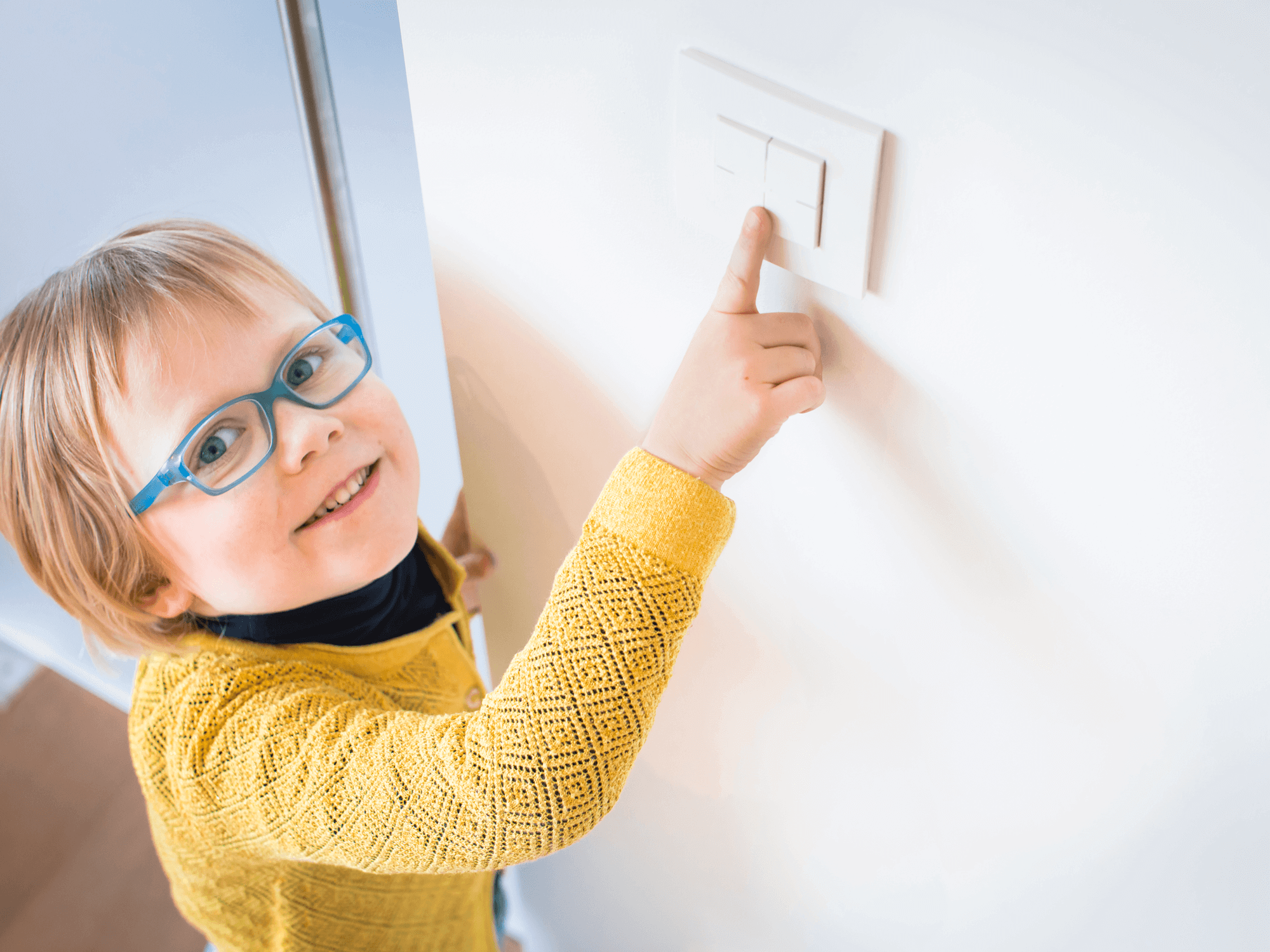 Some examples of how this starter kit can make your home smart:
All-off: switch off all your appliances with a single press of the button
Presence simulation: scare off burglars by activating your lighting at irregular intervals when you are not at home
Solar mode: activate your appliances automatically when your solar panels are producing more energy than your home is using
Panic function: activate all your lights with a single press of the button
Scenes: create the right scene at home with a single press of the button. Connect not only your general lighting, but also a standing lamp, roll-down shutters or sun blinds and your music.  
Extend your smart home later
With this starter kit, you can start with a basic installation to discover all the advantages of a smart home. Add functionalities later, at your own pace, based on your budget. Without having to add additional wiring.
Then, you can always use the switches for something else. For example, control the lighting in your garden, which you always forget to turn off before going to bed, with a switch in your entrance hall. Or set the light so it goes off automatically.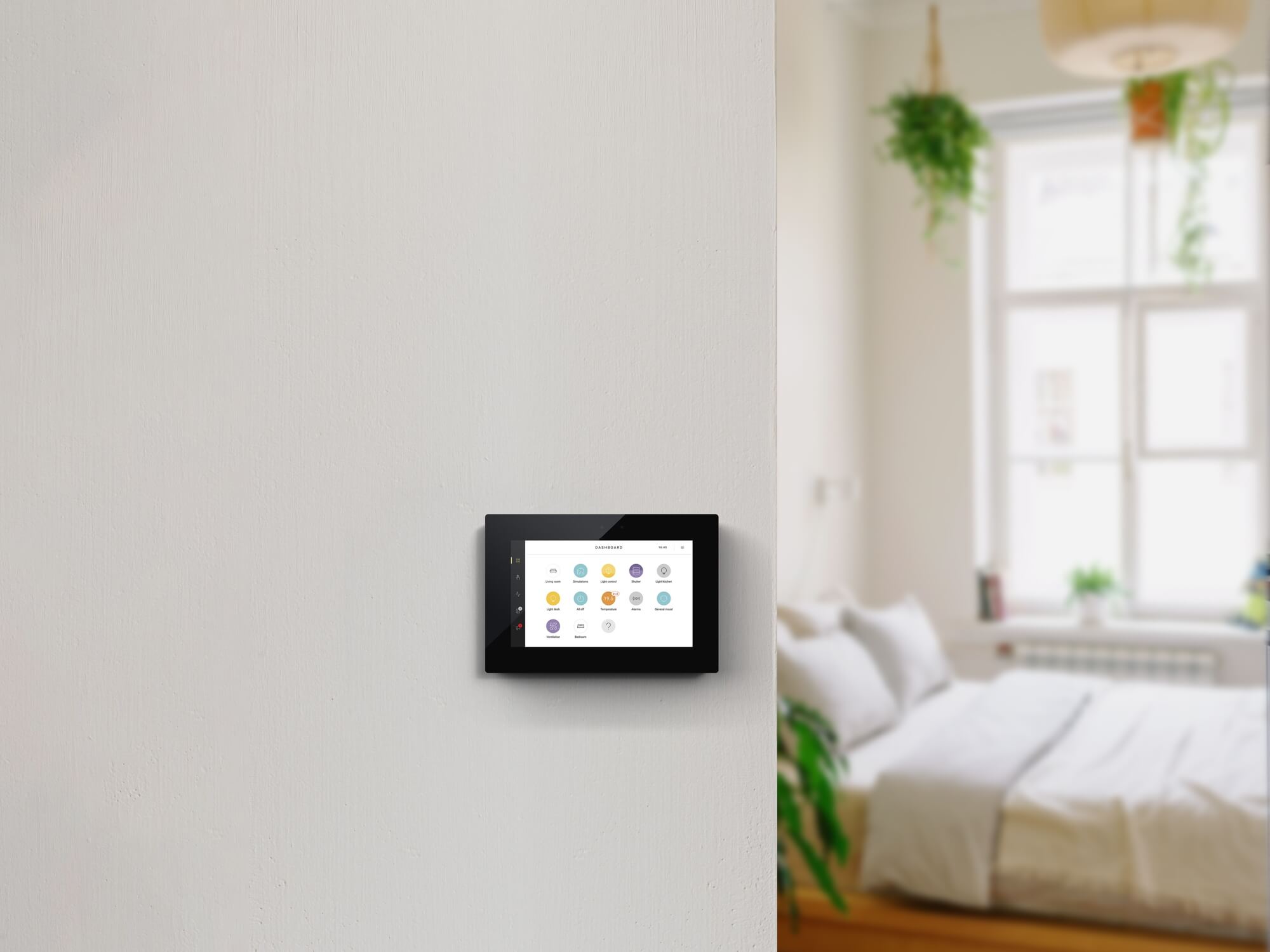 Our brochures
Interested in professional or inspiration reading material?
Find an installer
Get advice, the right products and a professional to install them