Switching module for Niko Home Control for three different circuits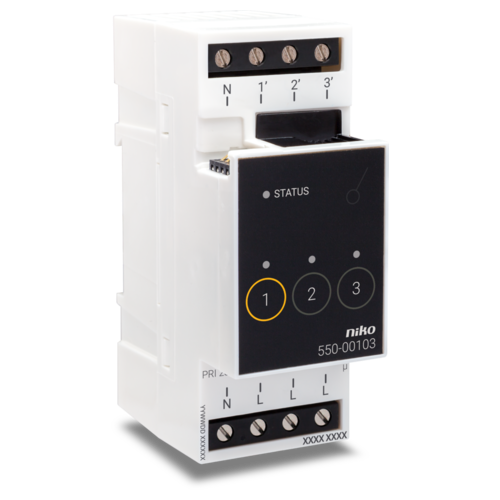 Description
This switching module is used to switch three different circuits, for example, light points, socket outlets or control valves. By pushing the button, you can also control each contact manually. Using this module allows you to interconnect one zero conductor; this keeps the wiring in the electricity cabinet tidy. The module is equipped with three feedback LEDs and one status LED and uses very little energy.
This article is protected by at least one patent (application). For more info on patents, see www.niko.eu/innovation.
Specification description
Switching module for Niko Home Control for three different circuits.
Function: You can use threefold or sixfold switching modules to connect three or six switching circuits respectively.
The bus signal of the controller activates one or several outputs of the switching module. Alternatively, the outputs can be activated or deactivated manually using the buttons on the switching module. Please remember that the activation or deactivation is only temporary as it will be overruled by the next bus communication. The outputs are activated or deactivated via low-energy bistable relays in the module. The status of the relay only changes when a data pulse is generated by the controller or by one of the switch buttons.
When the module is functioning properly, the STATUS LED will light up in TEST mode only. If one or several errors occur, the LED will blink to indicate the error code of the error with the highest priority.
only one phase per switching module should be connected
maximum load: 230 V – 16 A per channel
total maximum load of the module: 230 V – 40 A
3 independent switching circuits possible on the same phase
Compatible with the Niko Home Control solar mode
Sliding contact to connect the module to the following module on the DIN rail
Input voltage: 230 Vac ± 10 %, 50 Hz
Maximum MCB rating: 16 A (limited by national installation rules)
Connection terminals: 2 x 4 screw terminals
DIN dimensions: 2U
Dimensions (HxWxD): 90 x 35 x 66 mm
Marking: CE
Select a product below to view related articles, variants or accessories: