Niko dimmer switch, EnOcean®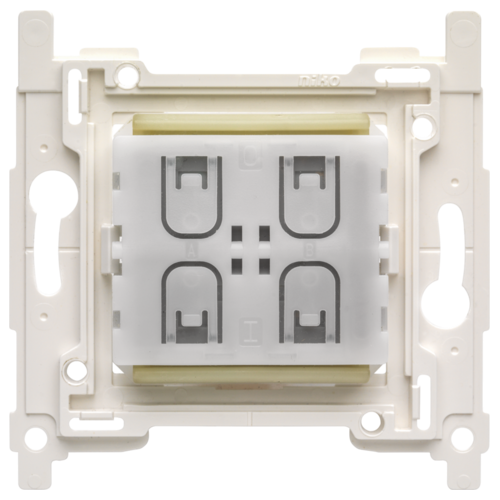 Description
With this wireless and battery-free dimmer switch in Niko design, you can remotely operate EnOcean® certified 868 MHz wireless receivers. Examples are Niko presence detectors with an EnOcean® interface (350-41680, 350-41780, 350-41781). No wall breaking or cable installation is needed. For best performance, follow the installation and radio planning guidelines. The pairing procedure with a wireless receiver determines the function of each button. Up to four buttons can be configured. The dimmer switch can be mounted in a European flush-mounting box, screwed onto a wall (screws not included) or glued to a flat surface with double-sided adhesive strips (included). The central plate and the faceplate must be ordered separately. The dimmer switch combines with any Niko Pure, Niko Intense and Niko Original faceplate in the colour of your choice.
Specification description
Niko dimmer switch, EnOcean®.
Dimensions (HxWxD): 83 x 83 x 15 mm
Power supply: integrated kinetic energy Harvester
Modulation: Amplitude-shift keying (ASK)
Data rate: 125 kbps
Configuration: Special Button Combinations (SBC) NFC forum type 2 tag
Mounting height: 110 cm
Maximum range (indoor): up to 30 m
Antenna: integrated antenna
Protection degree: IP20
Number of control buttons: The base of the fourfold potential-free push button is made of polycarbonate. In addition to the 4 control buttons (upper left and right and lower left and right), the mechanism is equipped in the middle on the front with snap hooks which hold the two keys and a finishing plate (with or without text field) in place.
Communication protocol: EnOcean®
Maximum radio frequency power: 5 dBm
Operating frequency: 0.8683 GHz
Ambient temperature: -25 – +65 °C
Weight: 25 g
Marking: CE
Select a product below to view related articles, variants or accessories: