Presence detector, 230 V, master, 26 m, round, for flush-mounting box, white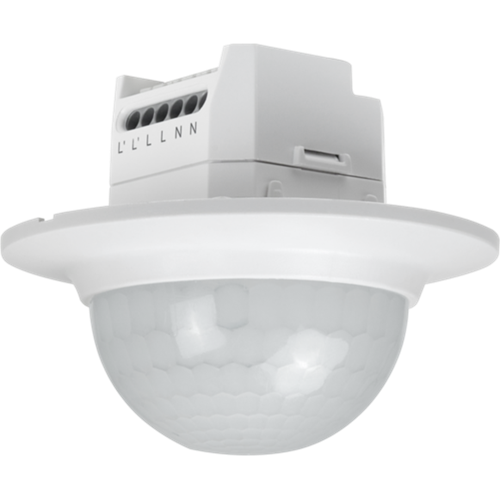 Description
The presence or absence detector with one channel for flush mounting in ceilings is suitable for switching the indoor lighting on and off. The detector is equipped with an integrated light sensor. Automatic on/off (presence detector) or manual on/automatic off (absence detector) via a N.O. push button (230 Vac) (to be ordered separately).
Finishing colour: white
Compatible secondary detectors: 351-25459, 351-25469
Specification description
Presence detector, 230 V, master, 26 m, round, for flush-mounting box, white.
Input voltage: 230 Vac ± 10 %, 50 Hz
Detector output: 230 V (ON/OFF)
Maximum MCB rating: 10 A (limited by national installation rules)
Number of channels: 1 channel
Light intensity range: 5 lux – 2000 lux
Switch-off delay: pulse, 10 s – 20 min
Detection angle: 360°
Detection range (PIR): ø 26 m from a height of 3 m
Ambient temperature: -20 – +40 °C
Mounting method: flush-mounting box
Drill diameter: 48 mm
Mounting height: 2 – 8 m
Usage: for indoor use only
Relay contact: N.O. (max. 8.7 A)
Maximum load incandescent and halogen lamps (cosφ = 1): 2000 W
Maximum load low voltage halogen lamps: 1000 W
Maximum load economy lamps (CFLi): 300 W
Maximum load LED lamps 230 V: 300 W
Dimensions (HxWxD): 105 x 105 x 86 mm
Dimensions visible (HxWxD): 105 x 105 x 50 mm
Protection degree: IP20
Protection class: Class II device
Marking: CE
Select a product below to view related articles, variants or accessories: