Niko dimmer switch for Hue system, Niko Original cream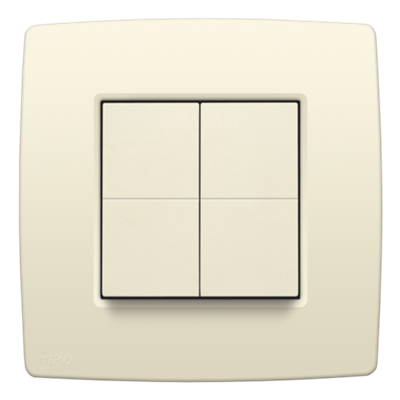 Description
With this wireless and battery-free dimmer switch, you can operate the Philips Hue lamps effortlessly. Determine in the Philips Hue app what each button must do (switching on and off, dimming, activating mood settings). Mechanism including push button and faceplate Niko Original cream. Philips Hue Bridge v2 required and not included.
Specification description
Niko dimmer switch for Hue system, Niko Original cream.
Base voor the Niko dimmer switch for Hue System.
Double key, for wireless dimmer switch (Hue®, Bluetooth®, EnOcean®, KNX®), cream. To dismount simply pull the central plate off the mechanism.
Number of control buttons: 2 control buttons
Material central plate: The central plate is made of rigid PC and ASA. The base material is coloured in mass.
Colour: cream (coloured in mass, approximately RAL 1013)
Protection degree: IP20
Impact resistance: After mounting, an impact-resistance of IK06 is guaranteed.
The plastic parts of the central plate are self-extinguishing (comply with a filament test of 650°C) and are halogen-free.
Dimensions of finishing: 45 x 45 mm (HxW)
Marking: CE
Single faceplate Niko Original cream. Simple faceplate for one switch. The complete faceplate is self-extinguishing (complies with a filament test of 650°C) and halogen-free. It is made of dimensionally stable pc+asa.
Colour: cream (coloured in mass, approximately RAL 1013)
Surface-mounting height: max. 8.5 mm
Dimensions (HxWxD): 83 x 83 x 8.9 mm
Certification marks: CEBEC, ÖVE, KEMA, VDE, NF, SEMKO
Marking: CE
Select a product below to view related articles, variants or accessories: