Niko dimmer switch, Bluetooth®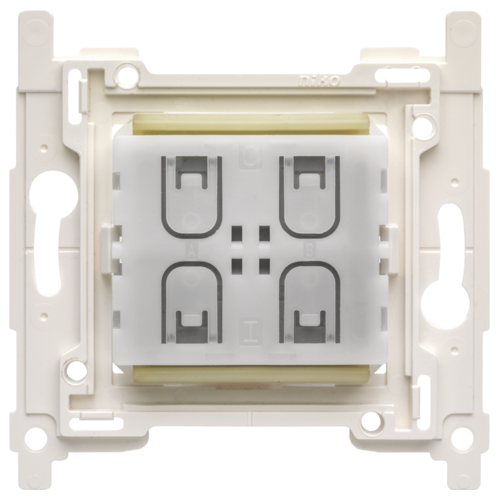 Description
With this wireless and battery-free dimmer switch in Niko design, you can remotely operate Bluetooth® low energy 2,4 GHz wireless receivers that are located in the same room. Examples are Niko presence and motion detectors with a Bluetooth® interface (P48, M48, P46 and P42 series) or smart lighting with integrated Bluetooth® technology from Casambi® or Xicato®. For best performance, follow the installation and radio planning guidelines. Configure each dimmer switch push button with the respective smart lighting smartphone app or software app (e.g. Niko detector tool app, Casambi app, Xicato® Control Software, SylSmart Standalone app, .. ). Up to four buttons can be configured. No wall breaking or cable installation is needed. The dimmer switch can be mounted in a European flush-mounting box, screwed on a wall (screws not included) or glued to a flat surface with double-sided adhesive strips (included). The central plate and faceplate must be ordered separately. The dimmer switch combines with any Niko Pure, Niko Intense and Niko Original faceplate in the colour of your choice.
Specification description
Niko dimmer switch, Bluetooth®.
Dimensions (HxWxD): 83 x 83 x 15 mm
Power supply: integrated kinetic energy Harvester
RF protocol: Bluetooth® Low Energy (BLE)
Configuration: NFC Forum Type 2 Tag (ISO/IEC 14443 Part 2 and 3)
Modulation: Gaussian frequency-shift keying (GFSK) / 1 Mbps
Operating frequency: 2,4 GHZ (2402 to 2480 MHZ)
Data rate: 1 Mbps
Mounting height: 110 cm
Temperature (storage / operating): -25°C - +65 °C
Maximum range (indoor): up to 10 m. Depending on the smart lighting, the receiver can also act as a relay and augment the range
Maximum RF power: 0,4 dBm
Antenna: Integrated antenna
Protection degree: IP20
Marking: CE
Communication protocol: Bluetooth® Low Energy
Maximum radio frequency power: 0.4 dBm
Operating frequency: 2.4 GHz
Dimensions (HxWxD): 83 x 83 x 15 mm
Weight: 25 g
Marking: CE
The article above is part of this product: