Universal dim module 2 x 400 W for Niko Home Control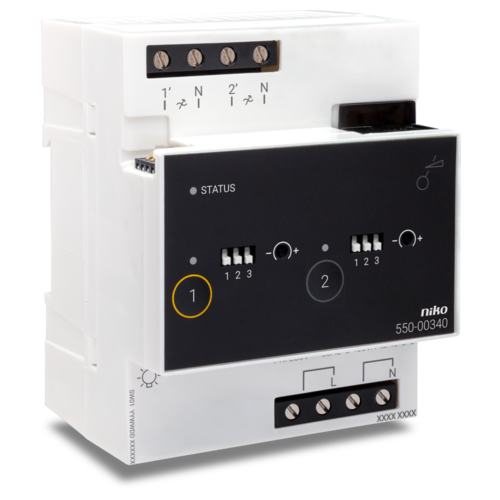 Description
This universal dimmer module is a DIN module with two channels. It is used to dim circuits up to 400 VA (at 45°C) or 500 VA (at 35°C), and is suitable for use in combination with dimmable LED lamps and dimmable energy-saving lamps, 230 V halogen lamps, 12 V halogen lamps or incandescent lamps. The push buttons on the module allow you to manually switch the circuits. You can place the modules against one another; the power supply and bus are interconnected using a cross connector. The module is equipped with electronic protection against short-circuit, overvoltage and overcurrent."
This article is protected by at least one patent (application). For more info on patents, see www.niko.eu/innovation.
Specification description
Universal dim module 2 x 400 W for Niko Home Control.
Function: The universal dimming module has two channels for dimming light circuits.
The transmission signal of the controller activates one or several outputs on the dimming module. These outputs can also be activated or deactivated manually using the buttons on the dimming module. Please remember that the activation or deactivation is only temporary as it will be overruled by the next bus communication. After a power failure, the dimming module will restore the settings from before the power failure. You can select the type of lighting you wish to dim by adjusting the DIP switches on the front of the module. Use the potentiometer to select the minimum light intensity for each channel on the front of the module.
The dimmer is fitted with a thermal protection device. If the temperature rises too much due to an overload, the dimmer will automatically switch itself off.
Adjust the position of the DIP switch to manually select the type of lighting you wish to dim.
Use a screwdriver to manually adjust the minimum light intensity. Turn the potentiometer clockwise to increase the minimum light intensity. Turn the potentiometer counter-clockwise to decrease the minimum light intensity.
When the module is functioning properly, the STATUS LED will light up in TEST mode only. If one or several errors occur, the LED will blink to indicate the error code of the error with the highest priority.
for use in locations with non-condensing humidity (30% - 70%)
minimum capacity: 5 VA
ability to dim up to 400 VA (at 45°C) or 500 VA (at 35°C)
minimum light intensity and phase delay or phase cut can be adjusted manually
short-circuit and overheating protections
in conformity with EN 60669-2-1
Sliding contact to connect the module to the following module on the DIN rail
Input voltage: 230 Vac ± 10 %, 50 Hz
Maximum MCB rating: 16 A (limited by national installation rules)
Connection terminals: 2 x 4 screw terminals
Wire capacity

3 x 1.5 mm² of 2 x 2.5 mm² or 1 x 4 mm² wire per terminal

DIN dimensions: 4U
Dimensions (HxWxD): 90 x 70 x 66 mm
Marking: CE
The article above is part of this product: