Double push button for Niko Home Control, alu grey coated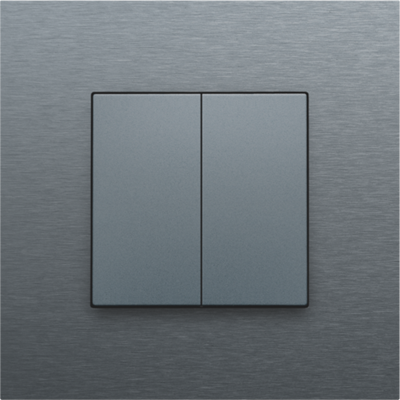 Description
With this push button, you can perform two operations. It is attached to the wall-mounted printed circuit board via a click mechanism. Switch including button. Finishing colour: alu grey coated.
Specification description
Double push button for Niko Home Control, alu grey coated. This push button includes one or more action buttons that allow the resident to operate the Niko Home Control functions.
Each action button can either control a light point or a light circuit, dim a dimmable light point or activate a mood setting. A mood setting is a combination of pre-programmed output settings.
To mount the push button, press the unit onto a Niko Home Control wall-mounted printed circuit board until it clicks into place. The functions of the action buttons can be assigned while programming the installation by linking each function to the unique address of each action button during the addressing phase. This information is then stored in the controller. To dismount simply pull the push button off the wall-mounted printed circuit board.
Material central plate: The central plate is enamelled and made of rigid PC and ASA.
Colour: alu-look steel grey
Impact resistance: After mounting, an impact-resistance of IK06 is guaranteed.
The plastic parts of the central plate are self-extinguishing (comply with a filament test of 650°C) and are halogen-free.
Input voltage: 26 Vdc (SELV, safety extra-low voltage)
Minimum ambient temperature: 0 °C
Maximum ambient temperature: +50 °C
Dimensions (HxWxD): 47 x 447 x 119 mm
Marking: CE
The article above is part of this product: