Niko Access Control - PC interface for programming and configuration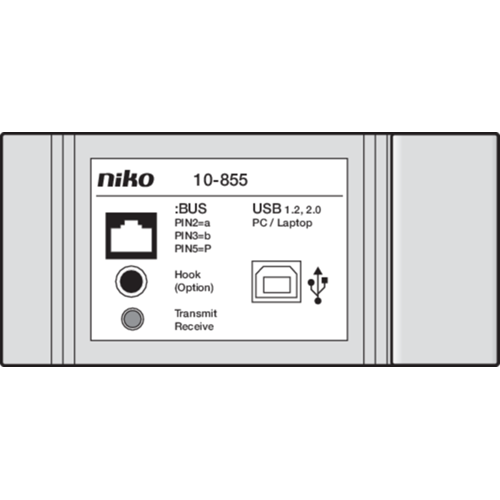 Description
This PC interface, in combination with the Niko configuration software for access control, is used to read or configure a new or existing installation and/or modify the settings of separate devices.
Each PC interface comes with a personal activation code which is necessary to get started with the complete version of the Niko configuration software.
The drivers for PC interface can be downloaded via www.niko.eu. The drivers are available for PC or laptop with Windows operating system.
Specification description
Niko Access Control - PC interface for programming and configuration
for the configuration, analysis and maintenance of NACS installations
- only allowed for utilities
- for simplified programming
- consists of a service interface and various utilities
- connects a PC (laptop) to a Niko Access Control installation
- status display for operating modes and data transfer
- standard USB connection - galvanic isolation between installation and PC
- 3-wire technique required - input current: I(a) = 0.6mA, I(P) = 11mA in quiescent state
- maximum input current: I(Pmax) = 14mA - permissible ambient temperature: 0 to 40°C
- dimensions: H 20 x W 95 x D 42mm
System requirements: up-to-date PC, 10MB free hard disk space, CD drive, SVGA graphics card (resolution 800 x 600) and min. 256 colours, operating system WIN 98 SE / 2000 / XP
This set contains
1 x service interface with USB connection
1 x adapter plate
1 x receiver for speech connection with connection cables
Weight: 46 g
Dimensions (HxWxD): 42 x 95 x 20 mm
Marking: CE
The article above is part of this product: