Niko Access Control – Audio kit with external unit with one bell push button for surface mounting, a power supply and internal unit with receiver, pre-programmed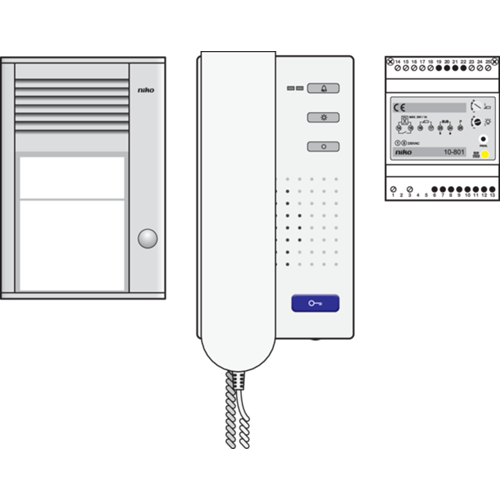 Description
This two-wire audio kit includes an external unit for surface mounting with one bell push button, an internal unit with receiver and a power supply module. The kit is pre-programmed so that all you have to do is connect it! The microphone and loudspeaker on the external unit are adjustable. The external unit is equipped with an illuminated text field for personalisation. The ring tone volume can be adjusted or switched off on the internal unit. The classic receiver is used to communicate with the visitor. The door lock can be directly connected to the power supply. The set can be expanded with an internal audio unit (type 10-505), an external audio unit and a relay 10-831 for controlling an extra gate or enclosure.
Specification description
Niko Access Control – Audio kit with external unit with one bell push button for surface mounting, a power supply and internal unit with receiver, pre-programmed.
Surface-mounting external unit 16 mm with 1 bell.
Function: • each non-programmed push button can operate the light, light symbol supplied
2 internal units can be linked to each push button bell
Acknowledgement tone when pressing the bell button
material push buttons: metal with gilded, maintenance-free contacts
long-life energy-saving name plate lighting
5 mm thick, indestructible and vandal proof name place in Plexiglass
internal memory for the exchange of data between identical external units (EEPROM)
Dimensions name field: 53 x 62 mm (HxW)
Dimensions info field: 37 x 62 mm (HxW)
Microphone: volume and microphone sensitivity can be adjusted manually
Wiring technique: 3-wire technology recommended, 2-wire technology possible
Extra terminal

R-terminal to connect an extended function (e.g. door release)
door opener time on R-terminal: 3 s (can be adjusted via service unit)
activation time of the door relay (for controlling the memory in internal units): 56 s (can be adjusted via service unit).
speech connection during activation of the door relay (can be adjusted via service unit)
length of conversation: 56 s (can be adjusted via service unit).

Input current at rest: I(a) = 0.4 mA, I(P) = 11 mA in standby
Maximum input current: I(Pmax) = 21 mA
Finishing colour: grey
Marking: CE
Compact intercom for surface-mounting, white.
Function: The compact intercom is part of a door communication system with an external unit and a power supply. This intercom allows you to communicate with people calling at the door. The device is suitable for surface mounting and can be fitted directly onto the wall or onto a flush-mounting box. The housing is made from antistatic and recyclable plastic.
The device is equipped with keys to open the door, to switch the lighting on and off and to (de)activate the ring signal.
There are three different calls possible: from the external unit, from the apartment door and from another internal unit.
A different ring tone can be selected for each type of call. These ring tones can be modified. The intercom offers a selection of 13 different ring tones. Both the speech volume and the ring volume can be adjusted manually and independently using the volume control at the bottom of the device.
The ring signal can be deactivated using the designated key, which is indicated by an illuminating red indication LED. A call is displayed via a green indication LED.
On the inside, the device is fitted with a terminal strip with four screw terminals.
A potential-free floor-bell push button can be connected to the terminal strip.
One of the following functions can be assigned to the free programmable function key: emit a control function (default setting), an internal call, a ring-and-come-in function and a call forwarding to a another device.
Wiring technique: 2- or 3-wire technology possible
Input current at rest: I(a) = 0.2 mA, I(P) = 1 mA in standby
Maximum input current: I(Pmax) = 70 mA
Finishing colour: white
Material upperframe: polycarbonate + ABS
Dimensions without receiver: 180 x 100 x 23 mm (HxWxD)
Modular power supply for a system with maximum 20 internal units and 2 external units (door or video intercom system).
Function: installation example: for 1 x 10-220 and 20 x 10-501 or 20 x 10-511
for installations with lines of max 40 mA
maximum line resistance: 20 Ohm
door opening function with integrated power supply: 12 V, 50/60 Hz / 2 A (door opener bigger / equal to 6 Ohm)
light switching function with potential-free relay contact (N.O.: 24 V DC / 1 A)
door opener time of 0.8s to 8s is manually adjustable
light switch time from 0.8s to 5min is manually adjustable
cable and P terminal are protected against short-circuit
control and indication of the working modes of the installation
Input voltage: 230 Vac ± 10 %, 50 Hz
Output current, A terminal: I(a) = 40 mA
Output current P terminal: I(P) = 60 mA
Safety protections: EMV in accordance with EN 50081 and EN 50082-2; suppression in accordance with EN 55011.
DIN dimensions: DIN 4TE
Dimensions (HxWxD): 92.8 x 71.5 x 70.6 mm
Marking: CE
Weight: 448 g
The article above is part of this product: