Presence detector, 230 V, master, 14 m, with potential-free contact, round, for flush-mounting box, white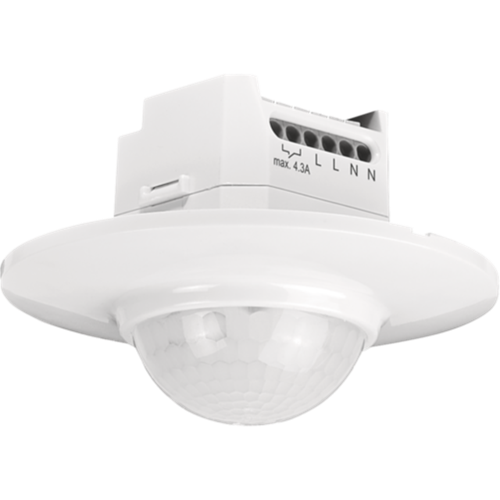 Description
The presence or absence detector with one channel for flush-mounting in ceilings is suitable for switching various loads via the potential-free contact. The detector is equipped with an integrated light sensor. Automatic on/off (presence detector) or manual on/automatic off (absence detector) via a N.O. push button (230 Vac) (to be ordered separately).
Finishing colour: white
Compatible secondary detectors: 351-25459, 351-25469
Specification description
Presence detector, 230 V, master, 14 m, with potential-free contact, round, for flush-mounting box, white.
Input voltage: 230 Vac ± 10 %, 50 Hz
Detector output: 230 V (ON/OFF)
Maximum MCB rating: 10 A (limited by national installation rules)
Number of channels: 1 channel
Light intensity range: 5 lux – 2000 lux
Switch-off delay: pulse, 10 s – 20 min
Detection angle: 360°
Detection range (PIR): ø 14 m from a height of 3 m
Ambient temperature: -20 – +40 °C
Mounting method: flush-mounting box
Drill diameter: 48 mm
Mounting height: 2 – 6 m
Usage: for indoor use only
Relay contact: N.O. (max. 5 A), potential-free
Maximum load incandescent and halogen lamps (cosφ = 1): 1000 W
Maximum load low voltage halogen lamps: 500 W
Maximum load economy lamps (CFLi): 100 W
Maximum load LED lamps 230 V: 100 W
Dimensions (HxWxD): 105 x 105 x 71 mm
Dimensions visible (HxWxD): 105 x 105 x 35 mm
Protection degree: IP20
Protection class: Class II device
Marking: CE
The article above is part of this product: