Motion detector, 230 V, 16 m, 300°, IP54, for surface mounting, black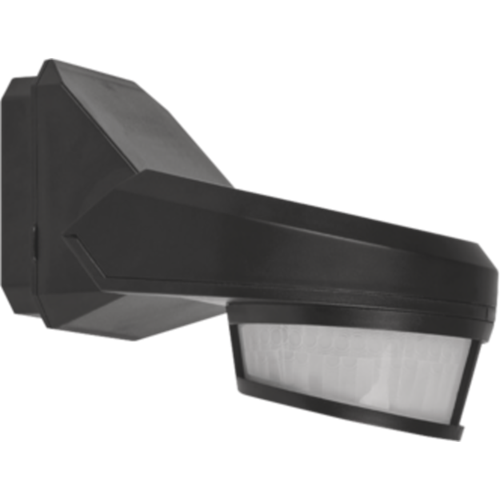 Description
This 1-channel outdoor motion detector, which is not activated by pets, is perfectly suitable for every light switch around the house. The detection range is 16 metres. The motion sensor can be precisely aimed. The device has a built-in light sensor and switches the lighting on automatically or manually with an N.O. push button (to be ordered separately). After the pre-set time delay, the light is switched off automatically. This sensor can be configured both manually and by remote control.
Finishing colour: black
Specification description
Motion detector, 230 V, 16 m, 300°, IP54, for surface mounting, black.
Input voltage: 230 Vac ± 10 %, 50 Hz
Detector output: 230 V (ON/OFF)
Maximum MCB rating: 10 A (limited by national installation rules)
Number of channels: 1 channel
Light intensity range: 5 lux – 2000 lux
Switch-off delay: pulse, 10 s – 20 min
Detection angle: 300°
Detection range (PIR): 16 m from a height of 3 m
Ambient temperature: -20 – +50 °C
Mounting method: surface mounting
Mounting height: 2 – 5 m
Usage: for outdoor use
Relay contact: N.O. (max. 8.7 A), potential-free
Maximum load incandescent and halogen lamps (cosφ = 1): 2000 W
Maximum load fluorescent lamps (cosφ ≥ 0.5): 1000 VA
Maximum load low voltage halogen lamps: 1000 W
Maximum load economy lamps (CFLi): 300 W
Maximum load LED lamps 230 V: 300 W
Dimensions (HxWxD): 112 x 105 x 148 mm
Dimensions visible (HxWxD): 148 mm
Protection degree: IP54
Protection class: Class II device
Marking: CE
The article above is part of this product: