Splashproof double vertical surface-mounting socket outlet 16 A/250 Vac with shutters and pre-wired – includes box with one M20 input with cable gland, screw terminals, white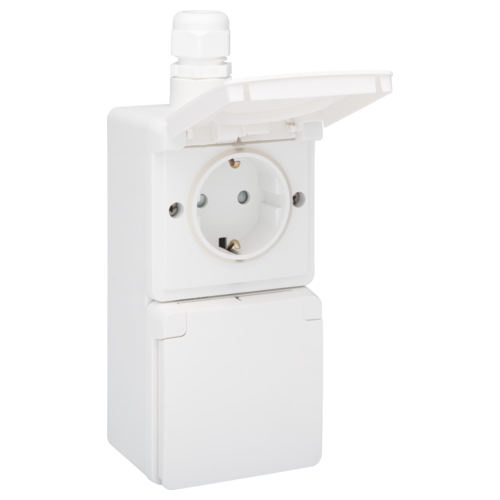 Description
With this vertical combination, the two splashproof surface-mounting wall sockets are equipped with side earthing, shutters and screw terminals. Both wall sockets are also equipped with a hinged protective cover and are pre-wired (2.5 mm²) and mounted in a double, splashproof surface-mounting box with one M20 input with cable gland. The entire unit is splashproof which makes it extremely well-suited for use in damp areas and in demanding environments. Colour combination: white.
Specification description
Splashproof double vertical surface-mounting socket outlet 16 A/250 Vac with shutters and pre-wired – includes box with one M20 input with cable gland, screw terminals, white. Each socket outlet is covered entirely by a hinged protection cap which opens upward. A spring and a hook-fastener keep the protection cap tightly closed.
Sealing: The cover has an integral closure and is hermetically sealed onto the appropriate box.
Number of mechanisms: 2
Material base

ureumformaldehyde (UF) with high heat resistance
white RAL9010 (approximately)

Material finishing: The box is made of impact-resistant, dust-preventing, halogen-free and self-extinguishing polypropylene (UL94-V2/1.6 mm). The protection cap is made of rigid ABS.
Material earthing
side earthing in high quality brass
Material surface-mounting box: The surface-mounting box is made of impact-resistant, dust-resistant, halogen-free and self-extinguishing polypropylene (UL94-V2/1.6 mm).
Cable space

12.7 mm wiring space under the mechanism
mechanism is held by 2 laterally positioned holders in the box
a snap connector holds the wired mechanism in place

Wire connection

the sockets are fitted with cage clamps with permanent screws with combination screwheads (Pz2 or slot 1 x 5,5 mm)
every screw is provided with a screwdriver slot that prevents the screwdriver from sliding off the screwhead.

Wire capacity

all connection terminals at the top side of the base
up to 4 x 2.5 mm² wire per terminal

Material earthing: side earthing in high quality brass
Stripping length

14 mm stripping length
indelibly indicated at the rear side: stripping length

Surface-mounting box: The socket outlets are mounted in a double vertical splashproof surface-mounting box with one M20 inlet for the flush-mounting of two devices. The socket is supplied with one M20 cable gland. Each socket outlet has an integral closure and is hermetically sealed onto the double box. The fixation points of this double, vertical box are situated 120 mm apart on a vertical axis. This size indication is indelibly imprinted on the bottom of each box. The oval screw openings allow for imprecise drilling. By forming a pressure lock, a gasket ensures the protection degree and the double insulation. The box contains two diagonal, knock-out condensation openings.
Protection degree: IP55 for the combination of a socket outlet and a splashproof mounting box
Impact resistance: The combination of a Hydro mechanism and a flush- or surface-mounting box has an impact resistance of IK07 with a minimum temperature of -25 °C and a maximum temperature of 55 °C
Colour: The base material is coloured in mass, white (RAL 9010).
Certification marks: KEMA
Marking: CE
Select a product below to view related articles, variants or accessories: