Splashproof, illuminable double push button 10 A/250 Vac with 2 N.O. or N.C. contacts, with screw terminals, grey
This item is also available in a version with plug-in terminals. Reference code 700-35105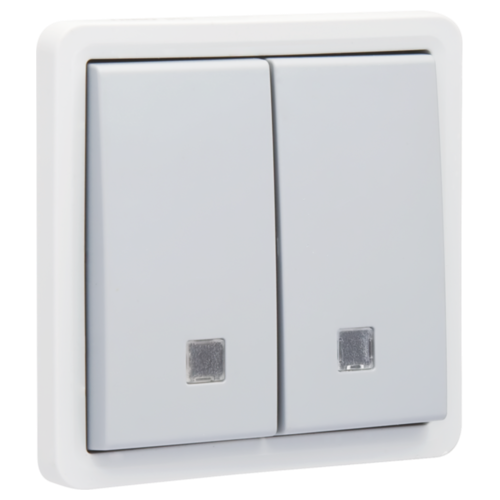 Description
This illuminable double push button is equipped with two keys and two normally open (N.O.) or normally closed (N.C) contacts. It is designed to be mounted in a splashproof mounting box. Underneath the mechanism, there are two recesses for integration of two lighting units with wires. The entire unit is splashproof which makes it extremely well-suited for use in damp areas and in demanding environments. The lighting units must be ordered separately. Colour combination: light grey with dark grey button.
Specification description
Splashproof, illuminable double push button 10 A/250 Vac with 2 N.O. or N.C. contacts, with screw terminals, grey.
Function: – push button

block-shaped silver contacts (cadmium-free) in the form of a cross

Maximum MCB rating: 16 A (limited by national installation rules)
Colour: The switch is light grey (coloured in mass, approximately NCS S 1502 - B, RAL 7035) and the control button is dark grey (coloured in mass, approximately NCS S 3502 - B)
Sealing: The cover has an integral closure and is hermetically sealed onto the appropriate box.
Lens: At the bottom middle, the two keys are fitted with a square transparent lens (6.7 x 6.7 mm) for switches and push buttons which can be equipped with two lighting units.
Number of mechanisms: 1
Material base

ureumformaldehyde (UF) with high heat resistance
white RAL9010 (approximately)

Material finishing: The switch/push button is made of impact-resistant, dust-resistant, halogen-free and self-extinguishing polypropylene (UL94-V2/1.6 mm). The control button is made of rigid ABS.
Wire connection

connection terminals with combination screwhead (Pz1-Slot 0.85 x 5 mm)
screwdriver slot prevents the screwdriver from sliding off the screwhead

Wire capacity

up to 2 x 2.5 mm² wire per terminal

Cable space

21.9 mm wiring space under the mechanism
mechanism is held by 2 laterally positioned holders in the box
a snap connector holds the wired mechanism in place

Stripping length

8 mm stripping length
indelibly indicated at the rear side: stripping length and wiring diagram
indelibly indicated at the front side: terminals and switch symbol

Lighting element

the base is provided with 2 rectangular recesses for lighting units
left and right recess: lighting units with wires can be clicked in

Surface-mounting box: The function is designed to be mounted in a splashproof mounting box. The function has an integral closure and is hermetically sealed onto the appropriate box (to be ordered separately).
Ambient temperature: -25 – +55 °C
Protection degree: IP55 for the combination of a function and a splashproof mounting box
Impact resistance: The combination of a Hydro mechanism and a flush- or surface-mounting box has an impact resistance of IK07 with a minimum temperature of -25 °C and a maximum temperature of 55 °C
Certification marks: CEBEC, DEMKO, VDE, ÖVE, SEMKO, KEMA
Marking: CE
Select a product below to view related articles, variants or accessories: