Wireless motion detector, Zigbee®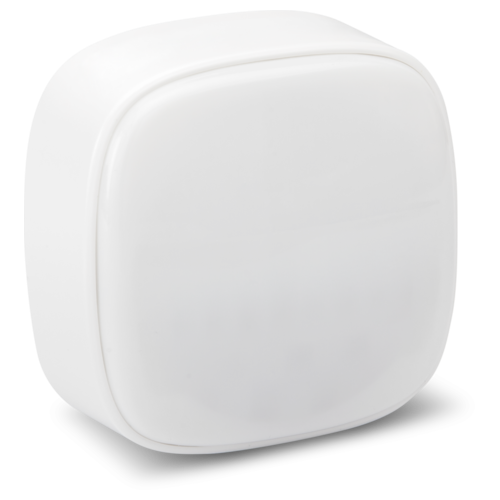 Description
The wireless motion detector can be used to control other switching contacts. For example, when motion is detected, you can control the contact of another connectable switch, dimmer or motor control.
Since the motion detector is powered by a button battery and is supplied with a self-adhesive mounting plate, it can be easily attached anywhere.
This motion detector can only be used in combination with the wireless smart hub for Niko Home Control (552-00001). This makes it possible to configure additional functionalities with the Niko Home Control programming software.
Specification description
Wireless motion detector, Zigbee®.
Maximum range open field (detector to smart hub): 30 m
Maximum range indoor (detector to smart hub): 10 m
Input voltage: battery CR2450
Detector output: 230 V (ON/OFF)
Detection angle: 110 °
Detection range (PIR): ø 5 m from a height of 2,5 m
Ambient temperature: 0 – +40 °C
Mounting method: surface mounting
Mounting height: 2.5 – 2.8 m
Dimensions (HxWxD): 51 x 51 x 34 mm
Weight: 69 g
Operating frequency: 2.4 GHz
Maximum radio frequency power: 7 dBm
Modification of settings: Niko Home Control programming software
Protection degree: IP20
Marking: CE
Select a product below to view related articles, variants or accessories: