Internal video unit 2-wire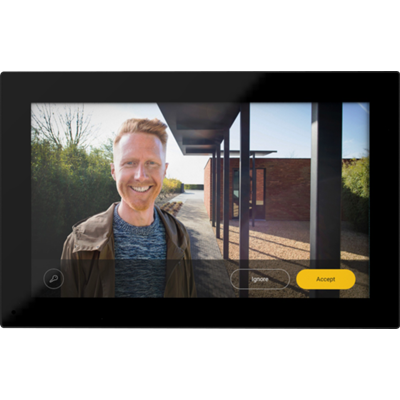 Description
This wall-mounted touchscreen allows you to communicate with callers at your door through a built-in microphone and speakers. See who is calling and unlock the door. Use the 'Peek outside' functionality to look outside whenever you want. Missed calls? A feedback LED notifies you of any unanswered calls. Check your call history of short video snippets to see who wanted to visit you.
The internal video unit is easy to install and configure. The internal video unit can only be used in combination with the access control module 510-21400 and one or maximum two 2-wire external video unit(s) 510-31001.
Specification description
Internal video unit 2-wire.
input voltage: 230 Vac
wiring: 2-wire
screen resolution: 1024 x 600
screen size: 7"
Protection degree: IP20
Finishing colour: black
Dimensions (HxWxD): 115,2 x 179 x 25,5 mm
Select a product below to view related articles, variants or accessories: