Smart universal push-button dimmer with RF transmitter and receiver, 3-200 W, 2-wire, with screw fixing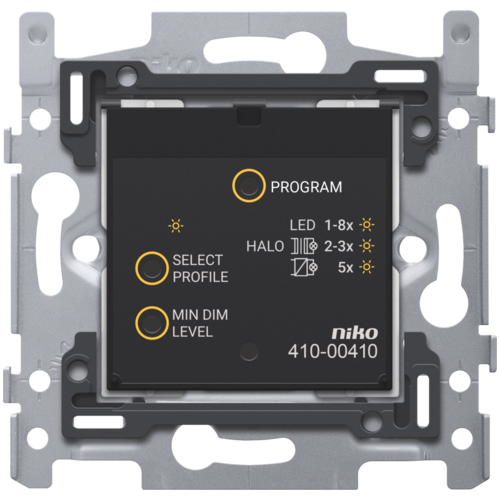 Description
The smart dimmer is suitable for dimming resistive, inductive and capacitive loads as well as dimming dimmable halogen and LED lamps. It has a transmitter and receiver operating according to the Easywave protocol.
If desired, extra controls can be added. These could be both wired push buttons and wireless controls according to the Easywave protocol.
The smart dimmer is connected with a 2-wire system and does not need a neutral conductor. By doing so, it can effortlessly replace an existing single, multiway, or intermediate switching.
It is highly suitable for the expansion of existing electrical installations where drilling or channelling work is not permitted or to avoid complicated cabling.
The smart dimmer can not only dim its own load but can also control other dim receivers which
operate according to the Easywave protocol. It can also be incorporated in a mood setting which can be activated via a wireless control.
The dimmer has a feedback LED of which the operation can be set.
Specification description
Smart universal push-button dimmer with RF transmitter and receiver, 3-200 W, 2-wire, with screw fixing. The switch is equipped with block-shaped, silver contacts (cadmium-free) in the form of a cross.
The sockets are equipped with screw terminals for clamping the wires. When fixing in a flush-mounting box screws should be used. The flush-mounting frame is made from 1 mm-thick metal which is galvanized on all sides after cutting, even on the cut edges. On the horizontal and vertical axes, the flush-mounting frame has 4 grooves for screw mounting in flush-mounting boxes. These grooves have a screw aperture of 7 mm. For mounting on panels, the flush-mounting frame is equipped with 4 screw holes (indicated by a screw symbol) with a diameter of 3 mm. The middle of the flush-mounting frame is indicated (chalk line, laser, ..) in both the horizontal and vertical directions, so that mounting one or more mechanisms can be carried out quickly and easily.
Wire capacity: 2 x 2.5 mm² per connection terminal
Input voltage: 230 Vac ± 10 %, 50 Hz
Minimum load: 3 W
Maximum load 230V-halogen lamps: 200 W
Maximum load bulb: 200 W
Maximum load LED lamps: 200 W (lamp type determines the maximum number of lamps)
Hum-free: yes
PLC interference suppression: this dimmer is equipped with interference suppression of PLC signals (frequency dips up to 3 Hz). This integrated interference suppression attempts to remove as many interfering signals as possible from the mains in order for most lamps to function optimally, without flashing or humming.
Capacity reduction: at an ambient temperature above 35°C the maximum load will decrease by 5 % per 5 °C
Flush-mounting depth: 29.5 mm
Dimensions (HxWxD): 70 x 70 x 42 mm
Marking: CE
Select a product below to view related articles, variants or accessories: