Base for wireless switch with 2 control buttons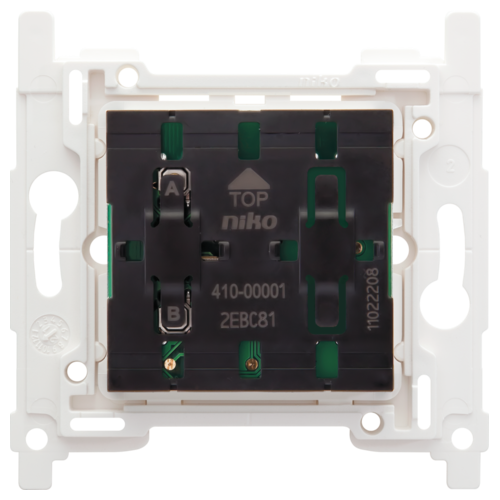 Description
With this wireless switch, you control a maximum of 2 circuits, independent of one another, but dependent on the receiver settings. The switch is used for 1-button and 2-button functions.
Technical characteristics:
power supply voltage: battery, 3 V DC (supplied);
transmission range: max. 30 meters indoors, 100 meters in open spaces;
mounting: with the adhesive strips or screws provided.
frequency band: 868,0 – 868,6MHz
maximum power output: -1,3 dBm
Specification description
Base for wireless switch with 2 control buttons.
Wall-mounted transmitter with 2 connections with RF technology for wireless remote control of Niko RF receivers on the frequency 868.3MHz. Each transmitter can control an unlimited number of receivers. Each receiver can be controlled by a maximum of 32 transmitters. Maximum transmission range in a building: 30m; in open spaces: 100m. Modulation type: FSK. Supplied complete with battery and pre-programmed transmitter address. Buttons and faceplates are to be ordered separately. Battery type: Renata 3V/270mAh CR2430; Saft 3V/270mAh LM2430; Varta 3V/260mAh CR2430; Panasonic 3V/250mAh CR2330. Can be either stuck or screwed to the wall or flush-mounting box. In compliance with Belgian and European legislation: CE marking on the device.This product complies with all of the relevant European guidelines and regulations. For radio equipment, Niko nv declares that it is in compliance with Directive 2014/53 / EU. Can be used in all European Member States. User manual is included.
Dimensions (HxWxD): 71 x 103 mm
Weight: 20 g
Marking: CE
Select a product below to view related articles, variants or accessories: