Lighting control module for use in combination with photocell and motion detector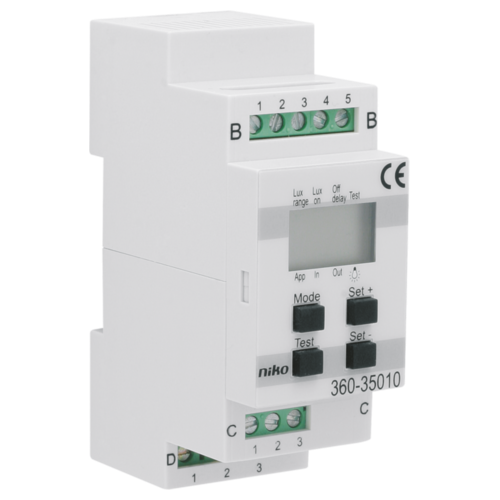 Description
With this device, you can save substantial energy by making optimal use of natural daylight. This modular lighting control is used in combination with a photocell and one or more motion detectors. If there is insufficient daylight and motion is detected, then the lighting is automatically switched on. The lighting is automatically switched back off again when there is sufficient daylight or after the pre-set switch-off delay. Manual control is also possible using the N.O. push button. This lighting control is suitable for indoor and outdoor applications. It has an IP20 protection degree and conforms to the European directive for EMC and safety EN60669-2-1.
Specification description
Lighting control module for use in combination with photocell and motion detector.
Niko modular lighting control to be used in combination with a Niko photocell and Niko motion detector(s). Automatic activation is dependent on the level of daylight measured and the motion detected. Automatic OFF in sufficient daylight or after switch-off delay. Optional control via N.O. push button. Suitable for indoor and outdoor applications.
Secondary voltage: 24 Vdc ±10 %.
DIN 2TU
Input voltage: 230 Vac ± 10 %, 50 Hz
Light intensity range: 3 lux – 30000 lux
Ambient temperature: 5 – 50 °C
Relay contact: N.O. (max. 10 A)
Maximum load incandescent and halogen lamps (cosφ=1): 2300 W
Maximum load fluorescent lamps (cosφ ≥ 0.5): 1200 VA
Maximum load low voltage halogen lamps: 500 W
Maximum capacitive load: 140 µF
Dimensions (HxWxD): 90 x 35 x 55 mm
Protection degree: IP20
Marking: CE
Select a product below to view related articles, variants or accessories: