Motion detector 360°, 230 V, 1 channel, 16 m, flush-mounting, square
No longer available since September 2019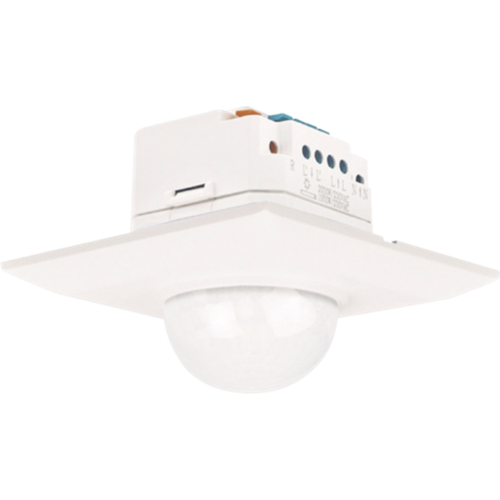 No longer available
Description
The motion detector with one channel for flush-mounting in ceilings is suitable for switching indoor lighting on and off. You can always activate the light with a NO push button (230 V AC) (to be ordered separately). The detector is equipped with an integrated light sensor.
Specification description
Motion detector 360°, 230 V, 1 channel, 16 m, flush-mounting, square.
Input voltage: 230 Vac ± 10 %, 50 Hz
Detector output: 230 V (ON/OFF)
Number of channels: 1 channel
Light intensity range: 5 lux – 2000 lux
Switch-off delay: pulse, 10 s – 20 min
Detection angle: 360 °
Detection range (PIR): ø 14 m from a height of 3 m
Ambient temperature: -20 – +40 °C
Mounting method: flush-mounting
Mounting height: 2 – 6 m
Relay contact 1: NO. (max. 10 A)
Maximum load incandescent and halogen lamps (cosφ=1): 2300 W
Maximum load fluorescent lamps (cosφ ≥ 0,5): 1150 VA
Maximum load low voltage halogen lamps: 1150 W
Maximum load economy lamps (CFLi): 350 W
Maximum load LED lamps 230 V: 350 W
Dimensions (HxWxD): 88 x 88 x 71 mm
Protection degree: IP20
Protection class: Class II device
Marking: CE
Select a product below to view related articles, variants or accessories: