Outdoor motion detector 140°, 230 V, 11 m, white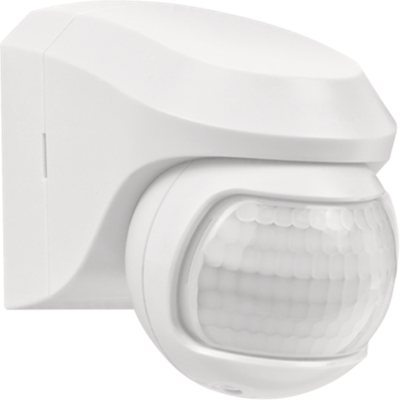 Description
This 1-channel outdoor motion detector is suitable for use in a driveway or garden. The detection range is 11 metres. The detection area can be divided using an adjustable cover mask. The motion sensor can be precisely aimed. The device has a built-in light sensor and switches the lighting on automatically or manually with an N.G. push button (to be ordered separately). After the pre-set time delay, the light is switched off automatically.
Specification description
Outdoor motion detector 140°, 230 V, 11 m, white.
Technical data
Input voltage: 230 Vac ± 10 %, 50 Hz
Number of channels: 1 channel
Light intensity range: 5 lux – 1000 lux
Switch-off delay: pulse, 30 s – 15 min
Detection angle: 140 °
Detection range (PIR): half circle, up to 11 m in diameter from a height of 3 m
Ambient temperature: -20 – 55 °C
Mounting method: surface mounting
Mounting height: 2 – 4 m
Maximum load incandescent and halogen lamps (cosφ=1): 1000 W
Maximum load low voltage halogen lamps: 500 W
Maximum load economy lamps (CFLi): 100 W
Maximum load LED lamps 230 V: 100 W
Dimensions (HxWxD): 70 x 100 x 100 mm
Protection degree: IP44
Protection class: Class II device
Marking: CE
Select a product below to view related articles, variants or accessories: