Presence detector P34MR, KNX®, 5 channels, 9 – 10 m, IP40, for flush mounting, white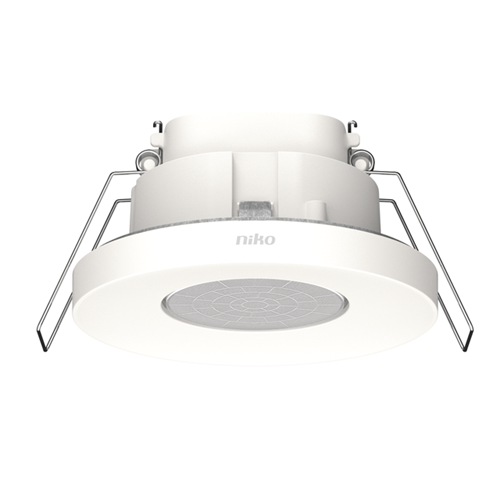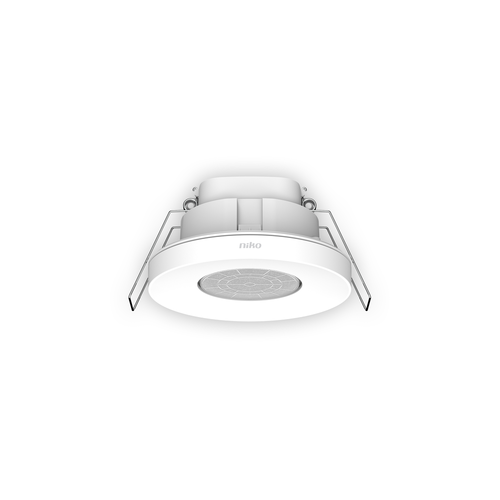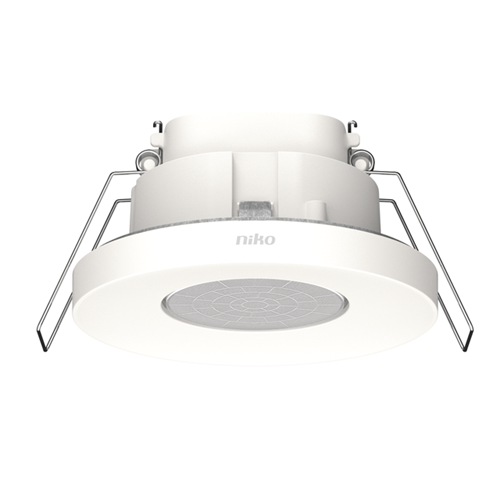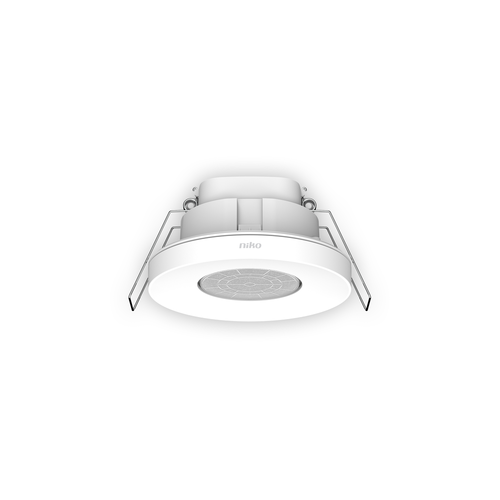 Description
This flat lens presence detector with 5 channels is suitable for KNX® systems. It can be flush mounted in the ceiling or installed in a flush-mounting box. A black deco ring and a surface-mounting box can be ordered separately. In conformity with the European directive for EMC and safety EN 60669-2-1.
Finishing colour: white
Compatible secondary detectors: 350-34002
Specification description
Presence detector P34MR, KNX®, 5 channels, 9 – 10 m, IP40, for flush mounting, white.
5 channels for various applications, detection angle 360°, tangential detection range 10 m at 3 m height, radial detection range 6 m at 3 m height, presence detection range 3 m at 3 m height. Optional black deco ring.
Input voltage: 30 Vdc via KNX®-bus
Detector output: KNX®
Maximum power consumption: 0.3 W
Maximum current consumption: 10 mA
Number of channels: 5 channels: channel 1-3 for adjustable control, channel 4 for HVAC and channel 5 for light measurement
Light intensity range: 10 lux – 2000 lux
Switch-off delay: 1 s – 18 h 12 min 15 s
Detection angle: 360°
Detection range (PIR): ø 10 m from a height of 3 m
Ambient temperature: -20 – +50 °C
Mounting method: flush-mounting
Drill diameter: 58 mm
Mounting height: 2 – 4 m
Usage: for indoor use only
Colour: white (approximately RAL 9010)
Dimensions (HxWxD): 75 x 75 x 41 mm
Dimensions visible (HxWxD): 75 x 75 x 8.7 mm
Modification of settings: ETS software
Protection degree: IP40
Protection degree: IP40 (Flush-mounting box) / IP44 (spring clips)
Impact resistance: IK02
Marking: CE
Certification marks: SundaHus, Byggvarubedömningen
Select a product below to view related articles, variants or accessories: