Presence detector, dual tech, PIR+US, 230 V, master, 9.5 m / 19 m, for flush-mounting box, white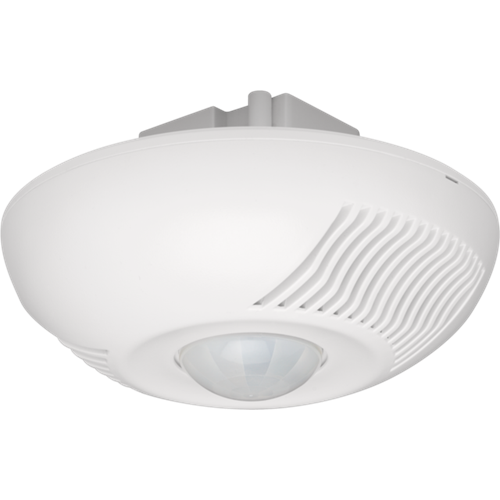 Description
This (Master) intelligent presence detector is suitable for ceiling mounting in offices. It quickly detects the smallest movements thanks to its passive infrared (PIR) and ultrasonic (US) beams. The device automatically adjusts its sensitivity to the movement registered and also has an integrated light sensor. The detection range is 360°. The detection range can be adjusted using the cover mask. The device has an IP20 protection degree.
Finishing colour: white
Compatible secondary detectors: 350-20066
Specification description
Presence detector, dual tech, PIR+US, 230 V, master, 9.5 m / 19 m, for flush-mounting box, white.
Factory setting

light sensitivity: 100 lux
switch-off delay: 15 min
detection area (US sensor): 80%, ± 8 x 13 m
detection method: PIR + US
air flow sensitivity: off
function: the presence detector is equipped with an integrated light sensor. The lighting is automatically switched on only when movement is registered in the room and when the measured daylight level is insufficient relative to the preset lux value. The lighting remains switched on as long as the presence detector registers activity in the detection area. If no movement is detected in the room, the lighting is automatically switched off after the switch-off delay has elapsed.
The light sensitivity, the switch-off delay, the detection area, the detection method and the air flow sensitivity can all be set using the potentiometers on the device:
– there are four preset values for the detection area: 2 x 3 m, 4 x 6 m, 6 x 7 m and 10 x 16 m.
– there are four detection methods: PIR/US, only PIR, only US and PIR + US.
– the air flow sensitivity can be switched completely on or off.
– there are four preset indicative values for the light sensitivity: 10 lux, 30 lux, 100 lux and 1000 lux.
– there are four preset times for the switch-off delay: 1 minute, 5 minutes, 15 minutes and 30 minutes.
Input voltage: 230 Vac ± 10 %, 50 Hz
Detector output: 230 V (ON/OFF)
Maximum MCB rating: 10 A (limited by national installation rules)
Number of channels: 1 channel
Light intensity range: 10 lux – 2000 lux
Switch-off delay: 1 min – 30 min
Detection angle: 360 °
Detection range (PIR): ø 9.5 m from a height of 3 m
Detection range (US): 12 x 19 m from a height of 3 m
Ambient temperature: 0 – +45 °C
Mounting method: flush-mounting box
Mounting height: 2 – 3 m
Usage: for indoor use only
Relay contact: N.O. (max. 10 A), potential-free
Maximum load incandescent and halogen lamps (cosφ=1): 2300 W
Maximum load low voltage halogen lamps: 500 W
Maximum load economy lamps (CFLi): 350 W
Maximum load LED lamps 230 V: 350 W
Maximum capacitive load: 140 µF
Maximum switching current: 165 A/20 ms – 800 A/200 µs
Dimensions (HxWxD): 120 x 120 x 60 mm
Dimensions visible (HxWxD): 120 x 120 x 34 mm
Protection degree: IP20
Protection class: Class I device
Marking: CE
Certification marks: SundaHus
Select a product below to view related articles, variants or accessories: