LED strip on roll 120 LEDs per metre. Colour LEDs: 3000 K (warm white LEDs)
No longer available since May 2021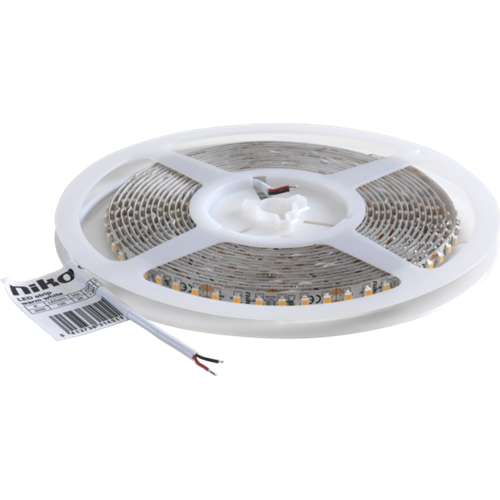 No longer available
Description
With an excellent colour rendition and a light output of 910 to 1020 lm/m (depending on the white tone), the LEDs create the optimal scene. The LED strip is sold on a 5 m roll. The LED strip can be cut every 5 cm, at the markings to install the desired length. The adhesive tape on the back of the LED strip ensures easy mounting. For optimal LED control with all white tones, you use this product in combination with a wireless 4-channel constant voltage controller (410-00121) and an RGB(W) wall control in 4-button mode (article numbers 410-00002 + xxx-90002). You can save your favourite white tone in the constant voltage controller memory.
Specification description
LED strip on roll 120 LEDs per metre. Colour LEDs: 3000 K (warm white LEDs).
colour saturation index Rg: 96
colour fidelity index Rf: 82
Function: The LEDs provide the optimum atmosphere with their excellent colour rendition and light output. The LED strip is sold in a 5 m roll and can be cut to the required length for installation along the dotted lines. The adhesive tape on the back of the LED strip makes it easy to mount.
Colour rendition index (CRI) Ra: > 80
Number of leds: 120 LEDs per metre
Colour temperature: 3000 K (warm white LEDs)
Light output: 900 lm/m
Cutting distance: cutting interval: every 5 cm
LED format: 3528
Power consumption: 9.6 W per metre
Input voltage: 24 Vdc ± 10 %
Protection degree: IP20
Dimensions (HxWxD): 8 x 5000 mm
Marking: CE
Select a product below to view related articles, variants or accessories: