Single key with 'I' and '0' symbols for wireless switch or push button with two keys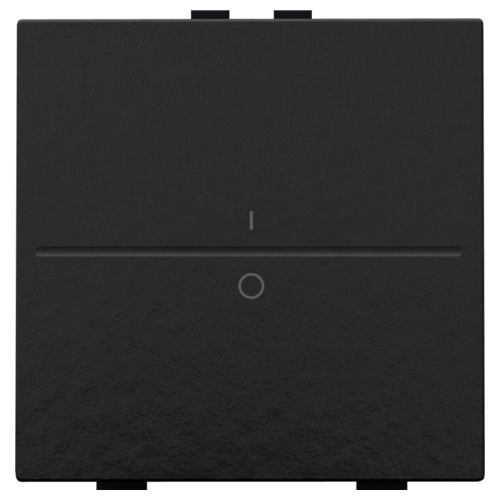 Description
Single key with the symbol 'I' and '0' for wireless switch or bus push button. Finishing colour: piano black coated.
Specification description
Single key with 'I' and '0' symbols for wireless switch or push button with two keys. Each key on the central plate is printed with the symbols "I" and "0" in indelible print.
To dismount simply pull the central plate off the mechanism.
Number of control buttons: 1 control button
Material central plate: The central plate is enamelled and made of rigid PC and ASA.
Colour: Bakelite®-look piano black coated (approximately RAL9005). Bakelite® is a registered trademark of Hexion GmbH.
Protection degree: The combination of a mechanism, a central plate and a faceplate has a protection degree of IP41
Impact resistance: After mounting, an impact-resistance of IK06 is guaranteed.
The plastic parts of the central plate are self-extinguishing (comply with a filament test of 650°C) and are halogen-free.
Dimensions of finishing: 45 x 45 mm (HxW)
Marking: CE
Select a product below to view related articles, variants or accessories: