Finishing set for fourfold, potential-free push button, 24 V, with LEDs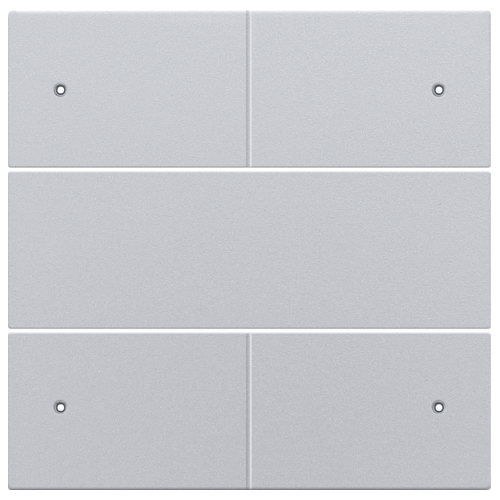 Description
Central plate with 4 potential-free push buttons of 24 V. These push buttons are specially equipped with an LED lamp. With them, you can conveniently control various lighting points in 1 or more rooms. By using the LED lamp, you know directly whether the light source is activated or not. Finishing colour: sterling.
Specification description
Finishing set for fourfold, potential-free push button, 24 V, with LEDs.
Function: The two keys (1 per 2 push buttons) are clicked onto the fourfold, potential-free push button at the bottom and the top and are held in place by the snap hooks on the base of the potential-free push button. The back of the two keys is equipped with two legs that push on the push buttons of the base when the key is pressed.
Number of control buttons: 4 control buttons
Material central plate: The central plate is enamelled and made of rigid PC and ASA.
Text field: The finishing plate is placed in the centre and consists of two parts: a visible part and an attachment part.
Dismantling: To dismount simply pull the central plate off the mechanism.
Impact resistance: The combination of a mechanism, a central plate and a faceplate has an impact-resistance of IK06
Fire safety

The plastic parts of the central plate are self-extinguishing (comply with a filament test of 650°C)
The plastic parts of the central plate are halogen-free.

Dimensions of finishing: 45 x 45 mm (HxW)
Dimensions (HxWxD): 44.5 x 44.5 x 8.6 mm
Marking: CE
Select a product below to view related articles, variants or accessories: