Double dimming control for Niko Home Control, white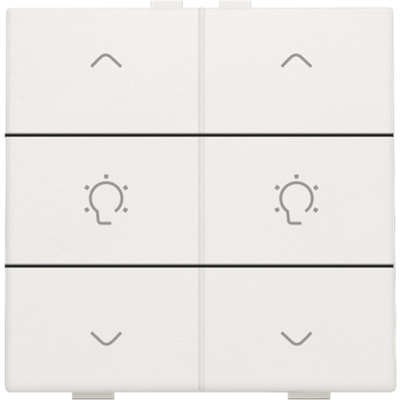 Description
This push button allows you to dim two light points or light circuits. It is attached to the wall-mounted printed circuit board via a click mechanism. Switch including button. Finishing colour: white.
Specification description
Double dimming control for Niko Home Control, white. Arrows printed on the top and bottom keys show whether you are dimming up or down On the middle key(s) a lamp is printed indicating the favourite button. If you press this key the lighting automatically goes to the set dim level. To dismount simply pull the central plate off the base.
Material central plate: The central plate is made of rigid PC and ASA. The base material is coloured in mass.
Colour: white (coloured in mass, approximately RAL 9010)
Impact resistance: After mounting, an impact-resistance of IK06 is guaranteed.
The plastic parts of the central plate are self-extinguishing (comply with a filament test of 650°C) and are halogen-free.
Input voltage: 26 Vdc (SELV, safety extra-low voltage)
Minimum ambient temperature: 0 °C
Maximum ambient temperature: +50 °C
Dimensions (HxWxD): 47 x 447 x 103 mm
Marking: CE
Select a product below to view related articles, variants or accessories: