Digital timer or electronic time switch
No longer available since February 2020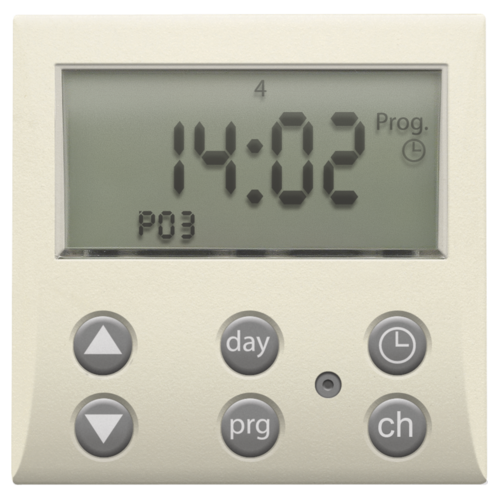 No longer available
Description
This time switch has a day and a week program. You can operate it manually and set a maximum of 24 switching commands. It has a permanent memory, and you can make the settings on 1 or 2 channels. For use in combination with the base 420-00x0x. Finishing colour: cream
The Nikobus reference codes no longer feature in the Niko catalogue. We are no longer actively promoting the Nikobus products. We do, however, still make them in order to source spare parts or to complete an existing installation. For new projects, we recommend choosing Niko Home Control.
Specification description
Digital timer or electronic time switch.
Function: The digital time switch has both day and week programmes and a permanent memory. You can operate it manually and set a maximum of 24 switching commands. It has a permanent memory, and you can make the settings on 1 or 2 channels.
operation reserve: after a power cut, the clock continues to operate for 30 min and the memory is permanently saved
min. switching time: 1 min
Colour: cream (coloured in mass, approximately RAL 1013)
Material central plate: The central plate is made of rigid PC and ASA. The base material is coloured in mass.
Ambient temperature during storage and transport: -25 to +75 °C
Marking: CE
Select a product below to view related articles, variants or accessories: