Indoor motion detector 110°, 6 m, 3-wire (relay), base and finishing set, cream
No longer available since June 2019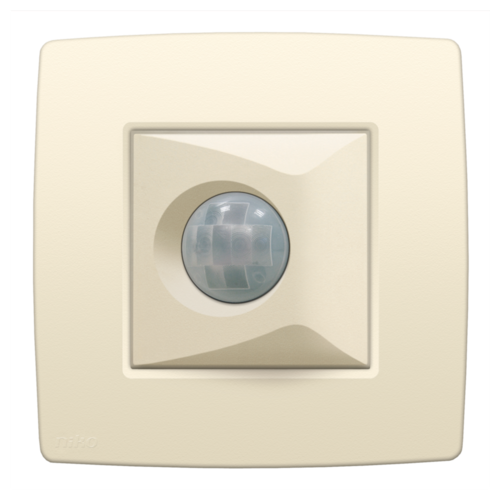 No longer available
Description
This flush-mounting motion detector is extremely well-suited for placement in small rooms. With a 110° detection angle, this motion detector switches the lighting in these rooms. The time the light remains on is adjustable. The light switches off automatically.
Finishing colour: cream
Specification description
Indoor motion detector 110°, 6 m, 3-wire (relay), base and finishing set, cream.
Function: The integrated motion detector has a detection angle of 110° horizontally, 20° sideways and 60° vertically within which all motion is detected. When a motion is detected, pre-selected lights are activated. The time the light remains on is adjustable. The light switches off automatically. Parallel connection of the automatic switch is not permitted. Particularly suitable as a staircase function.
Colour: cream (coloured in mass, approximately NCS S 1005 - Y10R, RAL 1013)
Maximum load incandescent and halogen lamps (cosφ=1): 1000 W
Maximum load fluorescent lamps (cosφ ≥ 0.5): 800 VA
Mounting height: 0.8 – 1.2 m
Switch-off delay: 15 s – 20 min
Detection range (PIR): 6 m deep and 4.5 m sideways
Detection angle horizontal: 110°
Sideways detection angle: 20°
Detection angle vertical: 60°
Material central plate: The central plate is made of rigid PC and ASA. The base material is coloured in mass.
Flush-mounting frame

1 mm-thick metal
galvanized on all sides after cutting, even on the cut edges
with 4 grooves with screw hole of 7 mm
with 4 screw holes (indicated by a screw symbol) with a diameter of 3 mm for mounting on panels

Fixing method

with claws that can be rotated open using screws with a slotted screw head (slot 0.8 x 5 mm), for mounting in a flush-mounting vox with grip surfaces
depth of engagement of claws: 31 mm
claws turn back completely when loosened

Wire connection

the sockets are equipped with screw terminals for clamping the wires.

Input voltage: 230 Vac ± 10 %, 50 Hz
Marking: CE
Select a product below to view related articles, variants or accessories: