Niko Access Control – Video kit with a compact external unit with one bell push button for surface mounting, a power supply and a hands-free internal unit, pre-programmed
Available until end of stock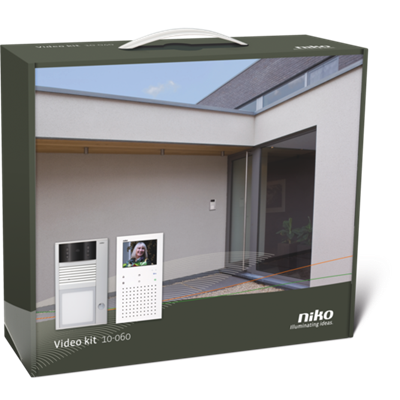 Description
This video kit contains a compact aluminium external unit with one bell push button for surface mounting, a power supply and an internal unit with a colour display and touch-sensitive controls. The kit is pre-programmed so that all you have to do is connect it. The microphone and loudspeaker on the external unit are adjustable. The external unit is equipped with a nameplate which can be personalised and will only be illuminated in the dark. The colour camera is equipped with infrared LEDs for a better visibility at night. The compact white internal unit offers outstanding image and sound quality and allows hands-free communication with the visitor. It is equipped with flat touch-sensitive buttons, which enhances its styling and ease-of-maintenance. The door lock can be directly connected to the power supply. The kit is expandable with an internal video unit (10-570, 10-571 or 10-575) and a splitter (10-824-01) or with three internal audio units (10-525 or 10-505). In addition to that, an external audio unit and a relay (10-831) for controlling an extra gate or enclosure can be added. A table-top support (10-567) for the internal video unit is available as an accessory.
Specification description
Niko Access Control – Video kit with a compact external unit with one bell push button for surface mounting, a power supply and a hands-free internal unit, pre-programmed.
Dimensions (HxWxD): 175 x 104 mm
Marking: CE
Surface-mounting external unit with 1 bell and colour camera.
each non-programmed push button can operate the light, light symbol supplied
2 internal units can be linked to each push button bell
Acknowledgement tone when pressing the bell button
material push buttons: metal with gilded, maintenance-free contacts
long-life energy-saving name plate lighting
5 mm thick, indestructible and vandal proof name place in Plexiglass
internal memory for the exchange of data between identical external units (EEPROM)
Dimensions name field: 24 x 62 mm (HxW)
Microphone: volume and microphone sensitivity can be adjusted manually
Features of colour camera:
Sony Super HAD CCD-sensor with 420 TV-lines
focal length (f): 3.6 mm
light sensitivity: 0.2 lux
diagonal angular aperture: 90°
recommended mounting height for the camera: 1.6 m.
video output: 1 Vpp BAS, symmetrical
equipped with five infrared LEDs to ensure better visibility at night.
a light sensor next to the camera determines whether the lighting has to be switched on.
Wiring technique: 6-wire technology required
• extra terminal for the local control of a 24 V DC contact.
adjustable time settings such as the door opener time, the activation time and the conversation time.
Input current at rest: I(a) = 2.8 mA, I(P) = 125 mA in standby
Maximum input current: I(Pmax) = 180 mA
Finishing colour: grey
Dimensions (HxWxD): 175 x 104 mm
Marking: CE
Compact hands-free internal video unit with colour screen and menu function, for surface-mounting. "The internal video unit is part of door communication system comprising one external unit and a power supply. It can display an image of a visitor at the door and enables you to communicate with the visitor and let him in. It is equipped with a TFT colour display with a diagonal length of 8.6 cm. The device can be attached directly to the wall or mounted in a flush-mounting box. The communication occurs hands-free in two directions. The device has touch-sensitive controls and does not have any mechanical buttons.
It is equipped with keys to open the door, to switch on the lighting, to activate the menu, to open a conversation and to activate the camera image.
There are four different calls possible: from the apartment door, from the main external unit, from an auxiliary external unit and a call originating from another internal unit.
There is a different ring tone for each type of call. These ring tones can be modified. There are 13 ring tones from which to choose.
The ring signal can be set using the menu. The ring signal can be deactivated using the designated key, which is indicated by an illuminating red indication LED. A call is displayed via a green indication LED.
The device is equipped with a removable terminal strip and a jumper to configure the terminal resistor for the video signal.
A potential-free floor-bell push button can be connected to the terminal strip.
The following functions are possible via the menu: the setting up and making of up to 10 internal calls, the transmission of three control functions to control contacts, an internal call, a ring-and-come-in function and the set up of call diversion to another device.
There are five possible menu languages: English, French, Dutch, Slovak and German.
Wiring technique: 6-wire technology required
Input current at rest: I(a) = 0.4 mA, I(P) = 33 mA in standby
Maximum input current: I(Pmax) = 200 mA
Finishing colour: white
Material upperframe: polycarbonate + ABS
Modular power supply for a video installation with a maximum of 12 internal video units, 1 video splitter and 1 external video unit (video intercom system). • for installations with lines of 60 mA
maximum line resistance: 20 Ohm
door opening function with integrated power supply: 12 V, 50/60 Hz / 2 A (door opener bigger / equal to 6 Ohm)
light switching function with potential-free relay contact (N.O.: 24 V DC / 1 A)
door opener time of 0.8s to 8s is manually adjustable
light switch time from 0.8s to 5min is manually adjustable
cable and P terminal are protected against short-circuit
switched power supply with high efficiency
control and indication of the working modes of the installation.
Input voltage: 230 Vac ± 10 %, 50 Hz
Output current, A terminal: I(a) = 60 mA
Output current P terminal: I(P) = 600 mA
Safety protections: EMV in accordance with EN 50081 and EN 50082-2; suppression in accordance with EN 55011.
DIN dimensions: DIN 6TE
Marking: CE
Select a product below to view related articles, variants or accessories: