Modular RF dim controller receiver
No longer available since December 2022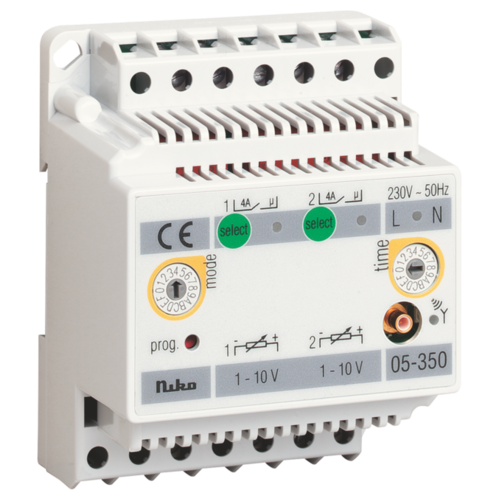 No longer available
Description
This dim controller receiver for DIN-rail mounting is controlled wirelessly via radio frequency. It has 2 channels with a 4A/ 230V N.O. contact and a control output of 1-10V 45mA, in accordance with the EN60929 standard. It sends electronic ballasts directly with a 1-10V current signal or dimmers, e.g., 05-715 and 65-410. The device has a connection for an external antenna (05-309) and 9 modes for the functions settings. Depending on the mode chosen, the control occurs via 1, 2 or 4 buttons. With the dim function, you can dim continuously or call up a pre-set atmosphere. You set the operating time to between 0 and 3 seconds and the switch-off time between 0 and 120 minutes.
Technical characteristics:
Specification description
Modular RF dim controller receiver.
Modular dim controller receiver, controlled wirelessly via radio frequency (868.3 MHz). Equipped with two switching contacts of 4 A, 230 V 50 Hz and two independent analog control outputs 1/10V, 45mA. Choose from 9 different modes to determine the function. Maximum 32 transmitters per receiver. max. reception range in a building: 30 m; in open field 100 m. DIN housing dimensions: 4 modules. Power supply: 230 V 50 Hz. Modulation type: FSK. In accordance with Belgian and European legislation: CE marked. This product complies with all applicable European directives and regulations. For radio equipment, Niko nv declares that it complies with Directive 2014/53/EU. May be used in all European member states. Manual is included.
Function: modular dimmer
Marking: CE
Select a product below to view related articles, variants or accessories: